Weekend Wrap-Up
Madea Keeps Box Office in Top Form
By John Hamann
February 22, 2009
BoxOfficeProphets.com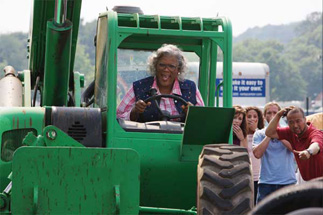 ---
Another weekend in 2009, another amazing weekend at the box office. After the biggest weekend ever for February fell in our laps last weekend, some thought this might be more of a downtime at theaters, as Oscar dominates cinemas on Sunday night. Bring on Madea, and we know we are going to have at least one $20 million plus opener. Openers this weekend included the sure-fire hit Tyler Perry's Madea Goes To Jail, and a lesser opener in Fired Up, the new cheerleader comedy from Screen Gems. Other films keeping the box office burning bright this weekend are Coraline, the unexpected animated winner from Focus Features, Taken, Liam Neeson's surprise action flick, and of course, Slumdog Millionaire, the current favorite for a Best Picture win.

Our number one film of the weekend is Tyler Perry's Madea Goes To Jail, which we knew was going to happen. What we didn't know was that Madea Goes To Jail would become Tyler Perry's biggest movie ever - eclipsing the $30 million open of Madea's Family Reunion, back in 2006. Madea Goes to Jail didn't just eclipse Family Reunion, it hammered it, earning a surprise $41.2 million over three days. Surprisingly, this Tyler Perry effort broke his own record and did it on fewer screens than Family Reunion, as his 2006 film opened on 2,194 screens, compared to 2,032 for Madea Goes To Jail. It had a stellar venue average of $20,236, by far the best in the top ten. Usually, we expect Perry to open films within the high teen millions to low twenty millions, unless the word Madea is in the title. Previously, Madea's Family Reunion was tops at $30 million, while his second biggest opener was Diary of a Mad Black Woman, which also starred Madea, but opened to $21.9 million). Madea Goes to Jail makes the smart move of putting Madea in the title, and it obviously paid off.

Lionsgate is the distributor behind the Madea films and with this debut, they now have their biggest opening ever, beating Saw III and its $33 million start in October of 2006. For Tyler Perry, his production company is growing into quite a machine, as the man behind Madea is becoming bigger than the character. He's had a bestselling book, two successful TV shows, and has now had six successful theatrical releases with a combined domestic gross of over $250 million. His average opening weekend is in the $25 million range; however, his biggest weaknesses are always the same - crossover appeal and quality. Tyler Perry films are no longer screened for critics prior to opening, and his average second weekend drop is 54.3%. Perry doesn't seem to seek crossover appeal, which may be the reason his films are so successful. At this point, Madea Goes to Jail is his most successful so far, so what he's doing is certainly working.

Taken continues to burn up the box office this weekend, as it moves from third place last weekend to second place this frame. Following a holiday, holdovers usually crash, and Taken is no exception. The Liam Neeson actioner took in another $11.4 million this weekend - its fourth above $10 million - but it does drop 40% in the process, its highest drop so far. Taken has now had percentage drops of 17% and 8% over the three-day portion of the last frame, along with this weekend's bigger drop. The 20th Century Fox flick now has a total of $95.2 million and will cross the $100 million mark in the next frame, something few thought would happen. I'm now looking for Taken to finish somewhere between $130 million and $140 million, as the drop should be low again next weekend. It's also made $70 million overseas, so this is a big, well-timed hit for the folks at Fox.

Third spot goes to another strong holder in Coraline, Henry Selick's 3-D animated spectacular. Coraline held better than Taken, as it earned $11 million and drops a slim 25%, which is an amazing hold when you consider that it's coming off of the President's Day long weekend. This one is obviously crossing over from kids flick to everybody flick, and Focus Features gets to reap the rewards. Coraline has quickly become Focus Features' third biggest film with $53.4 million so far, passing Lost in Translation ($44.6 million domestic finish) and Atonement ($50.3 million finish) this weekend. The studio's top grossers are Burn After Reading ($60.4 million finish) and Brokeback Mountain ($83 million finish), numbers that Coraline just may overtake, but that mostly depends on what happens next weekend against the Jonas Brothers concert movie.

He's Just Not That Into You slides down to fourth from its second place finish last weekend, when Valentine's Day helped propel it to a weekend gross of $19.5 million. This weekend, people weren't into romantic comedies, and the star studded feature earned $8.5 million and dropped a powerful 56%. Still, the Drew Barrymore feature has now earned an impressive $70.1 million.

Our Oscar "Survivor" this year is Slumdog Millionaire, as it remains the only film on the box office island to receive a nomination. Slumdog, which is everyone's pic to win Best Picture, earned another $8.1 million, and actually increases 11%, which is truly impressive when you consider that it is going against last weekend's holiday-inflated frame. Slumdog goes to the Oscar ceremony with $98 million in the bank, and is Fox Searchlight's second biggest film behind only Juno, which rang up $143.5 million. Slumdog was made for $15 million, and will pass the $100 million mark in a matter of days.

Finishing well back in sixth is Friday the 13th, the one-day wonder from last weekend. After its $19.3 million opening day last weekend, Friday the 13th has suffered badly, behaving like a tire with a large hole in it. Its follow-up Friday grossed only $3.3 million, an 83% drop. The total for its second weekend came in at $7.8 million, good for a whopping 81% drop, which is the biggest ever for a movie opening on more than 3,000 screens. It has a total now of $55 million against a budget of $20 million.

Confessions of a Shopaholic shows up in seventh, as moviegoers just aren't into the Isla Fisher comedy. After debuting to $15 million in the last frame, Shopaholic didn't hold well, as it dropped 53% and earned $7 million. With its 22% fresh rating, Shopaholic didn't have much of a chance, and it looks like this one will be done quickly. It has a total so far of $27.7 million.

It's time for our weekly discussion about Paul Blart: Mall Cop, as this one is now in its sixth weekend. Blart actually held fairly well, dropping 36% against last weekend's long frame. Mall Cop grossed another $7 million (its first weekend below $10 million), and brings its total up to $121.4 million. As hard as it is to say, I'm looking for Blart to finish just short of $150 million, against a budget of $26 million.

Ninth brings us our other opener, Fired Up!, from Sony and Screen Gems. The teen romp earned only $6 million from a tiny 1,810 venues this weekend, giving it a venue average of $3,315. This one is more Bring It On than Superbad, and the target audience caught on. Look for it to Houdini in no time.

In tenth is The International, last weekend's soft opener with Clive Owen and Naomi Watts. After finishing the last frame with $9.3 million, this Sony effort dropped hard this weekend, picking up only $4.5 million and dropping 52%. It has a total now of $17 million, and I guess I'll look for it on DVD.

Overall, box office is still white hot versus last year. Over the same weekend in 2008, Vantage Point was the number one film with $22.9 million, but three other openers failed to have an impact. The top 12 films last year earned only $90 million. This year, the top 12 films earned $119.8 million, keeping this year well ahead once again. Next weekend is the pre-Watchmen weekend, with the Jonas Brothers 3-D Concert Experience and Street Fighter: The Legend of Chun-Li, both being projected to open in fewer than 1,200 venues.