Top Chef Recap
By Jason Lee
February 19, 2009
BoxOfficeProphets.com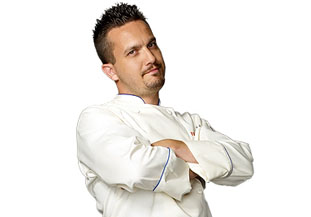 ---
This Week On Watch What We Say: We'll always have New Orleans

It's here. It's finally here. We've had to endure some pretty obnoxious chefs and some pretty untalented chefs. We've seen people go home who didn't deserve to go home. We see chefs in the finale that really shouldn't be in the finale. We've seen way too much of Leah and Hosea. But after ALL THAT, it's finally here. We're in New Orleans. And it's finale-time, baby.

We're treated to a quick montage of the chefs arriving into the New Orleans airport. Hosea has been studying up on creole cooking (very smart), Fabio wants to win this title so that he can use the money to take care of his mother (very sweet) and Carla feels that despite her status as the "underdog" of the group, she knows this city's food the best and will be able to surprise some people (very possible).

As for the A-hole of the bunch, Stefan looks like he's put on some weight during the weeks leading up to the finale and proclaims Fabio to be his biggest competition.

The chefs arrive at a plantation style home where they're greeted by none other than Food Network celebrity chef Emeril Lagasse. For the record, I love Emeril and I think it's great to see such a well-known TV personality show off his culinary and judging chops.

Padma announces their very bizarre Quickfire. They won't be cooking. Instead, they're invited to relax and enjoy some Southern hospitality. Everyone (including me) is suitably perplexed...

...until we see Jaime, Jeff and Leah come out!!! In yet another great twist in season, the last three chefs to get eliminated have one more shot to make it to the finale. They will each have one hour to create a dish using New Orleans' most famous ingredient: crawfish. I'm totally, 100% rooting for Jaime (who looks and sounds more relaxed than she ever has this season) but I know in my heart that Pretty Boy Jeff, who hails from Miami, probably has the edge over my SF-gal Jaime.

Strangely enough, both Leah (who thinks that she has the edge since she was the last chef eliminated, haha) and Jeff are making a gumbo-type dish (with the main difference being that Jeff includes grits in his) while Jaime has opted for a grilled corncake with poached eggs. I'm praying and crossing my fingers for Jaime but after an agonizing commercial break, Emeril announces that Jeff has won the Quickfire. I let out a great, loud "NOOOOOOOOOOOOOOO!!!" upon hearing this - a groan of utter despair very similar to the one that Darth Vader emitted in Episode III upon learning of Padme's death. Be forewarned, this will not be the first Darth Vader impression that I will give tonight.

So Jeff is in the finale but with a catch: he can only advance to the next round if he wins the Elimination Challenge. Second place or anything lower and he will pack his knives and go. What a great twist. I love this show.

The next day, the chefs are brought to a big warehouse where they see some ginormous Mardi Gras floats. They are told by Padma that their Elimination Challenge will be catering for 100 guests at a Masquerade Ball to be held at the nearby Museum of Art. They must each prepare two dishes and one cocktail. One dish must be in the creole style of cooking. Emeril tells them that they will be cooking at his restaurant and that his pantry is stocked with everything they could possibly need.

Oh yeah, and the winner gets a brand new Toyota Venza. Wow.

The chefs pile into the kitchen and start preparations. Carla has decided to make an oyster stew but finds no shucked oysters in the pantry. Guess she'll be shucking all the oysters herself - something that she apparently has little experience with. Sounds like she's violated Top Chef Rule #1: Don't try and use a technique (in this case, shucking oysters) that you're not proficient in.

Meanwhile, both Stefan and Hosea have decided to do gumbos. With two gumbos in the Quickfire and two more in the Elimination, I'm thinking that gumbo is the new scallop.

Jeff is nervous because he knows that he either has to win or he'll go home. He seems to be throwing everything but the kitchen sink into his dishes, with a bunch of ingredients and a variety of different cooking techniques, which seems like a trepidacious move considering the fact that he WON the Quickfire for focusing on one good dish and was ELIMINATED three episodes ago for doing far too much. One move that might benefit him, however, is the fact that he's making his own sausage from scratch while Stefan grabs a pre-made one in the freezer.

The two gumbo-makers (and rivals) are doing everything in their power to annoy the other person. Hosea is seriously pissed off with the fact that Stefan doesn't seem to care that his roux (an essential thickening agent in any gumbo) is the wrong color and the wrong consistency. Stefan shows how much he cares about Hosea's opinion by stepping outside of the kitchen for a smoke.

I hate Stefan.

The chefs have used up their five hours and start loading their food into their carts. Carla (and myself as well) is slightly stressing out because she'll only have an hour on-site to prepare her dishes and she only has one third of her oysters shucked. I'm worried that the only chef left in the competition that I like will be sent home.

At the museum, everyone is scrambling. And I mean scrambling. Jeff needs two extra cups of cream from Carla. Hosea forgot a whisk and begs for someone else to give him one. Carla pointedly remarks that the men are asking for help but no one is helping her shuck oysters. Stefan graciously volunteers and helps her finish.

I still hate Stefan.

Dinner service starts and the four judges (comprised of lovely Padma, super smart Tom, super cool Emeril and MRS. Gail Simmons, back from her honeymoon!) head over to start tasting the chefs' food. They start with Jeff's cucumber Mojito, which has good balance according to Tom. He also serves some friend oysters with sausage and arugula as well as a crawfish Pot de Creme. Emeril says that he can tell that Jeff is a refined cook with an intelligent approach.

They head over to Stefan, who serves a black cherry rum cocktail along with rabbit gumbo served on top of creamy grits and a dessert, strangely enough, comprised of an apple beignet with pecan brittle. Just like in last week's challenge, it sounds like Stefan has some technical issues but great flavor. His gumbo feels like a stew and the roux is not the right color. Also the grits are really creamy, but not in a bad way.

Fabio is next with a trintini made of red bell pepper and rum. He also has a sausage maque choux with grits (don't ask me what that is cause your guess is as good as mine) and a dish of Caserecci pasta with crawfish. Gail loves his crawfish flavor. Emeril likes his maque choux but says that the heat is missing. Uh oh, looks like Fabio might have missed the soul of New Orleans cooking.

Carla is up next and she serves them a non-alcoholic cocktail made of cranberry and lime spritzer. The guests seem to LOVE her drink. Her dishes are an oyster stew with potato and bacon along with a shrimp and andouille sausage beignet with creole aioli.

"This is New Orleans inspired," proclaims Emeril. "I love the beignet, I love the batter."

"If you like that, then you'll love the stew," says Tom. I think Carla's got a big hit on her hands.

Hosea is last and starts the judges off with a Hurricane made of Grand Marnier and rum. He also has a chicken, duck and andouille sausage gumbo plus some catfish and sweet potatoes. Emeril loves this dish again, saying that both dishes captured the flavor of New Orleans.

Wow, seems like every chef did a great job tonight. Good for them. At this point, I think that Carla's won this challenge, which means that Jeff is going home. I also think that Stefan is going home but that could just be my optimism getting the better of me.

Judges table is next and each chef seems nervous as heck. Jeff is up first and is put at ease instantly as Gail proclaims his cocktail to be her favorite of the evening. She also really liked his crawfish tail and shitake mushrooms. Emeril liked his oyster dish with the sausage and Jeff takes the opportunity to slam Stefan by saying that he would never just grab a pre-made one out of a kitchen.

Fabio is next and according to Emeril, he did a great job as an Italian trying to cook creole. Padma loved his pasta but wished that it had more heat. She also says that his drink smelled fantastic but the flavor didn't live up to that.

For Stefan, Emeril says that in his 28 years living in Louisiana, he's never had gumbo over grits...but that the grits were good. Not so much with the gumbo, which was not as dark and didn't have as strong a flavor as he would have liked. Emeril also loved the concept of his beignet, but wanted it hotter. Tom strongly criticizes Stefan's attitude (IT'S ABOUT FREAKING TIME) saying that in the kitchen he was calm to the point of being overconfident.

"I'm 36-years-old," Stefan says callously with a shrug. "If it works out then it works out and if it doesn't then, fine." Wow, you really sound like you want to win this thing.

Carla is smiling before the judges even get to her and she has every right. "There was nothing wrong with that stew," says Tom, "we all agree that it was very good." Carla is thrilled. Emeril says that he was thrown off by her decision to serve a non-alcoholic drink with it being Mardi Gras and all but says that it was fizzy and very well done. Gail says that Carla's beignets were her favorite dish of the night and she could have kept popping them in her mouth for hours.

Hosea gets some big props for his gumbo, with the judges complimenting his roux and developed flavors. Hosea smirks. Stefan scowls. Emeril says that if he'd been blindfolded and tasted Hosea's gumbo, he might have assumed that it came out of any great restaurant in New Orleans. Tom says that he initially thought that Hosea's fish was overcomplicated but that it didn't taste that way at all.

Brimming with (mostly) praise, the chefs return to the "Stew Room" (which is actually a gorgeous, comfortable suite at a fantastic hotel) and the judges discuss. They immediately agree that Carla had the top dishes. Gail calls her oyster dish "perfect," and Emeril agrees by calling it a "home run." Tom says that the beignet was a home run as well.

"The food certainly had a level of care to it," he adds.

"And sophistication," pipes in Gail. Okay, Carla is totally safe.

Hosea and Jeff also get some positive marks but in Jeff's case, things are a little different.

"It was a strong effort," Tom says, "but he has to win this [to make it to the finale]. Quite frankly, I think that he is in the Top Three." But that's not good enough. Sounds like he's going home and either Fabio or Stefan will get that last spot.

With Stefan, the judges mostly have a problem with the fact that none of them felt compelled to go back for seconds of any of his food. Beyond that, he just didn't get the essence of New Orleans cooking.

"It was lovely but it didn't have soul," says Gail.

"He was overconfident," criticizes Tom.

"It was a laissez-faire attitude," she agrees. "He doesn't really care." Ouch.

As for Fabio, if he gets sent home, it's because he didn't have strong layering of flavors, with some ingredients not cooked long enough or put together correctly. Padma wishes that his pasta had a tang of tomato. Tom laments the missed opportunity with Fabio's drink, which could have been great.

I still say that Stefan and Jeff are going home.

The chefs are called back out and Emeril says that there was a clear winner in this challenge. This chef presented a wonderful representation of New Orleans food and that he appreciated their "balance, flavor, temperature, simplicity yet creativity." And the winner is...CARLA!!! I'm thrilled and so is she. I think Carla totally deserved it - and you know what she also deserved?

(*in my best Price Is Right impression*) A BRAND NEW CARRRRRRRRRRRR!!

Carla is doubly or triply thrilled. Wow, her husband must love her. Tickets to the Super Bowl and a new Toyota.

Unfortunately for Jeff, the announcement that Carla has won means that he's going home. Emeril tells him that he did a fantastic job, but I don't think Jeff has any idea how close he was to making it to the final three.

With little fanfare, Hosea is told that he's safe. He brought a little something extra, says Tom, with strong dishes and a strong performance. Hosea smirks. Stefan scowls.

It's the end of Team Euro. Two chefs, one spot left. Tom gives the final pronouncements. Stefan's food was good but his gumbo was second best. He came off as cocky and didn't deliver. For Fabio, he cooked a traditional dish along with something from Italy. However, his flavors weren't layered correctly and just missed the mark.

It's crazy tense as Padma waits to say which chef has made it to the finale.

. . .

. . .

"Fabio," Padma says, "please pack your knives and go."

NOOOOOOOOOOOOOOO!!! Darth Vader is not happy.

Fabio immediately turns to Stefan and says, "If you don't win, I'll kick your ass." It's a touching moment but I'm hoping beyond hope that Stefan doesn't win. Fabio insists that Stefan will win since the only person that could have beaten him was himself - and, well, he's eliminated.

I beg to differ. Stefan has been on the brink of elimination for the past two challenges. He's been beaten both times by the two chefs that are in the finale with him: Carla and Hosea. This is not over. Not by a long shot.