Weekend Wrap-Up
Perfect Storm Catapults Box Office
By John Hamann
February 15, 2009
BoxOfficeProphets.com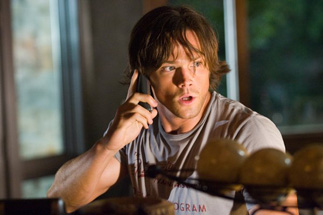 ---
Only one word describes the box office this weekend, and that word is "unbelievable". A perfect storm rose at the box office, and Hollywood negotiated it perfectly, with a little luck added along the way. Friday the 13th fell appropriately for our biggest film this weekend, which was followed by Valentine's Day on Saturday, which again was followed by the Sunday prior to President's Day. The storm also included an upcoming Oscar ceremony, and a slew of extremely strong holdovers from previous weekends. In the end, we have our biggest movie going weekend of the year so far, with a top 12 total of $167.8 million - almost as much as the mega-lucrative top 12 during the weekend after Christmas, which had combined receipts of $174.7 million.

The last time Valentine's Day fell on a Saturday (or a weekend for that matter) was in 2004. That weekend, the box office wasn't nearly as hot as it is this weekend - 50 First Dates led the pack with $39.9 million and wasn't even Sandler's biggest opening to that point. It led the top 12 to a ho-hum $105.2 million. That top 12 wasn't even the biggest weekend for 2004's February, as The Passion of the Christ opened later that month, bringing a top 12 score of $140 million. However, behind the scenes of that Valentine's weekend, big things were happening, which led Hollywood to strategize this weekend, five years later. 50 First Dates for example, had a weekend multiplier (weekend grosses divided by Friday sales) of 3.8, an amount almost never seen by an opening film of any kind. This is especially true of Adam Sandler movies, where fans rush out to seen the comedian opening night, lowering the multiplier. Usually, a new Adam Sandler title would see a 2.8-2.9 multiplier at best. Other films that weekend also did very well, thanks to Valentine's Day, and the lead up to the President's Day holiday. Barbershop 2: Back in Business, in its second weekend, had a multiplier of 5.0, and wasn't really a Valentine's title; holdover Along Came Polly earned a 4.3 multiplier late in its run; The Butterfly Effect garnered a multiplier of 4.4 later in its run, and even Catch That Kid did very well with a 4.9 multiplier. With the Valentine's/President's Day effect, films in the top 12 get what basically amounts to an extra day over the three-day weekend. This weekend, studios banked on that same thing happening, and the result is six films earning more than $10 million (in 2004, only three earned more than $10 million).

Our number one film is not a drippy romantic comedy. Instead, it is our best-positioned flick in the top 12 this weekend, Friday the 13th. Banking on the title/calendar similarity, Valentine's Day, and President's Day, the remake made a killing, earning an ungodly three-day total of $42.2 million from 3,105 venues. It had a venue average of $13,605 and assuming estimates hold, becomes the fifth biggest February opener ever, behind only 2001's Hannibal ($58 million opening) and 2004's Passion of the Christ ($84.8 million), Ghost Rider ($45.4 million) and Hitch ($43.1 million). The weekend multiplier for the R-rated horror flick was 2.19, and while that might not seem outstanding, let's remember that it would be much lower over any other weekend, as Sunday numbers get a boost due to the President's Day holiday. This Friday the 13th cost Warner Bros., MTV Films, and Platinum Dunes (Michael Bay's production company) only $16 million to make, so after three days it has already earned close to three times its production budget. Not bad work if you can get it.

Despite the name recognition, the Friday the 13th franchise hasn't been huge at the box office. Its small successes have been amplified by tiny budgets. The first film, the 1980 original, was the biggest earner in the series for almost 25 years. The original Friday the 13th opened on May 9, 1980 to $5.8 million, and earned more than ten times its budget ($550,000) over its first three days. It became a phenomenon, taking in $40 million by the end of its domestic run and another $20 million overseas, all against that tiny budget. The second film opened less than a year later, improving on the opening with $6.4 million, but saw the overall domestic gross go from $40 million to $20 million (again, however, against a budget of $1.25 million). Over the next few films, opening weekends rose, but domestic totals never improved past the $40 million of the original.

The top opening weekend came with Friday the 13th: The Final Chapter (the fourth film), as that one implied Jason's death. The Final Chapter opened to $11.1 million over a weekend similar to this, as the 13th of April in 1984 was a Friday. The next five films that followed all opened between $6 and $8 million, and all finished at $20 million or below (but were still all highly profitable, with budgets never exceeding $5 million). Jason took nine years off between 1993 and 2002, but then leapt back onto the screen in 2002 with Jason X; however, the reboot didn't work with fans, and the franchise had it first money loser ever, as that one cost $14 million and made only $13 million domestically. It took Freddy Krueger to put the franchise back on the map, as Jason vs. Freddy surprised with a $36.4 million opening in August of 2003, finishing with $82.6 million against a budget of only $25 million.

That brings us up to today, as the Michael Bay reboot is back to using the old model for Friday the 13th movies - no-name actors in a no-frills production, with less comedy and more horror. Friday the 13th obliterated tracking estimates, which had it finishing at about half of where it came in this weekend. This is a huge win, and makes Bay's upcoming reboot of the Nightmare on Elm Street franchise look potentially huge.

Finishing second is last weekend's number one film, He's Just Not That Into You, something I'm sure the stars of this one - Drew Barrymore, Scarlett Johansson and Jennifer Connelly - hear all the time. Thanks to the huge Valentine's Day bump (and no other reason) Not Into You has another weekend right at $20 million as it finishes the frame with a weekend gross of $19.6 million. That's off 29% from last weekend, and would have been a much bigger drop had Valentine's day not propped up the weekend. Considering the competition put out by Friday the 13th and Confessions of a Shopaholic, I think Warner Bros. will be happy with this second frame for this one; however, with the star power on display here, some may wonder why this isn't even bigger this weekend (blame Jason). Still, Warner Bros., has the top two films this frame, and obviously had this date circled on their calendars. He's Just Not That Into You has now earned $55.1 million after only two weekends.

For me, the surprise of the weekend comes in third, as Taken - once again - has an extremely strong hold. Not a Valentine's title (research says it's all about horror and romantic comedies on Valentine's weekend), Taken does the unlikely and earns $19.3 million this weekend - its third - and drops only 6% after dropping only 17% in the previous frame. This is all from a film that was never supposed to show up in the first place, instead opening in first three weekends ago with $24 million. Taken is now the Paul Blart of action movies, and we are starting to see an economic downturn trend in the first few months of 2009 - films that are not really exceptional are holding much better than expected. This weekend, Taken benefited from the lead-up to the President's Day holiday on Monday, and now has a remarkable running total of $77.9 million. The Liam Neeson actioner from Fox is now a shoe-in to earn $100 million, a fact that would have brought fits of laughter from me only a few weekends ago.

Fourth goes to Confessions of a Shopaholic, and despite the lower ranking, still has a solid Valentine's Day weekend. Shopaholic earned $15.4 million over its opening frame from a subdued venue count of 2,507 venues. It had a venue average of $6,145. Considering the competition, Shopaholic had a tough row to hoe this weekend, despite being based on a bestseller. With a cast of thousands supporting He's Just Not That Into You, Isla Fisher (Wedding Crashers) had a lot riding on her shoulders as she tried to carry Shopaholic on her own. Considering the woman had never opened a film before, this kind of debut isn't bad at all - not far off the $20 million that Reese Witherspoon opened Legally Blonde to in 2001. The problem may be quality here, as Shopaholic is no Legally Blonde in the review department. Friday the 13th is actually receiving BETTER reviews than Shopaholic, as Jason and friends finished with a 28% fresh rating, better than Shopaholic's 20% fresh rating. Could this one be done quick? I doubt it, but one never knows.

Fifth goes to Focus Features' small hit Coraline, the 3-D animated flick from Nightmare Before Christmas director Henry Selick. After opening last weekend to $16.8 million, Coraline follows that up with another strong gross, as it brings in $15 million for only an 11% drop into the second frame. Coraline used the President's Day weekend to push its grosses up (it's like having two Saturdays for the kids), and now the $35 million animated production has a total of $35.5 million after only two weekends. It'll have another weekend to work solo in the next frame, before the Jonas Brothers steal all the teen/tween dollars with their concert movie opening on the 27th.

Paul Blart is just like Jason in the Friday the 13th series - he just won't die. Paul Blart: Mall Cop earned another $11.7 million this weekend, an increase of 7% compared to the last frame. Blart works on a lot of levels this weekend. It was counter-programming to Jason on Friday, an older couple Valentine's Day choice on Saturday, and a kids' movie on Sunday. Paul Blart blew past $100 million this weekend, and now has a total of $110.5 million - all against a production budget of $25 million. It might shake you to your foundation, but Paul Blart is going to finish with about $140 million on the domestic side.

Seventh goes to the last of our openers, The International. The Clive Owen thriller opens lower as it has no connection to Valentine's Day or Friday the 13th, and has to scoop up sloppy seconds to survive. The International brought in $10 million from 2,364 venues. It had an average of $4,230. Even as the best reviewed picture of the weekend (51% fresh), this one had little chance, but really, what is so different here than Taken? If Clive had taken revenge on Bernie Madoff, it might have opened to $20 million plus. Expect this one to disappear in a few weekends.

Eighth goes to The Pink Panther 2, and we are all happy and excited that it still finished in the lower rungs of the top ten despite the kid-friendly weekend. The Pink Panther 2 earned $9 million and drops 22%. Hopefully, this Steve Martin "effort" goes away quickly after this weekend. It has a current total of $22.3 million. People complain about the success of Paul Blart, but this is much, much worse.

Ninth goes to Slumdog Millionaire, the current Oscar favorite (however, I saw it last weekend, and it's not getting my vote). Slumdog took in another $7.1 million this weekend, and holds exactly steady with its numbers from last weekend%. Its total has now reached $86.5 million, and it should have another couple of strong weekends - before and after the Oscars next Sunday.

Finally in tenth is Push, Summit Entertainment's miss that opened last weekend. Push opened to $10 million last weekend, and sees a drop of 31% to $6.9 million this weekend. Made for $38 million, Push now has a total of $19.3 million.

Overall, things are up, up, up, as they have been for most of 2009 thus far. A year ago, Jumper led the February 15-17 weekend with $27.4 million, which brought the top 12 total up to a respectable $117.7 million. This year trounced that total. This year, we have a record for the biggest President's Day Weekend ever. In fact, the estimated total for all films for the three-day portion of the weekend, $195 million, blows away the previous record holder's four-day total of $187 million., As for the top 12 movies, this year's group brought in a massive $167.8 million, a figure we shouldn't see again until summer, but the way this year is going, we shouldn't rule anything out. Next weekend is Oscar weekend, so expect things to cool off quite a bit. Openers next weekend include Fired Up, a teen sex comedy, and Tyler Perry's Madea Goes to Jail.