Friday Box Office Analysis
By Tim Briody
February 14, 2009
BoxOfficeProphets.com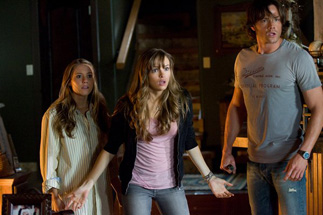 ---
[tm:3354_]Friday the 13th[/tm]

Conveniently opening on Friday the 13th, the latest revival of Jason Voorhees scored huge with $19.2 million. With the rest of the days this weekend (including Monday) not being Friday the 13th, I'm going out on a limb and assuming that Friday will be far and away its strongest box office day. Looking at Freddy vs. Jason from back in 2003, that opened to $36.4 million with a better than expected 2.67 weekend multiplier. Considering it's not unheard of for a film to throw well under that now and also considering the date gimmick, Friday the 13th may very well not even make a 2.67 multiplier over the long weekend. Look for Friday the 13th to win the weekend with ease with about $48 million. Chances are, the studio is going to estimate it higher, though.

[tm:4292_]Confessions of a Shopaholic[/tm]

Turns out audiences don't really want to watch a movie about a girl who loves to shop while in the middle of the worst economic crisis in decades. [bp:2697_]Isla Fisher[/bp]'s Confessions of a Shopaholic opened to $4.3 million Friday, good for fourth place. Mrs. Borat's movie will likely see a decent bump today as it's perfect Valentine's Day fodder, but it's still going to be the second choice behind [tm:2098_]He's Just Not That Into You[/tm]. A best-case scenario for Confessions of a Shopaholic looks to be $14.1 million.

[tm:1876_]The International[/tm]

The [bp:755_]Clive Owen[/bp]/[bp:7_]Naomi Watts[/bp] conspiracy thriller The International only manages $2.6 million on Friday - a disappointing figure to be sure. The International is going to be the second choice (behind the still solid [tm:3800_]Taken[/tm]) of viewers not being dragged to He's Just Not That Into You or Confessions of a Shopaholic. Give it $9.1 million over four days.

Notable Holdovers

He's Just Not That Into You drops 52% from last Friday to $5 million. That's a bit alarming but it should rebound very nicely on Valentine's Day, as most men, if given a choice, would probably prefer this to Shopaholic. A four-day total of $18.3 million appears to be in the works.

Elsewhere, [tm:1798_]Coraline[/tm] is off 34% from last Friday, [tm:3648_]The Pink Panther 2[/tm] falls 44% and [tm:2516_]Push[/tm] drops 51%. The latter two are non factors in the lower end of the box office, but Coraline is something to watch over the remainder of the weekend. A holiday-boosted weekend of around $14 million is entirely possible.