Weekend Wrap-Up
Openers Dominate Weekend Box Office
By John Hamann
February 8, 2009
BoxOfficeProphets.com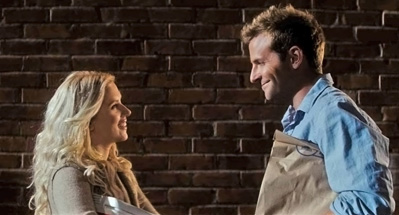 ---
After a blistering January at the box office that left movie-going well ahead of last year's sales, February is upon us, and it's time for studios to present their pre-Valentine's Day mini-blockbusters. Up for grabs this weekend are Coraline, the new 3-D stop-motion animated flick from Nightmare Before Christmas director Henry Selick, He's Just Not That Into You, which is really aiming at Valentine's Day next weekend, Push, the new sci-fi actioner from Twilight distributor Summit Entertainment, and The Pink Panther 2, which should never have been greenlighted after the first car accident. With the new films providing big power as well as the second weekend of Taken, we have another frame that's well ahead of last year.

Our number one film over this post-Super Bowl weekend is He's Just Not That Into You, the romantic comedy that stars some of Hollywood's elite, like Drew Barrymore, Jen Aniston, Jennifer Connolly, Scarlett Johansson, and Ben Affleck. That star power, combined with the bestselling book the film is based on, led this one to the top of the box office with a fantastic gross of $27.5 million. He's Just Not That Into You debuted in a massive 3,175 venues, and had an average of $8,650. Distributed by Warner Bros., but produced by Drew Barrymore's Flower Films, this is going to be a large success due to the big opening weekend, and what is sure to be an impressive sophomore frame, as Valentine's Day falls on a Saturday this year.

For Drew Barrymore (and her production company) this was a must needed win. It's been a number of years since Barrymore had a big hit, going back to 2004's 50 First Dates, when she and Adam Sandler conjured up $120 million in domestic sales and $200 million worldwide. Unfortunately for Barrymore, 50 First Dates was a Happy Madison production, not a Flower Films production. We have to go back another year to Charlie Angels: Full Throttle for Flower's last success, and even then, the TV-remake sequel underperformed with an opening weekend of $37 million and a domestic cume of $100.8 million, all against a production budget of $120 million. Since then, Flower Films has produced Fever Pitch (with Barrymore and Jimmy Fallon), which did okay, opening to $12.4 million and finishing with $42 million. That was followed up by the slightly improved Music & Lyrics, which opened to $13.6 million and finished with $50 million.

For He's Just Not That Into You, the production company took a chance on director Ken Kwapis, who has some serious success on television (The Office, Malcolm In the Middle, The Larry Sanders Show), but the opposite at the movies. Most recently Kwapis directed the Robin Williams 2007 comedy License to Wed, which was a moderate success, opening to $10.4 million and finishing with $43 million. Previously, though, there is some ugliness in the director's resume with films like Dunston Checks In, Beautician and the Beast and Sesame Street Presents Follow That Bird.

Critics were just not into He's Just Not That Into You. Of the 102 reviews counted at RottenTomatoes, only 45 were positive, leaving this one with a 44% fresh rating from general reviewers, and an even worse 32% from the "nation's top critics". These are similar reviews to Sex and the City, and no wonder, as He's Just Not That Into You is from the same writers. With a cast and subject matter like this, He's Just Not That Into You was review-proof, and will be a huge hit come this time next weekend, as I expect an excellent hold, despite being up against Confessions of a Shopaholic.

In somewhat of a surprise second place finish is Taken, Liam Neeson's revenge actioner that debuted loudly in the number one spot last weekend. After an opening frame of $24.7 million, Taken held extremely well for the genre, dropping a fantastic 18% and finishing the weekend with $20.3 million. A 50% drop would have been acceptable for Taken, as there are four new openers this weekend; however, none of those openers are aimed at men. After being counter counter-programming against the Super Bowl last weekend, Taken is working as regular counter-programming against He's Just Not That Into You this weekend. The Fox film has now earned $54.4 million and will face some competition next weekend from The International and to a slight degree, Friday the 13th. However, Taken now has a shot at being a $100 million film, something no one saw coming.

We have another surprise in third, as Coraline manages to outgross (thankfully) The Pink Panther 2. Coraline, our second book-based opener, earned $16.3 million from a small run of 2,298 venues. It had an excellent average of $7,105. With a 3-D marketing angle and excellent reviews, Coraline outperformed expectations, leading to a big win for Focus Features and their first animated film. Coraline is from Nightmare Before Christmas director Henry Selick, and is adapted from Neil Gaiman's book. This film had a dark angle to it, and fans of Nightmare obviously came out to support this one. Reviews were fantastic, with 100 positive reviews out of a possible 114. Coraline was given a budget of $75 million, but according to IMDb came in under that amount as it was made for $35 million. This should mean it will end up as a success for Focus Features, even if legs are elusive.

Fourth spot goes to the most unnecessary of sequels, The Pink Panther 2. Steve Martin should be ashamed for launching another one of these upon unknowing children, but at least it didn't do as well as its predecessor, at least over opening weekend. The Pink Panther 2 earned $12 million from 3,243 venues, well back of the $20.2 million the original opened to in February of 2006. It scored the expected 14% rotten rating at RottenTomatoes, and will hopefully disappear quickly.

Fifth goes to top ten stalwart Paul Blart: Mall Cop, which is now in its fourth big weekend. The film continues its steady push to $100 million and more, as Paul Blart earned $11 million in its fourth frame. It was off 21% from the previous frame. The $26 million Sony comedy has now earned $97 million.

Finishing sixth is the last of the new releases, Summit Entertainment's Push. The wannabe Heroes flick didn't resonate with audiences, as Push earned a slim $10.2 million from only 2,313 venues. It had an average of $4,412. With a choppy marketing campaign, horrible reviews, and a script that made it look like the second season of Heroes (shudder), this one had little chance at success. Summit Entertainment is coming off the huge success that was Twilight, the teen vampire comedy that dominated the winter months of 2008 ($187 million domestic, $161 million overseas, all against a $37 million budget). The good news for Summit is that they have some strong looking product being released this year, including Knowing with Nic Cage (and Alex 'Dark City' Proyas directing), Bandslam with Vanessa Hudgens, and of course New Moon, the follow up to Twilight.

Slumdog Millionaire is our number seven film, as it drops just one spot from last weekend. Slumdog earned another $7.4 million from 1,724 venues. That brings the domestic total up to $77.4 million for the current Best Picture Oscar fave.

Eighth goes to Gran Torino, as Clint Eastwood's Oscar ignored flick begins to wane. Gran Torino earned $7.2 million in its fifth weekend of wide release; it was off just 12%. The $35 million Warner Bros. release has now earned $120.3 million.

As expected, The Uninvited falls from third last weekend to ninth this weekend, as The Pink Panther 2 scoops up the horror dollars this weekend. The Uninvited earned $6.4 million in its second frame, off an actually better than expected 38%. The Paramount horror flick now has a total of $18.4 million.

Hotel for Dogs slips to tenth this weekend. The Paramount feature that never caught on earned $5.8 million in its fourth weekend and drops 33%. Its total has now reached $55.2 million.

Overall this weekend, things are again way up at the box office. A year ago, the movie business was a struggle, with Fool's Gold leading a motley crew of contenders. During that weekend in 2008, the top 12 films earned a paltry $89.7 million - the low point for the year at that point. This year, with four mostly healthy new releases and Taken, the box office amassed a top 12 total of $131.4 million, a whopping 46% of the previous years' grosses. Next weekend should provide another healthy frame as Valentine's falls on a Saturday, and new releases include the Friday the 13th remake, Confessions of a Shopaholic and The International with Clive Owen.