Friday Box Office Analysis
By Tim Briody
February 7, 2009
BoxOfficeProphets.com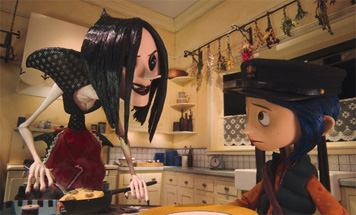 ---
[tm:2098_]He's Just Not That Into You[/tm]

With a strong ensemble cast and Valentine's Day just a week away, the romantic comedy He's Just Not That Into You pulls in a solid $10.5 million on Friday. As the no-brainer date movie choice of the weekend, a solid Saturday should also be in the works here. Back in 2005, [bp:91_]Will Smith[/bp]'s Hitch earned a 3.1 multiplier and one could argue that the combined star power of the He's Just Not That Into You Cast equals Will Smith's by himself. Give He's Just Not That Into You $32.5 million for the weekend.

[tm:1798_]Coraline[/tm]

Managing second place among the four openers this weekend, Coraline slides into third on Friday with $4.5 million. It's likely too scary for smaller children and the stop-motion animation may be too much for others, but it's going to have just enough appeal this weekend to come in with a very good $13 million weekend.

[tm:2516_]Push[/tm]

The movie that is totally not a Heroes ripoff earned a mere $3.5 million, proving once again that it's often very hard to get people to pay for something that they can normally watch for free. The movie that is totally not a Heroes ripoff looks to have a weekend estimate of around $9.4 million

[tm:3648_]The Pink Panther 2[/tm]

After the first [bp:170_]Steve Martin[/bp] Pink Panther movie opened to $20.2 million three years ago, the second was a no-brainer, right? Well, uh, no. The Pink Panther 2 earned $3.4 million Friday, well below the $5.9 million the first one earned back in February 2006. While it did manage a 3.4 multiplier on its way to that $20 million weekend, adults with fond memories of the Peter Sellers films will not make the same mistake twice. It should make its way past Push when the weekend estimates are in, but that's about it. Give The Pink Panther 2 a weekend of $11.2 million.

Notable Holdovers

In the wake of four new releases, [tm:3800_]Taken[/tm] holds solidly, off 34% from last Friday with $6.5 million. Elsewhere, Slumdog Millionaire is off just 18% as it creeps closer to $100 million and an inevitable Best Picture Oscar.