Max Braden's February 2009 Forecast
By Max Braden
February 6, 2009
BoxOfficeProphets.com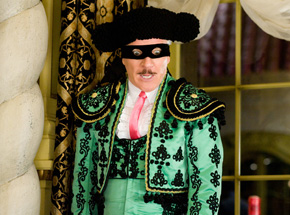 ---
Weekend Starting December 5th

The Pink Panther 2

Steve Martin returns as the bumbling French inspector. Plot? Who knows and who cares! This thing hinges entirely on Steve Martin's silliness. It's no LA Story, but it's a definite kid pleaser. And probably a guilty pleasure of some adults too, especially with the addition of John Cleese. Jean Reno also returns as Clouseau's more capable sidekick. The first of this series opened to $20 million in February 2006.
Forecast: $21 million

He's Just Not that Into You

Warner Bros. is getting a jump on Valentine's Day with this romantic comedy featuring a sizable cast: Affleck, Barrymore, Aniston, and Johansson among others. I haven't read the book but the trailer makes the theme seem kind of negative toward women, so I'm a little surprised Dane Cook isn't starring. I figure this one will perform a little better than Definitely, Maybe did last year.
Forecast: $16 million.

Coraline

Look, Ian McShane was great as a frontier cutthroat in Deadwood, and I understand Coraline's kind of dark, but he's not really the one you want selling the trailer for a kid's movie, is he? Viewers of course will recognize director Henry Selick's stop motion animation from James and the Giant Peach and The Nightmare Before Christmas. The story comes from Neil Gaiman's Hugo Award winning novella about a girl who steps into an alternate reality of her own life. It's dark but is still rated PG. Parents can gripe about $50 theater snacks but it's a bargain compared to the therapy the kids will need later. Dakota Fanning voices the main character.
Forecast: $10 million.

Also rans: Push looks like the sequel to Jumper. Fool me once... In distressingly few theaters, William Shatner helps some geeks try to score an early Star Wars screening in Fanboys. I wonder if the Weinsteins screwed up the release of this as a tribute to Lucas tinkering with Han's trigger finger.

Award Season Alert!: Look for Slumdog Millionaire and Milk to win at the Writers Guild Awards on Saturday. The BAFTA awards and Grammys are televised on Sunday.

Weekend Starting February 13

Friday the 13th

If horror movies are going to make any money this year they're going to have to bank on name recognition. So the stars and calendar aligned to bring Jason back once again. Saw V opened to $30 million in late October.
Prediction: $22 million.

The International

Playing up to the guys this weekend is Clive Owen in a thriller about banks who not only engage in fraud but also commit...murrrrder. It used to be the Russkies, then it was terrorists, and now it's white collar criminals! Such is the world we live in. Owen managed to see Inside Man open to $29 million, but that was with the help of Denzel. Still, this looks thrilling enough to get my money.
Forecast: $13 million.

Confessions of a Shopaholic

The ladies are going to face an uphill battle trying to drag their Valentine's dates to this one. Based on the popular series of books, it's a little less Devil and a lot more Prada. Hugh Dancy plays the only guy who can distract Isla Fisher from her buying sprees.
Forecast: $11 million.

Award Season Alert!: The Art Directors Guild gives out their annual awards on Saturday, and the American Society of Cinematographers and American Cinema Editors have their ceremonies on Sunday.

Weekend Starting February 20th (Oscar wekeend)

Madea Goes to Jail

Oscar weekend is usually bad news for box office, but Tyler Perry just keeps pulling them in. Is it a comedy? Is it a drama? It's a money maker. Oscar nominee Viola Davis appears alongside Perry in drag as the feisty grandmother. Madea's Family Reunion opened to $30 million in February 2006, and the audience reaction to this trailer has been good.
Forecast: $25 million.

Award Season Alert!: The Motion Picture Sound Editors have their annual ceremony on Saturday, and then... The Oscars! Starring Hugh Jackman and Danny Boyle.

Weekend Starting February 27

The Jonas Brothers: The 3-D Concert Experience

After Miley Cyrus earned major money for Disney with her concert movie last February, putting out this one was a no brainer. I can only assume that the girls are even more crazy for the guys than they were for Miley. I have no idea who these guys are, because...I'm old..er, but I wouldn't bet against them.
Forecast: $30 millon

Street Fighter: The Legend of Chun-Li

Is there any daylight in this movie? Is there anyone I want to see starring in it? Well, the Oscar-nominated Michael Clarke Duncan is in it. Lana Lang from Smallville stars as the video game character (in live action. Now that I think about it, a video-game style movie might be interesting.) I guess there's always the need to meet some kung fu craving, but come on, GI Joe is going to make this one look silly.
Forecast: $14 million.

Crossing Over

It used to be that even Harrison Ford's dramas were something to hype. I had to check the credits of this title before realizing that Ford was starring. Only a few weeks away and I haven't seen one trailer for it on TV. It's an immigration movie, which despite press in political news isn't likely to be a big draw for audiences. Like Traffic, the issue is shown from the ground point of view and from the office point of view: Ford plays an officer while Ray Liotta plays a policymaker. Writer/director Wayne Kramer has three crime-based movies under his belt, all of them opening under $4 million.
Forecast: $4 million.