Friday Box Office Analysis
By Tim Briody
January 31, 2009
BoxOfficeProphets.com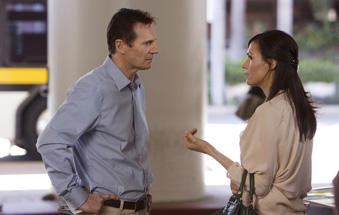 ---
Moviegoers found themselves, uh, taken by [tm:3800_]Taken[/tm] on Friday.

Taken

The [bp:763_]Liam Neeson[/bp] thriller has an excellent Friday, earning $9.4 million and outpacing everything else by a decent margin. Super Bowl weekend traditionally is not very kind to new releases, unless you're Hannah Montana. I expect a strong Saturday followed by a considerable drop off on Sunday, giving Taken something in the range of a 2.6 weekend multiplier. That is still good enough for a solid $24.4 million weekend.

[tm:4494_]The Uninvited[/tm]

What feels like the 43rd horror film released in 2009, The Uninvited, earned $4.2 million on Friday. On this weekend a year ago, a film you probably don't remember, The Eye, starring [bp:5338_]Jessica Alba[/bp] opened. It earned $4.9 million on Friday and $12.4 million for the weekend, a 2.51 multiplier. This seems to fit nicely, so The Uninvited should come in with $10.5 million.

New In Town

The [bp:3458_]Renee Zellweger[/bp] romcom starts in the middle of the pack with $2.4 million on Friday. This is not a good number, even on a weekend where anything that trends female will not be affected by the Super Bowl (a year ago, Katherine Heigl's 27 Dresses managed a 3.1 multiplier this weekend). Give New In Town $7 million for the weekend.

Notable Holdovers

After two weeks at the top, [tm:4493_]Paul Blart: Mall Cop[/tm] is finally taken down. But it's still off only 28% from last Friday and is still a very likely candidate to earn $100 million. The Kevin James hit should have a third weekend of $15.4 million

Last week's [tm:4052_]Underworld: Rise of the Lycans[/tm], takes a 69% spill to $2.5 million, outdoing the 67% Underworld: Evolution had on its second weekend in 2006. Give what is likely the final theatrically released entry in this franchise a weekend of $7.4 million.