Monday Morning Quarterback Part II
By BOP Staff
January 27, 2009
BoxOfficeProphets.com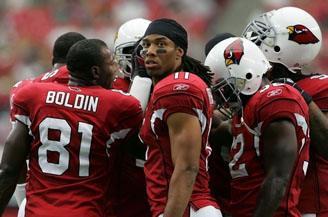 ---
Jai ho!

Kim Hollis: The Academy Awards nominations were announced, and the front-runners for Best Picture are Slumdog Millionaire and The Curious Case of Benjamin Button. With $10.6 million this weekend, Slumdog has current box office of $55.9 million, while another $6 million for Button gives it a running total of $111 million. Which box office performance is most impressive to you and why?

Brandon Scott: Good question. Slumdog is the bigger success, simply because it was shot in India with unknown actors and has succeeded simply on word-of-mouth and critical praise. I would find anyone hard pressed to truly say otherwise. But, I do feel Button's haul is impressive, even given its massive budget, especially once you have seen the film. This is a long movie with a familiar storyline (again at least once you have seen the movie or read the comparisons to Gump), so to see it doing this well is impressive. I feel it is unquestionably one of the best two or three movies I have seen this year (maybe the best) and even though it will not likely win the big one (Slumdog is the significant favorite here), it's still a nice number. The budget of course is what makes one feel otherwise, since that was in the $130-150 million range.

David Mumpower: This is an interesting question in that it includes factors such as scale and expectations. The surface evaluation would be that Benjamin Button has earned twice as much and that no matter how well Slumdog Millionaire performs from here, it will not close that gap in revenue. I agree with Brandon's assessment, however, in that a film starring Brad Pitt and Cate Blanchett has much higher expectations than one starring an entire cast of complete unknowns. The only legitimate celebrity in the entire Slumdog production is the film's director; rare is the instance where a project like that earns $100 million, which appears to be where Slumdog Millionaire is headed. It's following in the footsteps of Juno and while Benjamin Button is going to make more money, Slumdog is the stronger performer relative to expectations. It's also the better return on investment since it cost only $15 million to make. As an aside since this has been coming up a bit lately, if you have not watched Boyle's 2004 release, Millions, it functions as something of an emotional precursor to Slumdog Millionaire. And it's wonderful.

Daron Aldridge: I echo Brandon and David's thoughts. Button was supposed to be huge and Slumdog wasn't really on that many people's radar until after it got its limited release and the ensuing praise. Thanks to David for giving Boyle's Millions a mention, so that maybe more people will seek it out.

Shane Jenkins: It's hard not to root for scrappy li'l Slumdog over Gump II. And let me jump on the bandwagon here - Millions is one of my all-time favorites.

Tim Briody: I actually disagree, David. Most folks who want to see Benjamin Button already have and this was surely its last weekend in the top ten. Slumdog Millionaire earned $42 million without ever going above the low 600s in screen count, and as the current favorite for Best Picture, will get more and more exposure over the next couple of weeks. I would not be surprised if it closed that gap with a Best Picture win.

Sean Collier: I agree that, when all is said and done, Benjamin is not going to have a significantly higher final tally than Slumdog. To get an idea of how well Slumdog is doing, we need a point of comparison - and there aren't too many genre-hopping foreign-made best picture contenders with no bankable stars in recent memory to pick from. A telling one, though, is Babel. Lots of buzz, a best picture nomination, a respected non-American director, and its final tally was a little over $34 million. Slumdog has $55.9 million, and earned most of that BEFORE it got a best picture nod, and WITHOUT Babel's stars - which included a certain Mr. Pitt. Slumdog is exceeding even the wildest of expectations.

David Mumpower: Tim, why are you confident this is Benjamin Button's last weekend in the top ten? It was up 7% while the films at 6, 8, 10 and 11 were off between 40% and 72% (!) with Inkheart, the #7 film, unlikely to have the appeal of it next weekend.

Max Braden: Button is a perfect holiday season release, and the December/January timeframe is usually good to studio box office numbers. I figured Slumdog would be the movie that only critics saw. I was equating it to The Kite Runner, which was highly praised but earned less than $16 million in its entire US run, and only got one Oscar nomination (for original score).

Tim Briody: You would think a film that got as many nominations as Titanic did would do better than a 7% increase, is all I'm saying.

Reagen Sulewski: Honestly, any kind of increase for a film that's already been out for a month is outstanding. The real gold comes if it wins Best Picture.

David Mumpower: The other factor to consider is that last weekend's total was holiday-inflated. That moderate increase this frame is against an artificially good total last weekend, making it all the more impressive.

Stupid Weinsteins

Kim Hollis: Okay, let's get to it. What are your biggest Oscar surprises and disappointments? Other than WALL-E and Heath Ledger, what is your lead pipe cinch winner?

Brandon Scott: The Reader landing a best picture nom was a shock. Jenkins over Eastwood was a mild surprise. Chris Nolan being left out in the Director category was a disappointment. Doubt getting four nominations for acting and none for Best Picture is also a bit surprising when you look at it. I was glad for Heath Ledger and glad that Wall-E didn't get in for Best Picture. I think The Wrestler deserved more kudos than Rourke's amazing performance as well. It is a moving picture (that he anchors incredibly), but a bit tragic, and maybe in these harder economic times that is not what people (Academy voters) are looking for. DiCaprio being left out for Revolutionary Road is also a bit surprising from what I gather.

David Mumpower: After spinning this over in my head a few days, I've reached the conclusion that Woody Allen not being nominated for the Vicky Cristina Barcelona script is the biggest shocker. Given the Academy's love for him, I'm a bit confused why they would shun him for delivering one of his most successful movies in recent memory. Similarly, I think I've made it clear that I didn't drink the kool-aid on The Dark Knight, a movie I simply don't like as much as Iron Man (or Batman Begins), but slotting a movie as lackluster as The Reader in the Best Picture race ahead of it is...well, Don King smells a fix from The Weinstein Company. If some enterprising Los Angeles resident were to steal Weinstein's hard drive, I am convinced a few hundred members of the Academy would have their voting privileges stripped. And I am not in the habit of making accusations like that. The Reader's nods (other than Winslet) were bought. I'm convinced of that. A film that is 52% (among top critics) at Rotten Tomatoes doesn't get a Best Picture nomination on its own merits. Conversely, I am pleasantly surprised that WALL-E got a screenplay nomination. Writing a film that is silent for the first half is among the most difficult achievements in the screenplay field. I know that conventional wisdom says that a good script would work just as well if it were silent, but let's be honest. There haven't been a dozen of them this decade that would qualify under that criteria.

Daron Aldridge: The Reader inclusion shocked me for the same reasons. But it also reminds of the same type of campaigning/wallet padding that undoubtedly "earned" a Best Picture nomination for the inferior Chocolat in 2001 over Almost Famous and Cast Away and Cider House Rules in 1999 over The Talented Mr. Ripley or Boys Don't Cry. On to happier topics, I think that Mickey Rourke is a lock for Best Actor. The one person I expected to spoil it for him would be a nod for Clint Eastwood but that didn't happen.

Shane Jenkins: Yeah, The Reader is the Chocolat of this year. The biggest surprise to me was the exclusion of Springsteen's Wrestler song, which, prior to the nominations, I would have called a lock. The Academy decided that sheer nothingness was preferable to The Boss, and only nominated three songs when it usually selects five. Curious!

Tim Briody: I don't see Slumdog Millionaire not winning Best Picture. Also, I forsee lots and lots of jokes at the expense of The Reader in BOP's continuing awards coverage.

Max Braden: I was probably most surprised by the lack of Springsteen in Best Song, as Shane said. Earlier this fall I was thinking there would be lots of nominations for Synecdoche, NY but then for the opposite reasons did not expect this much attention for Slumdog. I don't know why there was no push for Michael Sheen - I thought he did more with his facial expression than Langella did with his voice. As far as The Dark Knight goes, I can just see them thinking "We'll just save the 15 nominations for the third installment." Frankly I had problems with its length so it didn't disappointment me to be left out. I'm pleasantly surprised that Robert Downey Jr. got nominated and if it weren't for Heath this year, he'd be my #1 choice.

Joel Corcoran: I think the biggest surprise was Melissa Leo's nomination as Best Actress for Frozen River, which I couldn't be happier about. She's deserved recognition for her talents at least since she was on Homicide: Life on the Street ten years ago, and Frozen River was a great little film. My biggest disappointment has to be such scant attention for either Iron Man or The Dark Knight. Both were excellent films, and either one deserved a Best Picture nomination ahead of The Reader (even though I really liked The Reader). The fact that Iron Man received so few nominations is just criminal. And my lead pipe cinch winner is The Dark Knight for Best Cinematography, but only because so many Oscar voters will be swayed by guilt over the film not getting a Best Picture nomination.

Jim Van Nest: One of the bigger surprises for me was Clint not getting a Best Actor nod. I thought for sure that his (likely) final performance would not only get him the nom, but probably net him the win as well. While I haven't seen Revolutionary Road, I still get this feeling that the Academy does not like Leo for one reason or another. Dude always shows up and always puts in a great performance, yet he always gets skipped over. One last thing is my disappointment that the Academy didn't have the guts to give WALL-E the Best Picture nom. I'm glad they recognized the screenplay, but it seems like a cop-out nom for not having the balls to invite it to the big dance.

Jamie Ruccio: I'm with Jim on this one...a big shocker to me was the shutout of "Gran Torino". The buzz on this, I thought, six weeks ago was fairly high but the lack of Gold Globes just destroyed it somehow. I thought the one last glimpse of gruff, shotgun wielding Clint Eastwood with a sweet ending would be enough. I really wonder if Hollywood just has enough attention and affection for a small number of films. They seem to neglect what was previously the most talked about film in favor of the new favorite a lot. The whole "Crash" versus "Brokeback Mountain" comes to mind.

Cowboys in the Super Bowl! You heard it here first!

Kim Hollis: Who ya got in the Super Bowl?

Brandon Scott: Pittsburgh wins smoothly, say 35-17, though I am actively rooting against them. I hope Big Ben chokes one off like he did in his first Super Bowl, but even then, it might not be enough (seeing as they beat an inferior Seahawks team the first go around). I still want to see them beat a healthy Chargers team, but I am not bitter...no, not at all. Go Cards!

Reagen Sulewski: I'm taking Bruce Springsteen and the points.

Eric Hughes: The Cards for sure looked awesome against my Eagles, but the Steelers have a lot going for them on their side - including history. I expect Pittsburgh to be an NFL-record 6-1 in Super Bowl appearances by the time I'm watching the post-game Office.

David Mumpower: After what happened last year with the Giants upsetting the Patriots, I think everyone should be a bit nervous about picking the favorite. The Cardinals are a fascinating team in that they have dynamic core pieces on both sides of the ball. Given how prone Roethlisberger is to absorb sacks, this is a scary matchup if they cannot get Darnell Dockett and Karlos Dansby blocked consistently. We saw in the regular season game against Dallas and in the first playoff game against the Falcons (dammit) that the Cardinals can dominate with their defensive front seven if they get a bit of confidence. I expect most people to take Pittsburgh - and I fully expect them to break out one of their wonderful offensive gadgets to break a big play - but I like the way Arizona is playing. I may look like a fool if they show up for this game in the same shape they did against the Patriots in December, but I think Kurt Warner is about to win another Super Bowl and retire as a champion. I also think that the $40 million/four-year contract Larry Fitzgerald signed back in March is already completely justified, each and every dollar of it.

Daron Aldridge: I am going with Pat Ross and the Arizona Cardinals. Just giving the unsung position of center a little love. He has as many touches throughout the game as quarterback. Don't let Terrell Owens hear about that or it'll be another teammate he complains about. Let's go ahead and call the score as 28-13 for a Cardinals win. Feel free to call me foolish because quite simply I am when it comes to football.

Sean Collier: As I write this from within the warm confines of my apartment, situated in the very heart of Pittsburgh, I feel that I can express little more than: "OH YEEEEEEEEEEEEEEEEEEEEEEAAAAAAAAHHHHHHHH!" (For the sake of clarity, that should be read like Macho Man Randy Savage, not like the Kool-Aid Guy or Duffman.) Furthermore, I do pick the Steelers to win, in a closer game than some are expecting. With that, Pittsburgh will claim its sixth Super Bowl, and thus, be the undisputed and permanent greatest franchise in the history of ever, that's right, no, I would not like to hear your counter-arguments, Packers and Cowboys. No one disagree. Don't make me start chanting "Here We Go," now.

David Mumpower: Why is it that all of these discussions about the greatest NFL franchise never ever start with the Falcons?

Shane Jenkins: E-A-G-L... what? Oh. Never mind.

Tim Briody: After much consideration, I've weighed things carefully and decided that the coin flip will come up heads.

David Mumpower: Tim's a damned dirty liar. Everyone knows tails never fails.

Joel Corcoran: Cardinals by 10 over the Steelers, Bruce Springsteen puts on a halftime show almost as good as the U2 show from a few years back, and the Bears are in playoff contention next season.

Kevin Chen: Given the downturn in advertising budgets across the nation and worldwide, I fail to understand the question.

Jim Van Nest: I'm with David on this one. Pittsburgh has an awesome defense, but I don't think they're ready for what is starting to look like a new version of the "Greatest Show on Turf". Kurt Warner is back and when he's locked in, like he is right now, he doesn't usually lose. And Larry Fitzgerald is a beast. I'm still waiting for someone to stop him. I think it should be a good game, but the Cardinals can score points in bunches and if Pittsburgh isn't careful, the game could get away from them. Just ask Donovan about it.

Jamie Ruccio: Again, I'm with Jim. Having just a passing interest in this season, I had no idea who this Fitzgerald guy was. But the game I saw him in, he was running around the field, making catches like he was the only one on the field. He's a complete monster from what I can tell.

I don't care who wins, the teams I didn't want to see in the Superbowl are not playing...and...conversely the team I did want to see didn't make the playoffs. I just hope the game is good.