Weekend Wrap-Up
Underworld Rises, Inkheart Flops
By John Hamann
January 25, 2009
BoxOfficeProphets.com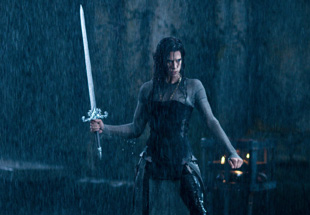 ---
After what was actually a historic weekend in the last frame, due to the Martin Luther King weekend finishing as one of the top ten box office weekends in history, we roll into the post-Oscar nomination weekend with a little less fanfare. As usual, this weekend debuts two films that are as far away from Oscar as it gets in Underworld: Rise of the Lycans, and Inkheart, with the king of the green screen, Brendan Fraser. The real talk, though, is Oscar, as Slumdog Millionaire and The Curious Case of Benjamin Button face off in post multi-nomination glory.

Our number one film of the weekend is once again everyone's favorite heavy hero, Paul Blart: Mall Cop. After pulling down the second biggest January opening gross ever, the pressure was on to perform again in the sophomore frame. Considering that the opening weekend was padded due to the long weekend, Blart did pretty darned well, earning $21.5 million and dropping 32%. I think we would all agree that any drop above 50% was going to be good news here, since we know that Cloverfield, the top January earner and last year's MLK champ, tumbled almost 70% in its second frame. Unlike Cloverfield, Paul Blart looks to be a $100 million earner, as its total so far has reached $64.8 million. The best news for Sony is that they have number one and number two at the box office this weekend, as we'll see in a moment. It might be hard to believe, but it looks like Kevin James is going to post three consecutive $100 million films - Hitch, I Now Pronounce You Chuck and Larry, and Paul Blart: Mall Cop. Who'd have thunk it?

Second place goes to Underworld: Rise of the Lycans, which just couldn't stay ahead of the MLK superstar, Paul Blart: Mall Cop. The third film in the gothic Underworld series earned a predictable $20.7 million from 2,942 venues. It had a venue average of $7.036. Rise of the Lycans swings below both the original Underworld ($21.8 million opening in September 2003), and its sequel, Underworld: Evolution ($26.9 million opening in January 2006). For those that don't follow this series, Rise of the Lycans is actually a prequel, and doesn't have normal star Kate Beckinsale in her usual leather-clad role. Usually, these things might harm a franchise, but anything at or over $20 million has to be considered a success for Sony, Screen Gems, and Underworld.

The first Underworld flick cost Sony and Screen Gems only $22 million to make. It almost equalled its budget over opening weekend, which probably paved the way for a sequel right there. The problem was, it had absolutely no staying power, behaving like a sequel and finishing with just $52 million, after experiencing drops of 57%, 46%, 55% and 60%. It failed to reach $100 million even when combined with foreign receipts, but did bounce back with DVD sales. The second film, Underworld: Evolution, did better, cost more, and had the same problems. Evolution opened to $27 million, finished domestically with $62 million, and worldwide earned $111 million. While it performed better, it cost more, with the production budget coming in at $45 million - almost exactly the same figure as it made in DVD sales. For Rise of the Lycans, budget seems to be a closely guarded secret, however with the departure of Beckinsale and Scott Speedman, I imagine costs have come down quite a bit, possibly into the $30 million range. I see this one finishing much like the first, but now Sony will have a three-part box set to shill come Easter.

Gran Torino, despite the hard Oscar snub, still finishes third for Clint Eastwood. After an MLK-inflated gross of $22 million in the previous frame, Gran Torino fell a terrific 27% to $16 million, despite no Oscar push. In the Wednesday and Thursday following nominations, Gran Torino was actually the number one film on both those days, which shows that Clint doesn't need awards to continue draw crowds. Gran Torino is now going to be easily Clint's highest grosser, as it has earned $97.6 million so far, and will cross $100 million by the start of next weekend.

Fourth goes to Hotel For Dogs, which actually moves up a spot from fifth last weekend. The Paramount release that opened lower than expected last weekend earned $12.4 million in its second weekend, off a solid 27%. The problem for Hotel for Dogs is budget, as this one cost $75 million to make, and has a gross so far of $37 million.

Thanks to a bevy of Oscar nominations - and 841 more venues - Slumdog Millionaire moves from tenth spot last weekend to fifth spot this weekend with a gross of $10.6 million. Ten nominations propelled Danny Boyle's little film that could up from its $5.8 million gross last weekend, an increase of 80%. This is its highest rank and biggest gross of its now 11-week run, and in my opinion propels it to the front of the pack for Best Picture consideration. This $15 million Fox Searchlight pickup has now earned the studio $55.9 million, and is the reason I put up with all this awards nonsense - little films that should be seen by a wider audience are, at least this year. With a few wins come Oscar night, Slumdog could be a $100 million winner - and that's just domestic sales.

My Bloody Valentine 3-D finishes sixth, and despite being a 3-D release, can't hold its audience in its second weekend. My Bloody Valentine pulled in $10.1 million, but had a pretty significant drop of 53%. Still, the Lionsgate release has pulled in $37.8 million so far, and should add another $20 million to that total before it's done. Had this one not come out in 3-D, I think its gross would have been half that.

Finally showing up in seventh is Inkheart, the new kid-aimed release from Warner Bros. The effects-laden Brendan Fraser flick (where have you heard that before?) got off to a slow start, earning only $7.7 million from a quite telling venue count of 2,655 theatres. With Bedtime Stories just out of the top ten, here comes what was marketed as a very similar thing. Add to that Brendan Fraser looking like he wasn't sure if he was on the Journey to the Center of the Earth set, and we have a mess, leaving Inkheart with a 36% fresh rating and nowhere to go but out. The good news here is that foreign sales seem to be successful, with over $15 million in the bank already from the UK and Germany. Warner Bros.' biggest problem is the $60 million production budget, and leaves me wondering why they didn't wait until at least the end of February to release this one.

Eighth goes to Bride Wars, the painful (but somewhat successful) comedy from Fox. Bride Wars tricked another $7 million out of the fairer sex this weekend, as the Kate Hudson Anne Hathaway flick falls 40% in its third weekend. Expect another wedding pic in January next year, as Bride Wars has now earned $48.7 million against a slim $30 million budget.

Finally in ninth we have our other big Oscar contender, The Curious Case of Benjamin Button. After finishing outside of the top ten last weekend, Button bounces back, rising to ninth and earns almost the same amount as did last weekend, finishing the frame with $6 million. That's an increase of 8% for the Brad Pitt film, and Paramount was certainly desperate for those 13 nominations. Benjamin Button crossed the $100 million domestic mark last weekend, but still needed at least another $50 million to match its production budget domestically, so the Oscar bump will help somewhat in that regard. The fact that it didn't bump higher might leave Paramount feeling a little left out next to Slumdog Millionaire; however, Button has earned $111 million so far.

Tenth goes to Notorious, last weekend's number four finisher. The Biggie Smalls biopic got absolutely killed as it dropped to only $5.7 million, good for a drop of 72%. It has a gross so far of $31.8 million.

In other award news, Frost/Nixon, with five nominations (including one for Best Picture) and an expansion to 1,099 venues, earned $3 million. The Wrestler, with two nominations (where are the Aronofsky and Springsteen nominations?) and an expansion to 566 venues, earned $3.7 million. The Dark Knight, with eight nominations, came back to 350 venues and grossed $661,000, and Milk, with eight nominations and 250 venues, earned $864,342.

Overall, box office was still strong compared to last year, but wasn't the blowout that previous weekends in January 2009 have been. This weekend the top 12 films took in about $140.8 million, which still compares quite favorably with last year's top films, which earned $117 million. New films next weekend include Taken with Liam Neeson (which looks good), New in Town with Renee Zellweger (which looks not so good) and The Uninvited, which already feels like our zillionth horror flick this year.