Weekend Forecast for January 23-25, 2008
By Reagen Sulewski
January 22, 2009
BoxOfficeProphets.com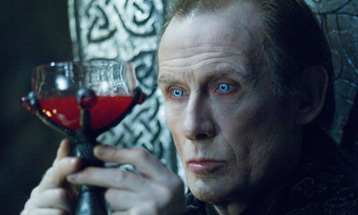 ---
This week's slate of releases won't match up to the surprising and stealthfully strong Martin Luther King Jr. weekend in terms of box office, but there will be a compensation. With Oscar nominations arriving today, a number of films that have been getting critical buzz - but were so far reserved for a couple of major centers - will get nationwide rollouts.

But first, there's the 2009 releases to get to. Leading the way is the third film in the Underworld series, Rise of the Lycans. A prequel to the 2003 vampires and werewolves film that starred Kate Beckinsale, it purports to tell us how the feud between the two races of demons began (though as I recall, the first film actually did that anyway), with everything awash in blue filters.

Beckinsale has left for greener pastures, replaced by Rhona Mitra, who as a lanky British brunette, apparently fit the costume. Bill Nighy, well on his way to becoming this generation's Christopher Lee, is also back, as well as Michael Sheen, who has to be thinking, "C'mon! I've been the lead in two Best Picture nominated films! How am I still doing these movies?" To add a little lemon juice to that paper cut, not only did he lose Beckinsale, the mother of his child, to the first film's director, he has to carry on her movie franchise.

While making a prequel seems to lose a lot of what made Underworld an interesting franchise in the first place ("It's vampires, in the modern world! With guns!" "Brilliant, here's $60 million!"), after two strong opening weekends both over $20 million, it's a little safer to take a shot like this. It's something similar to the Resident Evil films, which have a reliable audience for at least the first weekend, and as long as they're promised more or less the same as what they got last time, they'll turn out again, and I don't think Beckinsale was really the key ingredient here. Look for an opening weekend of $22 million.

So stop me if you've heard this one – a man, trying to connect with some young relatives, reads out fantastical stories, only to find out that he has the power to make them come true. Through this, he and his family end up on wild adventures and they all learn a lesson, The End. If you're Adam Sandler, this is Bedtime Stories. If you're Brendan Fraser, this is Inkheart and you're a month too late.

Fraser, who must be going for some sort of recognition as the greatest green-screen actor of all time, stars as a man who releases characters from books when he reads from them, although something has to replace them. After his wife is pulled into the book Inkheart, he and his daughter then have to battle with the rightful inhabitants of the book to set things right.

So, it's kind of the reverse of Bedtime Stories, but it's close enough that it's going to suffer by comparison, if it wasn't already kind of in trouble for some dull-looking effects. It's Journey to the Center of the Earth, without the CGI hook or summer buzz. Opening on 2,600 screens, it should come in with about $9 million on the weekend.

Which brings us to the real story of the weekend, in the expanding Oscar films. Eight films in total with Oscar nominations increase their screen count at least a little this weekend, expanding or re-expanding, though four of them are more significant than others. Slumdog Millionaire, with ten nominations, hits 1,411 screens, Frost/Nixon jumps to 1,097, Revolutionary Road makes it to 1,058 and The Wrestler is now on 566. Missing the boat completely is surprise Best Picture nominee The Reader, which actually loses screens.

Slumdog is already a success story, riding an audience-pleasing wave to over $40 million in box office, a remarkable sum for a quasi-Bollywood film with no recognizable actors to the North American audience (and quite likely none even in India, too). Watch for this to explode up to $10 million this weekend on the expansion and nod of approval from the Academy.

Frost/Nixon has lingered so far in only a couple hundred screens, and could have a huge boost as well. The story of the interviews between David Frost and Richard Nixon that cemented Nixon's reputation in the public after Watergate, it doesn't, on the surface, seem like a great concept for a film. It takes on the presence of a cat and mouse thriller, though, and has an interesting underdog arc. Directed by Ron Howard and starring the aforementioned Michael Sheen and Frank Langella, it's up for five awards and should pop up to about $6 million this weekend.

Revolutionary Road is a bit like the guy who crashes the wedding, but is a really good dancer. It's awkward, but no one really wants to tell him to go home. Widely predicted to be nominated for a slew of awards, including possibly Best Picture, it wound up with... three, Art Direction, Costume Design and Supporting Actor. Wooo! Throw that on the poster!

The film stars Leonardo DiCaprio and Kate Winslet as dissatisfied suburbanites in the 1960s (I think called The Bickersons), who descend into bitterness as the banality and pressure of their lives tears them apart. All in all, a fun two hours at the multiplex, and it's been a divisive film among audiences and critics. With no big name Oscar nominees to trumpet (they'll have to fall back on Winslet's Globe), this shouldn't make much of an impact, with about $4 million.

The Wrestler has just two nominations, but one is a big one. Mickey Rourke's comeback turn as a broken down wrestler has driven this film to $5 million so far, which is kind of remarkable considering it's been on at most 144 screens and is a film about wrestling and stars Mickey Rourke.

A kind of anti-Rocky, it's one dominated by Rourke and is at times, difficult to take. The trouble is getting audiences past the subject matter, though the nominations here (co-star Marisa Tomei gets her third in the supporting actress category) are the way to kick down the door of those perceptions. On its 500 or so screens, look for $4 million.

The biggest shock of last weekend was Kevin James proving his worth as a comic lead in the otherwise unremarkable Paul Blart: Mall Cop, which opened to $31 million in three days. Segways and fat guys - that's apparently the wave of the future in comedy. And who knew there were that many King of Queens fans? Let's hope this falls off quickly, to about $15 million.

Gran Torino would have hoped to be in the Oscar nomination discussion a few paragraphs up, but was completely ignored by the Academy. Oh well, Clint Eastwood will just have to console himself with his millions of dollars from making the film, which is closing in quickly on $100 million. Give it $13 million in its third wide release weekend.

My Bloody Valentine and Notorious both opened to around $20 million, but seem likely to be one-and-dones. The first hinges on its 3-D gimmick, which probably was exhausted in the first couple of days, and the second is a much-anticipated biopic with an impatient audience. Give each around $10 million.

Finally, among significant box office films, there's Hotel For Dogs, which I must admit, delivers on its title. Kids films can be something of a wildcard, though this looks agreeable and inoffensive enough to have legs, plus Paramount will be pushing the hell out of it to recoup their crazy $75 million investment in it. Look for $10 million out of this one, too.