Weekend Wrap-Up
Paul Blart, Valentine, Notorious Rule MLK Weekend
By John Hamann
January 18, 2009
BoxOfficeProphets.com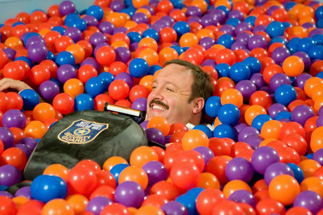 ---
Hollywood is on a roll. After opening 2009 with two extremely successful weekends, Martin Luther King Jr. Weekend is already upon us, and we have a blowout weekend at the box office. Box office analysts are well aware of the fact that the MLK Jr. holiday weekend has become a lucrative period. Even allowing for this, what happened during this frame is miraculous, as we just had one of the ten biggest box office weekends of all-time.

Debuting films include Hotel For Dogs (the third high-profile live-action dog movie in recent months), Paul Blart: Mall Cop with funny-man Kevin James, the rap-bio Notorious about Biggie Smalls, and My Bloody Valentine 3-D. We also had expanding films in Defiance with Daniel Craig and Dustin Hoffman and Emma Thompson in Last Chance Harvey. Add to that a strong list of Oscar contenders and holiday films, and we have a blow out weekend at the box office. What is most shocking, though is that the first four of these releases would have been among the 20 best January opening weekends (not platform expansions) of all time...had it not been for one another.

Sony's surprisingly strong Paul Blart: Mall Cop leads the way, as comedy reigns over this extremely interesting weekend. From Adam Sandler's Happy Madison production company, Paul Blart managed a very strong $33.8 million over three-days from a very wide 3,144 venues. It had a venue average of $10,751. Most shocking of all is that Paul Blart: Mall Cop is the second-biggest January opener ever, behind only Cloverfield's $40.1 million. The Kevin James comedy relied on a quite funny trailer and TV ad which Sony has been pushing hard since shortly after Christmas, and the strong marketing campaign paid off. The comedy would have drawn a very broad audience, from the very old to the very young.

Kevin James has made quite a name for himself following an almost ten-year run on the CBS sitcom King of Queens. Towards the end of the run for Queens, James made Hitch with Will Smith, a film that opened to $43 million, earned $177 million domestically and took in another $189 million in foreign grosses. He then did I Now Pronounce You Chuck and Larry with Adam Sandler, and despite being somewhat socially backward, it opened to $34 million, finished domestically with $120 million and earned another $130 million from foreign tickets and DVD sales. With this kind of success, James's own film was sure to be on the horizon, and now we have another success in Paul Blart: Mall Cop. The biggest difference between his two earlier films and Mall Cop is budget. Hitch and Chuck and Larry cost a combined $140 million, whereas Paul Blart: Mall Cop cost Sony and Happy Madison only $25 million to make. That means Paul Blart has already beaten its production budget and will see real profit by the end of next weekend.

Of course, film quality is not on the menu with Paul Blart: Mall Cop, but judging by the TV ad, that was never in the cards. Its lack of any sort of seriousness might be why it was so successful. The Sony comedy had 69 reviews counted at RottenTomatoes at the time of this writing, and only 19 were positive, leaving this one with a 28% fresh rating. If you thought reviews were going to be better, you should have your head checked. Again, tough economic times lead to films like this. They are check-your-brain types of movies, but I bet you laugh at least a few times.

Clint Eastwood's Gran Torino has another strong weekend, dropping from first last weekend to second this weekend, which is excellent considering the competition. After a $29.5 million gross in the last frame, Gran Torino earned another $22.3 million, giving the drama a solid drop of only 25%. With this kind of hold, Eastwood should be on his way to his fifth $100 million film of his career, and this one could be his biggest. His current top grosser, Every Which Way But Loose, finished with $104.3 million. Gran Torino is our third consecutive budget-to-gross winner this weekend, as Torino cost $33 million to make, and has now earned $73.2 million.

Third goes to My Bloody Valentine 3-D.. The Lionsgate 3-D horror spectacular pulled in $21.9 million over three-days from 2,534 venues, which gives it an average of $8,642. It becomes the 11th biggest January opener ever. It slightly beats the opening of last weekend's horror flick The Unborn ($19.8 million open), but surprisingly, it got pretty decent reviews. You may want to hold onto something while reading this: My Bloody Valentine 3-D was the best-reviewed opener of the weekend, coming in at 73% fresh at RottenTomatoes. Of course, only one 'top critic' has chimed in (Variety's Joe Leydon, fresh), but with 22 reviews out of 31 being positive, obviously something went right. This is going to be our third consecutive opener that has done quite well versus its budget, as the New York Times reported a budget figure of only $20 million. Lionsgate needs a success, as two hopefuls, The Spirit and Punisher: War Zone, both recently flopped with a combined gross of about $27 million.

Finishing fourth is Notorious, the film I thought would win the weekend. It still had a great weekend, as the biopic about The Notorious B.I.G. earned $21.5 million from only 1,638 venues, a better score than tracking had indicated. Its opening take gives Notorious the crown for biggest venue average in the top 12, as this one came in at an incredibly strong $13,126 per theatre. It's also the 13th biggest January opener ever. From Fox Searchlight, Notorious stepped up strongly in the last week, and given this kind of opening, we have to believe crossed over from its target and reached a wider audience. Reviews for Notorious were mixed almost right down the middle at RT, as the biopic finished with a 52% fresh rating. While I don't expect huge legs for Notorious, the budget here was probably less than the opening weekend gross, so I see it being another success for the folks at Fox Searchlight (The Wrestler, Slumdog Millionaire).

Fifth goes to our last true opener, Hotel For Dogs. Despite being the widest release with 3,271 venues, the kids' flick finishes at the bottom of our string of openers, possibly due to an overabundance of dog films released over the last few months. Hotel For Dogs earned a not bad $17.7 million this weekend, and finished with a venue average of $5,413. It's now the 23rd biggest January opener ever (it would have been 20th if not for the other competition). After big returns for Marley & Me ($130 million and counting), Bolt ($112 million), and Beverly Hills Chihuahua ($94 million), the dog movie is just about played out, and this one may have opened bigger if it had been at the head of the pack. Starring Don Cheadle, Lisa Kudrow and Julia Roberts' niece Emma, Hotel For Dogs was our most expensive opener, costing Paramount $75 million to make. It's going to need better-than-average legs to recoup that budget domestically, and a 45% fresh rating isn't going to help.

Finishing sixth is last weekend's number two flick, Bride Wars. Dumped at the alter, Bride Wars grossed $11.8 million and was off 44% compared to last weekend. Usually over long weekends, percentage drops are subdued due to the holiday Monday, but not in this case. Bride Wars has now earned $37.6 million and should finish between $55 and $65 million.

Last weekend's horror release, finishes seventh this weekend compared to a third place finish last weekend. The Unborn earned $9.8 million and fell an okay-for-horror 50%. The Unborn now has a gross of $33.1 million against a production budget of only $16 million.

Defiance, coming off a two-screen limited release run, parlayed its small release into a decent debut in wide release this weekend. Now in 1,789 venues, Defiance earned a not bad $9.2 million this weekend, good for a venue average of $5,146. Starring Bond himself Daniel Craig, Defiance didn't receive the reviews it needed for award consideration, but considering the subject matter, Paramount Vantage has to be happy with this kind of gross. The production budget here was $50 million, so this one is going to need some amazing legs to match its budget domestically.

Marley & Me has a better frame this weekend than last, when it fell 53% and a had an $11.3 million gross. This weekend, the comedy fell 44% and earned $6.3 million, not bad considering the competition from Hotel For Dogs. The winner of the holiday sweepstakes, Marley & Me now has a running total of $132.7 million, and could see as much as $155 million.

Tenth goes to the Best Picture -Drama winner last weekend in Slumdog Millionaire, which will be looking for a number of Academy Award nominations this week. After winning every Globe for which it was nominated, Slumdog Millionaire took in another $5.9 million for the weekend, a remarkable 56% increase over last week. With a current total of $42.7 million, this one has the chance to earn quite a bit more.

That means Oscar contender The Curious Case of Benjamin Button falls out of the top ten this weekend, as it earned $5.6 million and fell 39%. Other award favorites included Last Chance Harvey, which moved to 1,054 venues and earned $4.7 million; The Wrestler with a gross of $1.8 million, Revolutionary Road with $1.7 million and Milk with $764,218.

Overall, the box office really has a lot to crow about. The top 12 films this weekend earned $170.6 million over three days, which was more than the top 12 earned last year over four days ($158.9 million, a former record for the MLK weekend). The early lead over last year continues to stack up, as we now have three consecutive weekends in 2009 that were much higher than those of 2008. Next weekend should provide another $20 million plus opener in the form of Underworld: Rise of the Lycans, with potential also coming from Inkheart, the new children's film with Brendan Fraser.