Friday Box Office Analysis
By Tim Briody
January 17, 2009
BoxOfficeProphets.com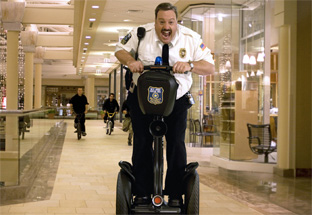 ---
[tm:4493_]Paul Blart: Mall Cop[/tm]

Leading the way on Friday with an astounding $9.7 million is Kevin James' Paul Blart: Mall Cop. No, I can't explain this one either and I'm not even going to try. Being the Martin Luther King Jr. holiday weekend, there will also be a very solid weekend multiplier over the four-day weekend. Look for the Happy Madison production to come in with $32 million for the long weekend.

[tm:4492_]Notorious[/tm]

The Biggie Smalls biopic earned $8.2 million on Friday. The breakdown on earnings from East Coast theaters as opposed to West Coast ones is currently unavailable. While under Paul Blart and tied with My Bloody Valentine, Notorious is only in 1,637 theaters making this a pretty impressive per-screen average. I'll give it a four-day weekend of $28.7 million.

[tm:4314_]My Bloody Valentine 3-D[/tm]

The second horror release of 2009 has a couple of things going for it, the long weekend, the 3-D gimmick and Jensen Ackles, who has a small (but devoted) legion of female followers. It would appear that some of them showed up on Friday as My Bloody Valentine 3-D comes in with $8.2 million Friday. Even with the holiday weekend, My Bloody Valentine should behave like a typical horror film and tail off as the weekend goes on. Expect a four-day total of $25.4 million.

Hotel For Dogs

Aimed squarely at small kids and extreme dog lovers, [tm:2686_]Hotel for Dogs[/tm] only manages $4.2 million Friday. This seems disappointing but its fortunes will likely improve quite a bit over the rest of the weekend, but it will still be a bit behind the other three openers. Give the Emma Roberts movie $15.1 million over the long weekend.

[tm:4562_]Defiance[/tm]

Expanding to 1,789 theaters, the [bp:3280_]Daniel Craig[/bp] starrer Defiance earned $2.7 million. I'd attribute almost all of that to those who just can't get enough of the current Bond. A four-day tally of $9 million seems about right.

Notable Holdovers

It's knocked down to 4th place thanks to the openers, but last weekend's big surprise, [bp:269_]Clint Eastwood[/bp]'s [tm:4311_]Gran Torino[/tm] is off just 36% to $6.1 million. Another solid long weekend of $23 million should be in the works.

Less lucky are [tm:4189_]Bride Wars[/tm] and [tm:4291_]The Unborn[/tm], off 53% and 60% respectively. Weekends of $12.1 and $9.5 million should be in the cards.