Weekend Forecast for January 16-19, 2008
By Reagen Sulewski
January 16, 2009
BoxOfficeProphets.com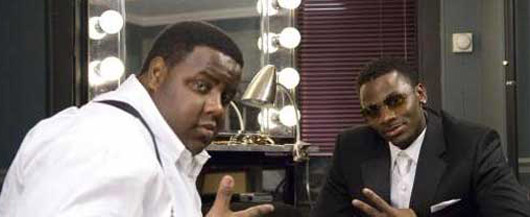 ---
Like a guilty divorced parent, Hollywood must feel like it's been neglecting us and is over-compensating. Six films hit wide release between new and expanding ones for the first long weekend of 2009, leading to the rarely seen January-glut.

Weird things can happen on weekends such as this one, like one of the new films with the lower amounts of screens ending up on top of the box office. That's what I'm anticipating this weekend with Notorious, the biopic of slain rapper Notorious B.I.G. a.k.a Biggie Smalls. Rookie actor Jamal Woolard stars as the portly Brooklyn rapper, who came to define "east coast rap" and introduced the world to Sean "Puffy" Combs (OK, it wasn't all good) until he was gunned down, possibly in retaliation for the similar killing of Tupac Shakur.

Biggie is something of a folk hero in the hip-hop community, both for his skills with a mic and for his legendary life, one that he himself seemed to know would be a short one. This film covers his life from growing up on the streets through to his death in 1997, and has a lot of breakout potential. The director is George Tillman Jr., who has some experience with getting a black-targeted film to open huge out of nowhere, with 1997's Soul Food. This time, he even has something to work with, and should be able to shepherd the film to about a $23 million opening weekend over four days.

New comedy (and I use that term loosely) offerings this weekend are handled by Kevin James. He teams up with Adam Sandler's Happy Madison production company for yet another film that uses the format of "Odd Name: Unusual Occupation". Paul Blart: Mall Cop (UK readers, stop giggling) sees James play, well...a mall cop, who's pressed into service to foil a gang of crooks after they invade his mall, with PG-rated hilarity ensuing.

This seems more like something you'd cast down in age (a lot) and would have had Macauley Culkin or Brian Bonsall play about 12 years ago, right down to the rating that should actively chase off most of anyone that might get tricked by the Sandler connection. James has done well riding on the coattails of (in order) Ray Romano, Will Smith and Adam Sandler, but in this film he has to be the guy. Even so, James is pretty popular and Martin Luther King Weekend often affords a lot of movies the chance to break out unexpectedly. And even Rob Schneider can open one of these. Give this a four-day total of $16.2 million.

In case you didn't get enough horror last weekend with The Unborn, we've got another gimmicky fright flick coming with the remake of My Bloody Valentine, which is hoping to justify itself by being presented in 3-D. Jensen Ackles of the CW show Supernatural stars as a man who returns to his hometown on the anniversary of a mass murder (this is why you keep these notes in a calendar, to avoid awkward situations like this), finding himself under suspicion for the murders, and with a new series of brutal killings underway.

It's apparently time for the "once-every-25-years" attempt to make 3-D work on film, with kids and horror films being the usual suspects for the application, most notably with Bolt and Journey to the Center of the Earth. I'm still unconvinced that it actually makes a difference, but studios appear to actually be getting somewhere with the technology this time, so I'm not out to discourage people from trying. But people still have to want to see the film, and the same people that might be impressed by 3-D knives coming through the screen are the same people that would want to see My Bloody Valentine anyways. That's probably enough for $15.9 million over the weekend.

So, there's this movie out this week, called Hotel For Dogs. And, in its defense, it doesn't try to be anything other than a PG-rated Nickelodeon movie for kids with a bunch of animals in it. Kids eat that stuff up, and it's hard to hold that against them, they don't know any better yet.

Emma Roberts (daughter of Eric, niece of Julia) and Jake T. Austin star as two orphans (perhaps rising to the level of ragamuffins) who discover an abandoned hotel and decide to take in stray dogs, staying one step ahead of animal control and their social worker (Don Cheadle, who obviously needed a beach house). Caring for hundreds of dogs becomes a lot of work, so Austin automates the hotel (perhaps proving his real father was one Rube Goldberg).

Animal films are going through another renaissance of late, what with the surprising success of Marley & Me over the holidays, and this should continue that trend on a smaller scale. It's a largely inoffensive, if adult-off-putting film, and should start with a weekend of around $13 million.

Defiance and Last Chance Harvey are two films that expand into wide release after varying limited runs, and as very different types of films. The former stars Daniel Craig as a Byelorussian Jew during WWII who moves an entire community into hiding after the advance of the Nazis. More than just hiding, they thrive against all odds and mount a resistance against the German invaders. The complexities of war raise their head and Craig and his brothers must maintain their humanity against the horrors around them.

While not quite Craig's first non-Bond lead role, it's the first film since his coming to stardom that has relied so heavily on his presence. Obviously no one should expect Bond numbers out of this, and the story is one that people aren't very familiar with. Mostly it feels like "generic peasant film with guns", which doesn't make for great marketing. On about 1,800 screens, watch for an $8 million weekend for Defiance.

The latter of those two expanding films stars Dustin Hoffman and Emma Thompson in a, well... September/October romance. Hoffman, playing a bit of a, well, loser is too harsh, but not a man who's dynamic and happy with his life. In London for his daughter's wedding, he meets up with Thompson, who's similarly out of place in her life, and the two start a tentative romance. Unremarkable but inoffensively so, this film may hit the target for romantic comedies, but will definitely skew a fair bit older than the typical rom-com. Both leads were nominated for Golden Globes, which may help, but probably not too much considering they didn't win. Opening on about 1,000 screens, it should be due for around $4 million.

Clint Eastwood shocked pretty much everyone with the opening of Gran Torino last weekend, to just shy of $30 million, his best opening weekend ever by a pretty fair margin (though to be fair, Dirty Harry never got to open on 3,000 screens). A strong contender for an acting Oscar (but a big long shot for Best Pic) Torino is already a big winner in most aspect of the word. Look for it to come in with about $21 million over the four-day period.

Bride Wars and The Unborn, horror films from different perspectives, came in at numbers two and three. The Unborn faces pretty direct competition and is of a one-and-done genre and should nearly fall off the face of the Earth here. Bride Wars, on the other hand, could scare us by showing some legs as a female-targeted film. But really, Anne Hathaway has to be careful she doesn't pull a Norbit and earn her way out of an Oscar. Bride Wars should come in with about $14 million while The Unborn ought to collapse all the way to $9 million or less.