Top 12 Film Industry Stories of 2008:
#3: Iron Man Rocks
By David Mumpower
January 14, 2009
BoxOfficeProphets.com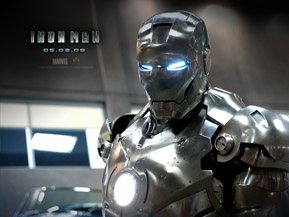 ---
"They came to me at a certain point and, when I do something, I wanna do it right. If I commit to something, it has to be done in a way that I know it's gonna be something special. And as it was lining up, it just didn't feel to me like it was gonna work. I need to be able to make decisions and make the film as great as it can be, and it just didn't go down that road that way." – Tom Cruise in 2005, speaking about Marvel's Iron Man project

For the better part of ten years, the biggest star in the world, Tom Cruise, was rumored to do an Iron Man movie. His interest in the project was the only thing that legitimized the movie concept. After all, the character was a relatively arcane one lacking the ubiquity of characters such as Batman, Superman and Wolverine. A person unfamiliar with comic books just a few years ago was unlikely to know who Iron Man was. 2008 changed all of that as the tandem of John Favreau and Robert Downey Jr. changed the scope of the character's celebrity in dramatic fashion.

Some of the above is probably blasphemous to comic book readers. I apologize for speaking the truth here, folks, but while Brian Michael Bendis has done a phenomenal job in upgrading the profile of the character through the major Marvel comic book events of Civil War, World War Hulk and Secret Invasion, you would still have to read a comic book to know these things. Sure, USA Today has just indicated that the six best selling individual comics of 2008 were all Secret Invasion titles, but this recent success does not change the fact that Iron Man has never been a part of pop culture zeitgeist the way that a few have. Shaquille O'Neal never would have considered getting an Iron Man tattoo back in the day. Much has changed and the people we have to thank for that are the guy who left that humiliating voicemail in Swingers and a drug addict famously fired from Ally McBeal due to his dependency.

Prior to Iron Man, John Favreau's resume of successful direction had one name on it: Elf. He had made his directorial debut with an obscure release called Made, featuring Vince Vaughn in a role where his main goal was to annoy everyone else in the movie including the viewer. Made earned only $5.3 million domestically although I consider that to be a rather impressive total for such a dislikable movie. Favreau also helmed Zathura, a delightful movie in the same vein as Jumanji, which is understandable since both films were based on children's books by Chris Van Allsburg. Alas, Zathura cost $65 million to produce, but it earned only $28.0 million domestically, making it a huge financial disappointment for Sony and Vaughn. The movie he did in between Made and Zathura, however, was a blockbuster. The aforementioned Elf (featuring Will Ferrell yelling a lot) cost only $32 million to make, but earned $173.4 million domestically. A revenue to cost ratio of five always gets the attention of Hollywood, and it helps that Elf is considered an instant holiday classic. Effectively, Favreau's directorial career prior to Iron Man had consisted of three films, two of them good, one of them successful. Hiring him to helm a $186 million production was a huge gamble for Marvel Pictures in this, their first attempt at self-financing a movie. It proved to be one of the savviest moves in recent box office history.

Favreau did something that sadly all too few comic book directors do. He took the time to familiarize himself with the source material and he expended a tremendous amount of effort in determining what made the character of Tony Stark relatable to comic book fans. After all, on the surface, he seemed more like a male fantasy than an everyman. Stark was born with the proverbial silver spoon in his mouth as the son of an uber-wealthy government weapons dealer. The character also has a rare intellect that allows him to invent and improve even the highest tech gadgets. And, oh yes, he's a ladies' man who gets a level of women that would make Hugh Hefner Incredible Hulk-green with envy. In short, there isn't much there that is identifiable for movie goers who probably don't know the character. Somehow, Favreau found a workaround. The key was in the genesis of the character and his victimization.

Rather than start the movie in some glamorous mansion or corporate headquarters where Tony Stark was the master of his domain, Favreau decided to show how Tony Stark would be Tony Stark anywhere in the world, even in the middle of the desert as he showed off new weapons technology. Having the character nurture a beverage, blow up cliff facing with a shameless amount of missiles and relish the moment all the while instantly gave the viewer an idea of who Tony Stark was and why he was so charismatic and engaging. Immediately having him kidnapped and tormented by terrorists was just the sort of shock needed to humanize him and give the audience a rooting interest in his escape from captivity. Of course, the key to all of this was Robert Downey Jr.

Anyone who has followed the career of Robert Downey Jr. knows him to be an acting savant. He has received comparisons to Johnny Depp due to the fact that both of them were hanging out in the bowels of the moviemaking world right before they stumbled into parts that would prove to be career defining for them. The difference is that Downey somehow managed to make his lower tier projects more engaging than Nick of Time and The Astronaut's Wife. I should acknowledge going in that I am biased here since I have loved Robert Downey Jr. since Tuff Turf (note: not a joke) and have always rooted for him to find redemption and peace in his career. The former Saturday Night Live cast member (why does everyone forget this?) has shown an innate ability throughout his career to take even the most pointless of lines and spice it up through his natural charisma.

After his all-too-public firing from Ally McBeal, Downey was forced to take on more conventional work in titles such as Gothika and The Shaggy Dog in order to keep his name out there. Even so, the quirky actor maintained a stubborn need for diversity by choosing alternative projects such as The Singing Detective and A Scanner Darkly to keep his edge. Oddly, this probably played in his favor as he followed up a career turnaround role as a journalist married to a possible communist in Good Night, and Good Luck with another strange role. He took on the title role in the always unconventional Shane Black's latest work, Kiss Kiss Bang Bang. In portraying a thief forced into acting and a bit of detective work, Downey Jr. reminded the world that while he could be comfortable in a group setting in Good Night, and Good Luck, he was so much more engaging when he did almost all of the work in a movie. I picked this performance to be among the three best of that year, and I was not alone in this regard. Upon seeing his work, Favreau risked $186 million by making a man one arrest away from significant jail time Iron Man.

The results speak for themselves. Perhaps there is another actor out there who can vacillate between playboy, victim and orphan better than Downey Jr. did, but I cannot think of one off-hand. Audiences and critics clearly agreed with me as Iron Man is one of the most successful projects in recent memory in terms of combined box office performance and critical reception. 93% of reviewers at Rotten Tomatoes loved the movie with only 15 (idiots) out of 222 giving the film a thumbs down. At the time of its release, Iron Man was described as the "best-reviewed film of the year so far" by the review tracker Web site.

Of course, reviews are nice but it's money that matters in our industry. In this regard, Iron Man is the gold standard. Thanks to white hot trailers and glowing buzz, Favreau and Downey Jr.'s project opened to $102.1 million, the tenth best debut of all-time to that point. Even better, word-of-mouth prevented any danger of frontloading as Iron Man broke $200 million on its 16th day in theaters and conquered the majestic $300 million mark after only 48 days in release. The film would go on to earn $318.3 million domestically, allowing it to edge the return of industry icon Indiana Jones for the second best performance of 2008. In addition, Iron Man earned a respectable (albeit not as impressive as some others like Mamma Mia!) $258.9 million worldwide, giving it combined worldwide box office receipts of $577.2 million. Iron Man also became the most successful Blu Ray release of all time within just two days of its release on the new disc format. It has already earned almost $200 million in home video sales and is the 21st most successful domestic release of all time. Rare is the movie production that has the stars align the way that has happened with Iron Man, clearly the second most lauded title of 2008.