Top 12 Film Industry Stories of 2008:
#4: The Dream(Works) Is Over. Again.
By David Mumpower
January 14, 2009
BoxOfficeProphets.com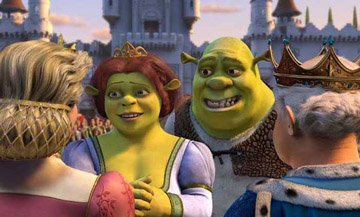 ---
In 1994, three of the most powerful men in Hollywood attempted to defy the conventional wisdom. The long-standing belief was held that a new studio could not ever gain a level playing field in the movie exhibition oligopoly. What made the trio trying to challenge this premise so novel was that they were all on the short list of the most powerful men in Hollywood.

Steven Spielberg, the director of some of the most lucrative projects in the industry's history, brought the creativity. Jeffrey Katzenberg, previously the Chief Operating Officer at Disney, had the experience in how to greenlight a full production slate. And David Geffen was the Mr. Moneybags who had parlayed his knowledge of the music industry into multi-billion dollar success with Geffen Records. These three men offered experience in all three major phases of the movie-making process. Spielberg would come up with the ideas, Katzenberg would get the movies financed and made, and Geffen would take another company go from the ground floor to the penthouse in record time. This was the plan in 1994 and it almost worked.

In examining the titles of DreamWorks, there are two aspects to examine. On the one front are the live action titles they released starting with The Peacemaker in 1997. The company had its fair share of success on this side, although their accomplishments probably didn't get the glowing press that they should. That's the problem with unreasonable expectations. Defining what is enough to qualify something as acceptable varies from person to person. With three of the biggest names in the industry running DreamWorks, opinions on "enough" were all over the place, but DreamWorks won an Academy Award for Best Picture only two years after its first release when American Beauty claimed the industry's biggest prize. They followed this remarkable feat by sharing two more Best Picture titles with Universal for Gladiator and A Beautiful Mind. Within seven years of the creation of DreamWorks, they had won three different Best Picture Oscars. If that's not success, we need to re-examine the word's definition.

The problem with the live action side of DreamWorks is that it was always living in the shadow of the animated side. Due to Katzenberg's experience running Disney's film division, he knew how animators thought and he offered them a rare opportunity for competition in the industry. Previously, had they not been comfortable at Disney, well, theirs was a take it or leave it profession for the most part. Disney had a de facto monopoly on the animation world. With the advent of DreamWorks, new opportunities arose for those who were not satisfied with their current job. The end result was that DreamWorks Animation had an advantage that the other side of the company never did. It became only the second fish in a two fish pond. Whereas DreamWorks live action productions faced the struggles all fledgling mid-majors do as they try to compete with the big boy, DreamWorks Animation was by default such a big boy right from the start. The results spoke for themselves.

The first DreamWorks Animation release, Antz, was soundly criticized for being a clone of Pixar's A Bug's Life, a valid complaint, but the film still earned $90.8 million domestically and brought in over $150 million worldwide, an impressive feat for a $60 million production. A few months later at Christmas, the well-timed The Prince of Egypt brought in just over $100 million domestically and $218.6 million worldwide again against a cost of only $60 million. Audiences instinctively trusted DreamWorks Animation as if it were a Disney spin-off, and the box office successes were plentiful because of this.

Obviously, the biggest success for DreamWorks came in the form of a giant green dude with a hackneyed accent. The original Shrek instantly became the upstart studio's biggest blockbuster with $267.7 million earned in North America and a whopping $484.4 million worldwide against a production budget of only $50 million. After that performance, DreamWorks Animation was legitimized as a big-time movie studio. And the release of the next two Shrek films reinforced that idea. Shrek 2 opened to a historic $108.0 million, second biggest of all-time up until that point, and went on to accrue $436.7 million domestically. It is as of this publication date the fourth biggest movie of all time in North America. Shrek the Third, while a critical disappointment, continued the franchise's run of greatness by opening to $121.6 million, fourth biggest in industry history. With another $321.0 million from that film, Shrek has brought in a staggering $1.025 billion in domestic revenue and $2.178 billion worldwide with just three releases. Any discussion of the most impressive box office feats of the 21st century has to begin with the Shrek franchise. Its success should have been a boon for DreamWorks' trio of movie moguls.

Alas, there were missteps along the way. Due in no small part to a serious miscalculation in the box office appeal of Sinbad: Legend of the Seven Seas in 2003, DreamWorks teetered on the brink of bankruptcy that year. While the success of Shrek 2 in 2004 helped quite a bit, some of that financial gain was given back when the company dramatically overestimated the number of DVDs the title would sell. As many as one in four of them were returned unsold from retailers to the studio. Any forward progress the company had made on the animated front was stymied by such financial pitfalls and the live action side never had a bigger hit than 1998's Saving Private Ryan, which managed $216.3 million domestically. Ignoring the animated titles, the biggest DreamWorks releases after that were Gladiator ($187.7 million), What Lies Beneath ($155.4 million), Catch Me If You Can ($164.6 million), American Beauty ($130.1 million), The Ring ($129.1 million), Road to Perdition ($104.1 million) and Collateral ($100.2 million). No other DreamWorks live action title broke the $100 million barrier, with The Haunting coming closest at $91.2 million followed by Anchorman: The Legend of Ron Burgundy at $84.1 million.

Out of the studio's ten biggest live action films listed above, most of the successes occurred in the period from 1998-2002. Only Collateral and Anchorman came out after that period, reinforcing the fact that DreamWorks was in a downward spiral and their drawing power was in question. This point was driven home in 2005 when their would-be tentpole title that summer, The Island, bombed in dramatic fashion. Despite a lofty $126 million budget, the film starring Ewan McGregor and Scarlett Johansson managed only $35.8 million domestically. That would prove to be the final blow to DreamWorks' live action division and its ability to financially support itself.

Due to these struggles, the SKG trio were forced to spin off DreamWorks Animation into its own company in 2004. In December, less than six months after the release of the disastrous The Island, DreamWorks was forced to agree to sell their company to Paramount Pictures. In February of 2006, the deal was finalized with Paramount assuming the company's remaining debt, placed at a whopping $400 million, and valuating the company's worth at $1.6 billion. Animus was created almost immediately afterward when Paramount sold off the entire DreamWorks live action library for $900 million. This transaction occurred only five weeks after the purchase of DreamWorks was completed. Anyone who knows anything about Hollywood egos recognizes the act of aggression this move was considered to be. In the end, the business relationship between the two groups never recovered from that one transaction although it's unlikely that the parties involved ever would have been able to cohabitate in the same entity anyway.

The legal wording of the Paramount acquisition of DreamWorks allowed for the latter party to branch off on its own after a designated period if they were unhappy with the new alliance. Both groups realized inside of six months that DreamWorks would be leaving Paramount on the first day possible. People within the DreamWorks office described their work atmosphere as toxic, a startling change from the celebration of creativity that had existed when the group had been a start-up. The corporate atmosphere at the Viacom subsidiary was simply not in keeping with the spirit from which DreamWorks was founded. The SKG trio had been seeking to escape such a setting in the first place yet their financial miscalculations had placed them in exactly such a spot for over two years.

In June of 2008, Variety reported that DreamWorks was trying to work out a deal to get at least a billion in financing in order to allow them to function as an independent company releasing eight titles a year. At this point, no one expected a working relationship between DreamWorks and Paramount moving forward as the antagonistic relationship between David Geffen and Brad Grey, CEO of Paramount, was too big an obstacle. An unexpected change in circumstances in October saw Geffen announce he was retiring, leaving Spielberg and current DreamWorks daily operations boss Stacey Snider to work out details of the Paramount divorce. Snider, a former chairman at Universal Pictures, gave every indication that the company's future was in business developments with her prior company, which it is. The shock, however, is that Paramount and DreamWorks have agreed upon a shocking number of future liaisons.

Paramount will co-finance many of DreamWorks' future releases. In order to secure the integrity of such an unexpected turn of events, DreamWorks' head of production, Adam Goodman, actually switched over to become a permanent employee of Paramount. This allows him to spearhead the roughly 200 projects in which he has been intimately involved over the past couple of years since the merger. With a friend running the Paramount side, DreamWorks feels that there is already a better working relationship with the company than had existed during their entire time working under the Viacom umbrella.

Meanwhile, the deal with Universal has proved to be trickier due to the plummeting economic situation. On October 13, a deal was reported that would allow DreamWorks to produce six releases a year that would be distributed by Universal. The two companies worked together to secure the rights to 17 projects that DreamWorks had been spearheading through Paramount, and those are the highest priorities at the moment. In exchange, Paramount gets to distribute all 11 DreamWorks titles in the coming year as well as 17 others in active development that Spielberg's group may co-finance if so inclined. Effectively, DreamWorks has developed an open relationship wherein they have left Paramount in order to be with Universal, but they have reserved the right to hook up with Paramount whenever it's late, they're horny, and they can't get Universal to text back.

This remarkable turn of events will have a wide reaching impact on the industry in coming years. The complex distribution deals created here have split one of the most creative movie productions groups, making them fence-sitters who are always a slave to other masters. At least, they would be if they could get the money. The sticking point to date is that despite their vaunted revenue history, DreamWorks is getting stymied in loan negotiations the same way anyone else in the United States is right now. An expected $75 million loan needed to finance the transfer of power from Paramount to independent ownership once has been help up. We are a matter of days away from resolution of this financial matter but if DreamWorks is unable to secure the loan, they will be unable to purchase the 17 aforementioned projects. This would create an awkward situation wherein their expected sources of future revenue as well as co-financing from not just Paramount and Universal but also an Indian company, Reliance, would all be jeopardized.

As of this moment, one of the most storied endeavors in the film industry's history, DreamWorks SKG, has an unsecure future. Because of the house of cards situation they have built in trying to re-attain independence and the nature of international finance at the moment, the fate of DreamWorks and the 200 movies they had planned over the next ten years are all in doubt. We fully expect a satisfactory resolution on this matter, but it's far from a foregone conclusion. DreamWorks' quest for independence was a huge story in 2008 and its success/failure in this regard will continue to be one of the biggest of early 2009. A lot of post-Writer's Strike movies could wind up in development hell if DreamWorks cannot secure the appropriate loans.