Top 12 Film Industry Stories of 2008:
#5: Mamma Mia! Indeed
By David Mumpower
January 13, 2009
BoxOfficeProphets.com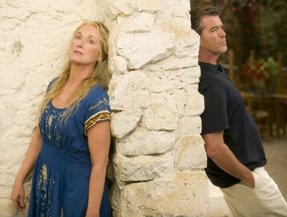 ---
Most of the 2008 releases at the top of the box office chart were expected. There was another Indiana Jones movie, a Pixar movie, a couple of comic book movies featuring Batman and Iron Man and a Will Smith movie. There were also a trio of animated family films and a James Bond movie in the top ten as well. Falling just outside the top ten, however, was the biggest surprise of the year...and the number one movie of all-time in England.

Mamma Mia!, a play celebrating the music of Swedish super-group ABBA, debuted on London's prestigious West End in 1999. The rather unusual story involves a bride-to-be's attempt to deduce which of three men mentioned in her mother's diary is her father. She invites the trio to her wedding festivities in hope of immediately feeling a familial bond with the right one. It's like Three Men and a Baby: 20 Years Later set to the tunes of ABBA. Oddly, this premise appeals to a lot of people. The proof of this is the fact that over the past ten years since its introduction, Mamma Mia! the musical has become one of the most popular tours in the industry. In fact, the Las Vegas version of the play is considered the most successful Broadway show the city has ever known, playing over 1,000 shows over time. Clearly, people love ABBA more than you might think.

A cinematic adaptation of Mamma Mia! has been considered a foregone conclusion for the past several years, but even the kind people at Universal Pictures who championed the film are shocked by the results. Assembling a dream cast that includes Colin Firth, Pierce Brosnan, Stellan Skarsgard, Christine Baranski, Julie Walters and Meryl Streep, the distributor embarked upon a faithful adaptation of the story. They even went so far as to film on an actual Greek island, the setting of the play's story. And the results speak for themselves.

Mamma Mia! was released in North America on July 18, 2008. Early reviews for the film certainly gave no indication of what we were about to witness. Barely half of the critics at Rotten Tomatoes gave the musical a thumbs up and few of the good reviews were notably passionate about it. Fortunately for the producers, paying customers proved to be a different matter. Its opening weekend of $27,751,240 made it the biggest debut ever for a musical (although it was surpassed a couple of months later by High School Musical 3: Senior Year). Obviously, a $27.7 million result is nice, but it would not be anywhere near enough on its own to distinguish a title enough for a spot on the Top Film Industry Stories of 2008 list. What made Mamma Mia! special was the way that it kept going and going and going.

After the record-setting start, Mamma Mia! fell only 36% on its second weekend to $17,746,725. This drop, modest by any realistic industry standard these days, proved to be its WORST decline during its first two months in theaters. Mamma Mia! would not see a drop of even 40% until its tenth (!) weekend. By that time, the musical had gone from a $27 million novelty that featured some awful singing by Pierce Brosnan to a $141.2 million blockbuster.

Mamma Mia! eventually wound up with domestic receipts of $144.1 million, making it the 12th most successful release of 2008. Let's put this result into perspective. Sex and the City, one of the other two 2008 blockbusters driven by women's ticket sales (Twilight being the other), opened to $56.8 million, more than double Mamma Mia!'s $27.8 million opening take. Sex and the City's final box office was $152.6 million, meaning it earned another $95.8 million after opening weekend. Mamma Mia!, on the other hand, brought in a jaw dropping $116.3 million after its first three days. For all of the hoopla given to Sex and the City for its opening weekend (and monumentally huge Friday), Mamma Mia! outperformed it every step of the way from then on. This is why BOP considers Mamma Mia! to be the bigger story in 2008.

If you don't agree with us, let me make one further point in this regard. Sex and the City wound up with worldwide box office of $408.9 million and another $92 million in home video sales (and counting, obviously). That's incredible. Mamma Mia!'s producers look at those numbers and laugh, though. Whereas the slutty ladies of Manhattan had international revenue of $256.3 million, the Abba fans absolutely shredded worldwide box office. Mamma Mia! currently has international receipts of $428,575,785, making it the third best performer worldwide in 2008. If you don't follow international receipts much and are not sure how to put $428.6 million into perspective, simply consider that Iron Man did "only" $263 million, WALL•E did $303 million, and Quantum of Solace has done $384 million thus far. Mamma Mia!'s international revenue is within shouting distance of The freakin' Dark Knight's $464.0 million. ABBA vs. The Joker is much more competitive than you might expect.

Thanks in large part to international receipts, highlighted by Mamma Mia! recently becoming the number one film of all-time in England, the film is the sixth best overall performer of 2008 with $572.7 million in box office. And it may yet surpass Iron Man's $581.3 million to finish in the top five. With another $107 million in video sales already, Mamma Mia! is on the short list of most lucrative movie productions of 2008. With a budget of only $52 million, it has earned almost $700 million for Universal in its first six months. A performance like this makes you wonder why the producers of Mamma Mia! are not being asked to head to Wall Street and help out all of the struggling financial industries. Anyone who pays $50 million and makes $700 million should be given their due consideration when they talk about investments. Alternately, maybe The Music of ABBA should be a college Finance class.