Weekend Wrap-Up
Clint Eastwood Shocks Box Office
By John Hamann
January 11, 2009
BoxOfficeProphets.com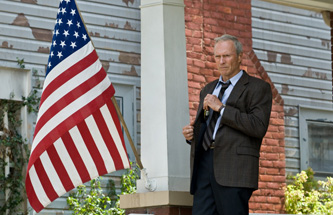 ---
It took only 12 days to deliver a huge surprise for the new 2009 box office. This bombshell is huge, as it doesn't involve a ludicrously high debut for one of our garbage openers, The Unborn or Bride Wars. Instead, it is a quiet performance from one of America's icons in Clint Eastwood, the 78-year-old actor/director of Gran Torino. The Warner Bros. release went from successful art house release last weekend to potential $100 million earner overnight, and it couldn't have happened to a nicer guy.

Gran Torino is not only our number one film of the weekend, it dominated the box office. The R-rated Warner Bros. drama grossed an amazing $29 million from 2,808 venues, giving it a venue average of $10,337. This is about $10 million more than expected for the Eastwood Oscar bait, and could be enough of a box office surprise to garner more Oscar attention for the star. While probably not a Best Picture contender, a Best Actor nomination could drive this one toward $125 million or more if the stars align.

Gran Torino had already been a huge success, but on a smaller arthouse scale. Gran Torino debuted on six screens on December 12, 2008 and earned an awe-inspiring venue average of over $45,000. Warner Bros., platformed Torino over the holiday season, moving it into 19 venues in its sophomore weekend ($24,463 venue average), and then into 84 venues over the next two weekends. It was at that point Warner Bros. knew that this was no Blood Work/True Crime type of Eastwood flick ($42 million domestic combined), but rather the Unforgiven/Million Dollar Baby Eastwood ($201 million domestic combined). From those 84 venues, the first weekend gross was $2.3 million ($27,652 average), and the second weekend actually increased by 26% to $2.9 million ($34,957 average, $10,000 higher than its second weekend on eight screens). To have this kind of platform success, especially during high times from limited release film, is a distributor's nirvana. Before playing on more than 84 screens, Gran Torino had already earned $11 million, or 31% of the film's $35 million production budget. With a combined total gross so far of $40.1 million, Gran Torino has exceeded its production budget, has paid a portion of its print and advertising costs, has thrust itself forward in the middle of awards season, and has easily put itself on the path towards much more than $100 million domestic.

At 78-years-old, this weekend is the biggest of Clint Eastwood's career. His previous biggest opening weekend was the debut of Space Cowboys, which debuted to $18 million in August of 2000 and went on to earn $90 million domestically. Adjusted for inflation, the opening of 1978's Every Which Way But Loose would be his biggest, as that one started with $10.3 million and went on to earn $104 million in 1978 dollars. His other $100 million domestic films include In the Line of Fire, Unforgiven and Million Dollar Baby. If this is his last acting gig, it would be a beautiful way to end a historic acting career.

The awful Bride Wars finishes second, and hopefully reminds us that a strong central performance goes so much further than a one-joke comedy. Bride Wars, starring the currently hot Anne Hathaway and the currently not hot Kate Hudson, opened to a decent $21.5 million from a ludicrously wide venue count of 3,226. It had a venue average of $6,665. Bride Wars is our usual January release - just plain awful, with a release strategy that reminds one of a blizzard or a flood. Unlike Gran Torino, Bride Wars is the furthest thing from unique, as 20th Century Fox is unabashedly copying the strategy of 27 Dresses, last January's wedding flick. 27 Dresses was also from Fox, was also released in January, and also starred a current flavor-of-the-week in Katherine Heigl. The one thing that 27 Dresses did have going for it is that it received better reviews than Bride Wars, coming in at 41% fresh at RottenTomatoes. Bride Wars did much worse, finishing at 11% fresh, which even puts it behind this weekend's insipid horror release, The Unborn (now that's saying something). Sadly, 27 Dresses had fair legs, and the same will most likely be the case with Bride Wars. 27 Dresses had an open-to-total multiplier of 3.3 ($23 million opening, $76.8 million domestic finish), and if Bride Wars does the same, it will finish in the same ballpark as 27 Dresses. Go see Gran Torino instead, people.

The token early-January horror release this year is The Unborn, and this one actually gave me hope until reviews started to trickle in. The Unborn is written and directed by David S. Goyer, the scribe who gave us Batman Begins, The Dark Knight, and my favorite film, Dark City. Unfortunately, that kind of quality does not come close to The Unborn, but it still managed to take in $21.1 million from a subdued venue count of 2,357. The Unborn did receive better reviews than Bride Wars, but only by a percentage point or two at RottenTomatoes. It currently sits with a not-so-fresh rating of 13%. If The Unborn follows the same pattern as One Missed Call, last January's token horror flick, it should be out of the top ten in only a few weekends.

That moves us into the holiday holdovers section of the top ten, led again by Marley and Me, which finishes fourth. After dropping by two-thirds from last Friday to this Friday, Marley couldn't make up the difference over the weekend, and grossed $11.4 million, giving it a large drop of 53%. With the top three films this weekend grossing over $70 million, holdovers were apt to pay. 20th Century Fox doesn't care. They have Bride Wars in the number two spot, and Marley & Me has now earned $123.7 million. Look for it to finish with $150 million plus from domestic sales alone.

The Curious Case of Benjamin Button finishes in fifth and also suffers from a post-holiday season hangover. Benjamin Button earned $9.5 million and was off 49% compared to the previous frame. Still, the Brad Pitt starrer is going to cross the $100 million mark in the next couple of days, as its total now sits at $94.3 million. Considering the almost three-hour running time, this has to be considered a success for the folks at Paramount, despite the $150 million production budget.

Sixth is Adam Sandler's Bedtime Stories, which drops heavily from its second place finish last weekend. Bedtime Stories earned $8.6 million this weekend, and was off 58% compared to the previous frame. The Disney flick has now earned $97.2 million, and is another to cross the $100 million mark in the next few days.

That puts Valkyrie in seventh with a gross of $6.7 million. The Tom Cruise Hitler pic dropped 53% compared to last weekend, but its domestic gross is approaching its $75 million production budget. So far, Valkyrie has earned $71.5 million domestically.

Eighth goes to Yes Man, the Jim Carrey comedy. Yes Man earned another $6.2 million for Warner Bros., and drops a large 56%. This one cost about $70 million to make and has earned $89.4 million domestically, with an additional $35 million overseas.

Finishing ninth is our third new release of the weekend, Not Easily Broken, from Sony and Screen Gems. Not Easily Broken did okay despite a small venue count, earning $5.6 million from only 724 venues. It had a strong venue average of $7,735. With only an $8 million production cost, Not Easily Broken has done what it has to do already, even if it slips out of the top 12 next weekend.

Tenth spot goes to Will Smith's Seven Pounds, which will probably be remembered as the under-achiever of the 2008 holiday season. Seven Pounds earned $3.9 million and was off 61%. It has a current total of $66.8 million.

Arthouse releases continued to do extremely well this weekend. Slumdog Millionaire earned $3.4 million from 601 venues; Doubt earned $2.5 million from 1,287 venues; The Reader earned $1.4 million from 507 venues; Milk earned $1.3 million from 295 venues; Frost/Nixon earned $912,250 million from 205 venues; Revolutionary Road earned $1.4 million from 135 venues; and The Wrestler earned $873,898 million from 60 venues.

Overall this weekend - and for the second straight weekend - the movie-going business is strong. Last year over the same weekend, The Bucket List was on top with $19.4 million, and led the top 12 films to a cume of $106 million. This year improved on that by a wide margin, earning a powerful $129.8 million, thanks to the surprise showing from Gran Torino. Next weekend brings four films in wide release including Hotel For Dogs from Paramount, Paul Bart: Mall Cop, the 3-D version of My Bloody Valentine, and Notorious, about the life and death of The Notorious B.I.G. It should be an interesting weekend.