Top 12 Film Industry Stories of 2008: #8: Bond Reclaims Spy Throne
By David Mumpower
January 9, 2009
BoxOfficeProphets.com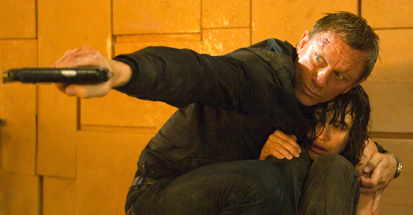 ---
One of the most humbling experiences for any successful human being is to recognize significant need for improvement during a self-evaluation. Such a situation occurred with the Broccoli Family.

For those of you unfamiliar with the history of James Bond, the back story is this. Fledgling producer Albert Romolo Broccoli used money he had made shooting government war films to start a theatrical adaptation of Ian Fleming's most famous character. Beginning with Dr. No in 1963, Broccoli and his business associate, Harry Saltzman, were the caretakers of the Bond franchise. Saltzman, who had originally acquired the rights to Bond movies, sold his 50% stake to United Artists in 1975. From that point forward, all major decisions about the Bond franchise have been made by a Broccoli.

A changing of the guard occurred in the mid-1990s. Albert Broccoli, known as Cubby to his friends and family, succumbed to heart failure at the age of 82. A seamless turnover in the stewardship of the Bond franchise occurred. Broccoli's third wife, Dana Wilson, had been with him since before the genesis of the Bond films. Together, they had a daughter, Barbara, and Cubby had been the caregiver to Dana's son, Michael, as well. With Cubby's death, the younger generation of Broccolis was thrust into the limelight. This duo had been raised on movie sets and watched the careers of Sean Connery and Roger Moore explode thanks to the magic of everyone's favorite British spy. So, this was truly a job they had been prepped to handle their entire life. In fact, Michael Wilson had been an executive producer on Bond movies going all the way back to Moonraker, while Barbara Broccoli was generally credited as being the decision maker in the casting of Pierce Brosnan. The problem the duo faced was that their golden egg was cracked.

The venerable James Bond franchise's success speaks for itself. Until the most recent Harry Potter film's release, Bond has stood out as the most financially lucrative franchise in box office history. What was rare about these spy thrillers is that they did better worldwide than they had done in North America, a rare feat for movies of the 1960s-1980s. Exemplifying this point, the first ten Bond movies earned somewhere between $16.1 million (Dr. No) and $63.6 million (Thunderball) in North America. Each and every one of those titles starting with Dr. No ($59.6 million) earned at least double their domestic total internationally.

Consider that the least successful Bond titles after Dr. No were On Her Majesty's Secret Service (understandably) and The Man with the Golden Gun (I cannot explain this one's lackluster showing). The George Lazenby title brought in $22.8 million domestically while Roger Moore's secret Bond outing managed only $21.0 million. These numbers may seem small but when you consider that the average ticket price at the time of these two releases were $1.50 and $1.89, they're both $80+ million earners in terms of 2009 ticket pricing. That's good but not great. What is remarkable here is that Lazenby's film earned $82.0 million while Moore's accrued $97.6 million worldwide. Bond films earn at least double and sometimes even a factor of four more with international receipts factored in. That's why they are so lucrative as movie properties.

While the casting of Pierce Brosnan as 007 had been a masterstroke for years, the younger Broccolis recognized something during a period of self-evaluation. Their spy thriller franchise had been surpassed in terms of revenue and particularly quality by the Bourne series. The Bourne Identity started with a modest $213.3 million in worldwide receipts, a total that Bond films had been earning since 1979. The release of The Bourne Supremacy and The Bourne Ultimatum, however, saw an usurping of the spy movie throne.

The Bourne Supremacy earned some of the most glowing reviews of the 2000s and brought in $288.6 million in global box office. That total would put it in the top five Bond films; more troubling for the Broccolis was the fact that Supremacy's domestic take of $176.1 million is better than any Bond film has ever managed in North America. Were it not for the international receipts referenced above, Bond would have been soundly beaten by Bourne. The fresh take on the idea of spies operating within the real world struck a chord with viewers in a way that Bond never could. Worst of all for the Broccolis, Ultimatum was even more successful than its predecessor. The third Bourne movie's $442.2 million made it the second most successful spy movie ever and its $227.5 million domestically is over $60 million more than any Bond movie has ever made. It also was such a quality movie that it garnered significant end-of-year awards consideration from the various voting groups. The Bourne Ultimatum was among the five best reviewed movies of 2007. The gritty, realistic version of spydom had become the new big thing in cinema.

While evaluating their own franchise, the younger, hipper Broccolis came to a simple conclusion. They must adapt to modern audiences or perish. Making less money than the Bourne franchise was problematic. Being deemed as the inferior product overall was simply unacceptable for such a grand brand as James Bond.

With the casting of Daniel Craig as James Bond, such an attempt at adaptation was made. Out was the dapper Brosnan and his too-suave Bond. In was the impossibly muscular Craig and his boorish behavior that established him as a feckless thug when the need arose. After more than four decades of James Bond movies, an entirely new personality was given to the cinematic icon. This was a bold gambit that attempted to reboot the franchise with an entirely new direction. The end result was blockbuster worldwide success. Casino Royale opened to a credible $40.8 million, second best in franchise history, before it went on to earn a franchise best $167.4 million domestically and $596.4 million worldwide. The leggy nature of the film was attributed to its outstanding quality. James Bond was back in a big way and Casino Royale did something else novel by the franchise's standards. It directly set up a sequel by not tying up all loose ends.

In recent years, BOP has espoused a theory that the opening weekend of a sequel is largely bought by the quality of the prior film. A great movie will almost automatically gain a magnificent first frame for its successor because the franchise has earned itself a line of credit with consumers. Under this theory, it is no surprise that the glowing word-of-mouth for Casino Royale paid off with the magnificent opening weekend of Quantum of Solace.

After 45 years of Bond films had never managed a $50 million debut, the most recent Daniel Craig 007 outing skipped the $50s and shot straight into the upper $60s with a first weekend of $67.5 million. Far and away the biggest Bond opener ever, Solace's run of box office glory has continued to the point that it has now surpassed Casino Royale to be the biggest Bond movie ever in North America. With $550 million already in the coffers worldwide, it is also poised to become the biggest Bond film overall.

Had the Broccolis stayed the course with the same, safe version of the character, it is hard to imagine such a result occurring. Since they were willing to take a chance and gamble the entire franchise's future on a significant change of pace, however, the Bond franchise has proven itself to be the once and future king of the box office world.