Top Chef Recap
By Jason Lee
January 9, 2009
BoxOfficeProphets.com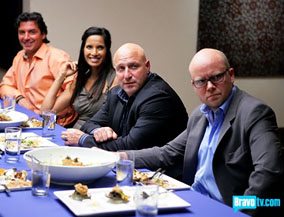 ---
This week on Watch What We Say: Weapons of Mass Destruction

After a long wait, it's finally January 2009. The day is finally here. The day that Americans across the country have been waiting for. Change has arrived. You can smell it in the air.

Yes, you're right. I am, of course, talking about the return of Top Chef and the introduction of our new judge, Toby Young, who's taking over for Gail Simmons up until the Top Chef finale while she's on her honeymoon (by the way, congratulations Gail!!!). After leaving me stranded for three weeks with nothing to watch but old Charlie Brown holiday specials and insipid dance-reality shows, I've been ravenous for a big slice of Top Chef to kick off the new year.

My expectations for this episode are understandably high. For one thing, THERE'VE BEEN NO NEW EPISODES. 'Nuff said. Secondly, new judge. 'Nuff said again. Thirdly and probably the most important, no one was eliminated last time. What does that mean? Well, the last time that happened (back in Season 2), we had two chefs eliminated in the subsequent episode to make up for the judge's generosity the week before. As the opening credits roll, I'm almost salivating at the idea of two chefs getting put on the proverbial chopping block.

Off the top of my head, based on past performance of the last couple of weeks, my predictions are that Eugene (who seems oblivious to any previous mistakes that he may have made in terms of constructing the flavor profiles of his dishes) and Melissa (who has made so many basic culinary mistakes in past challenges that my mind boggles to the fact that she's still around) will be the two to go home, but as the episode opens, they seem both raring to go. They both profess disappointment as the last challenge but portray themselves as more motivated than ever to win the competition.

They get tested early on with a challenging Quickfire Challenge conceit: indulge the sweet tooth without expanding the waistline by creating a "tasty treat" for guest judge, Jean Christophe Novelli (an acclaimed French pastry chef) without using any sugar in the dish. This is introduced as the "Diet Dr. Pepper Quickfire Challenge" but Padma never explains how Diet Dr. Pepper is supposed to play in the dish (I did, however, see a Diet Dr. Pepper commercial during the break).

Overall, I'm impressed with the creativity from the contestants – they didn't just try to make desserts, they made little, sweet play on familiar food items like Eugene's mini blini that was arranged to look like a hamburger and fries, a baked dessert burrito from Melissa and a sweet cheese Napoleon from Jaime.

Novelli is incredibly harsh on all of the desserts – even the tasty ones solicit a mere, "Interesting" or "Surprising combo" in approval from the terse French judge. Who's on the bottom? Carla with a bland baklava and banana dish (though she was somewhat hampered by an inability to freeze her banana due to the rampant opening and closing of the kitchen's freezer), Ariane with a whole wheat crepe that "was missing a twist" according to Novelli and Jaime, whose cheese overpowered her dish.

Jaime is not happy and feeling defeated. Yeah, we guessed as much. She seems like that kind of friend who's super fun to be around when things are going well, but who you wanna run away from when things are bad.

On top are Radhika with a delicious looking bread pudding, Jeff with a stonefruit/filo dough dish and Leah with a crepe that was accompanied by a creative dash of balsamic reduction. The winner for the second week in a row is Radhika and she's ecstatic. I don't blame her. With two chefs being eliminated this week, there is no better time to have immunity from elimination.

At the end of the challenge, Padma warns them that the new judge at Judges Table will be British food critic, Toby Young, and that there will be a special challenge to honor his arrival.

Instantly, Fabio realizes what's at stake. "He's a badass British food critic that makes everyone angry," Fabio grouses in his broken, Italian accent. At the loft, everyone starts to realize the hell they're getting into. Everyone except for Radhika, I suppose.

In the morning, to everyone's surprise, Tom Colicchio shows up at the loft and calls everyone over to lay out the challenge. Today's challenge will be a blind tasting by the judges – no diner will know which chef made which meal. Totally fair, I think to myself. They'll be cooking family style for the judges and a group of foodies and critics. They've been complaining that they haven't been able to cook their food so far? Okay fine. No limits. No holds barred. "Show us who you are and what you're capable of as a chef," Tom challenges them.

Oh yeah, and there will be two chefs eliminated at the end.

I'm over the moon. This is a FANTASTIC challenge. No more whining about "I couldn't use this ingredient" or "I couldn't do this because of the theme" or "the challenge wouldn't let me do this." The chefs will have no reason to complain if their food isn't excellent. I CAN'T WAIT!

I think the chefs are excited, too, about being able to finally present who they are as a chef to the judges . . . but Hosea splashes a dose of cold water. There are 11 chefs left and one has immunity, which means that with two chefs being eliminated by the end of the day, 20% of the team is being cut. Hey, it's still better than the American unemployment level.

The chefs are split into two groups and the first group shops and then starts prepping their dishes while the second dish shops. Watching the first group at work, I'm not seeing anything to convince me that anyone other than Melissa and Eugene will be going home. Melissa, for some reason, has taken the directive of "show us who you are and wow us" to mean "make fish tacos." Eugene, on the other hand, has gone off the deep end in the complete opposite direction by making his own version of a Nightmare For Taste Buds, which includes daikon fettuccini paired with fried fish (that will look like it's swimming on the plate) and tomatoes with basil.

Pepcid AC, anyone?

The other chefs sound like they're making some pretty tame dishes as well. Fabio makes homemade pasta and lamb. Radhika makes a lobster bisque. Hosea is making halibut wrapped in bacon. Jeff is making tapas, which typically includes a wide variety of appetizers in Spanish cuisine . . . an exceedingly odd choice given that the judges will be eating family style.

And then we head over into Scallopville. Jaime, having botched her scallops on last week's challenge, has thrown down the gauntlet and is making another scallop dish (this time, with fennel and orange). Carla wants to make a vegetarian dish but adds a scallop on top of it as she's worried that the judges will think that she can't cook proteins.

Group A makes their final preparations before service and Fabio, who took a page out of Top Chef Season 3 Winner, Hung's playbook and sous-vides his duck, has begun to slice his duck only to find that it's completely under-cooked.

Given that 20% of the eligible chefs will be going home, I find it hard to imagine a scenario in which Fabio does not go home for this mistake. All too often, the judges have taken a chef to town for undercooking an ingredient: Sara Mair in Season 3 with her undercooked chicken, Antonia in Season 4 with her undercooked pigeon peas, Jaime in Season 5 with her undercooked egg . . .

The judges sit down around a single table with five empty seats on the other side for the other foodies and critics. Oh my God! Oh my God! Oh my God!!! In a crazy, amazing, wonderful twist, the other five diners are the CHEFS FROM TEAM B!!!!



*breathes heavily into a paper bag*

Okay, call me stupid, but I totally didn't see that twist coming. Personally, I think it's one of the best twists in the history of the show.

Team A is shocked when they enter the room and find that their competitors will be tasting their dishes and giving their "unbiased" comments to the judges. Hosea immediately suspects that Team B will discredit their food in order to save themselves.

Team A pulls themselves together and heads back into the kitchen where...oh my God, oh my God, oh my God!!! The dinner is being taped and all six chefs on Team A will be able to watch the judges and contestants sample their food and hear what they have to say!!!!

BEST EPISODE EVER. I heart Top Chef. This is captivating reality television.

The diners dig in and all is not good with Radhika's lobster bisque. Stefan voices great disdain for it while Tom dismisses it as "too heavy-handed." New judge Toby Young introduces himself to the chefs and to us by announcing in snide, pompous, British fashion, "I've found the weapons of mass destruction and they're here in this soup."

Apparently, the producers of Top Chef have attempted to replace Gail – wonderful, beautiful, intelligent, sexy Gail – with the culinary equivalent of Simon Cowell.

Unfortunately, the rest of the dishes are not very good either. Hosea's halibut is good but the veggies are much better than the fish ("Like an accomplished British actor being cast in a supporting role and upstaging the American lead actors," says Toby). Jeff admires the plating of Eugene's fish but the daikon is cold and the fish is overcooked ("The bland leading the bland," says Toby). Melissa's fish tacos are too fishy and Toby concludes that the chef must not be very confident. The only shining light in this group is Jaime's scallops, which are exquisite.

At first, after hearing what the other contestants had to say, I thought that they were being pretty darned mean about the entire thing...but the more I thought about it, neither they nor the judges had any clue as to which chef made which dish, so it's not as if they could sabotage one chef. They had to just be honest about what they ate and tasted.

And of course, Team B didn't even know that Team A was listening in on what they said about the food. What an exciting reveal that will be. To paraphrase Andrew from last season, I have a culinary boner right now.

Team B heads into the kitchen and gets started. Jeff seems to like to make sorbet-type ingredients for his dishes – he made a tomato sorbet two challenges ago, he made a frozen yogurt for this episode's Quickfire challenge and for the Elimination challenge, he's making avocado sorbet. Stefan is making duck with braised cabbage, Ariane is making skate wing fish, Carla with her scallop, Leah is making fried fish but using bread instead of the skin of the fish...lots of interesting stuff going on here, definitely more so than Team A.

As the judges and Team A sit down to begin their meal, Team B heads back to the kitchen where they find out that they can watch the dinner and review the diners' reactions as the meal unfolds. They are shocked by the idea of hearing their criticisms live but also as the idea that their teammates heard everything they had to say. "Did they watch us?" Leah asks in horror. Yes. Yes, they did.

Dinner begins and immediately Radhika dumps on Stefan's dumplings as being too dense. "She knows it's me," he concludes, secure in the knowledge that Radhika would want to see him gone. Despite her feelings about the dumplings, the judges love the dish with Tom amazed by the amount of flavor in the cabbage.

Eugene likes Jeff's tapas trio but thinks that there's too much going on. This from Eugene? The kind of "too much going on"? Wow. Talk about the kettle calling the pot black. The judges are split on Jeff's dish. Tom hates it, saying that it's not even a dish. Toby loves it, comparing the somewhat strange inclusion of the sorbet to Tom Cruise's cameo in Tropic Thunder.

As for the other dishes, everyone loves Ariane's skate wing, saying that it was cooked perfectly. Leah's fried beans are too greasy (though the English judge finds it just fine, thank you very much). No one likes Carla's dish, which is far too heavy on the flavor of garlic.

At this point, I'm starting to wonder if Carla and Melissa will be going home.

The chefs head back to the Stew Room, with Melissa feeling really bad about her dish. She's worried that she'll get sent home without having shown her full potential as a chef. Honey, I'm really sorry, but you've had seven episodes with two challenges each (Quickfire and Elimination) and if you haven't shown your potential yet, then maybe you don't have any.

Padma enters and asks to see the chefs that made the skate wing, duck and scallop dishes...meaning Ariane, Stefan and Jaime are on top. At this point, I can only shake my head in disbelief at how Ariane has turned herself around in this competition. In every episode lately she has been a contender to win at least one of the challenges. I would have never thought that she would make it so far in such grand style after seeing the first two episodes of Season Five.

The chefs come before the judges panel to receive their acclaim. Tom liked Stefan's dish and said the flavors were spot on. Toby liked that it was unmistakably German and perfectly cooked. Tom loves the combination of flavors in Jaime's scallop dish and Toby thought that the anis seed undertone complimented the caramel flavor of the scallop. Tom thought that Ariane's dish was refined and in particular, guest judge Novelli praises it as a great dish – he seems to think it was the best of the evening.

But who actually won the challenge? Ariane, who's won two Elimination Challenges and a Quickfire so far? Stefan, who hasn't won anything since the first episode? Or Jaime, who complained audibly about having won nothing? The winner is...JAIME!!! Well, good for her. I know she can be a grouch sometimes but she's clearly a good chef and I'm happy that she's finally won herself a challenge.

Jaime is all smiles and highfives as she enters the Stew Room and doesn't even seem bothered by having to tell Melissa, Eugene and Carla that they're in the bottom three. For what it's worth, I think those three are the three worst chefs left in the competition, so I'm fine with it, too.

The three chefs tromp out, filled with fear of the knowledge that two out of the three will be eliminated. What are the charges against them? Carla erred in using risotto, which, according to Tom, is not a garnish but a meal. Toby found it tart and bitter. Carla responds in a surprisingly intelligent way, outlining exactly what she should have done differently to make the dish a winning meal. I'm impressed, she definitely sounds like she A) learned her lesson and B) knows her stuff.

Not such good news for the other two chefs. Melissa's fish tacos had no "wow" factor for Tom and Novelli found it watery, bland and over-dressed. Toby thought that Melissa should have known that she'd cooked a clunker simply by the fact that it smelled bad. Stick a fork in her, she's done.

As for Eugene, he claims that he's learned his lesson. He tried to do something risky and to think out of the box when he should have done something simplistic. I think he's mistaken. He should have tried to make something that TASTED GOOD. Tom thought that his combination of flavors just simply did not and could not work together. For Novelli, the fish was far too overcooked. For Toby, he calls Eugene on the fact that for all his whining about being creative and out of the box, the dish didn't taste like a failed experiment. It just tasted bland.

The three chefs have one last shot at redeeming themselves and pleading their case. Eugene says that he was just too creative. Melissa gives the most clichéd answers possible, saying that she has more to offer and wants to be here. Carla contends that if she'd taken the scallops off her dish, it would have been perfect. I try unsuccessfully to hold back my laughter at this statement.

As the judges ponder the fate of the three chefs, Toby immediately stands up for Eugene, saying that he's willing to be bold and will get it right eventually. I disagree. Eugene has been on the bottom on the last three challenges and I seriously doubt that anyone who thought daikon, tomato, basil and friend fish goes together will ever get it right. Tom stands up for Melissa, saying that she at least showed the judges who she is but Toby correctly points out that the food was a failure of imagination and therefore, Melissa is as well and should go home. Carla is roundly criticized for having a lack of confidence.

I'm torn. I want Eugene and Melissa to go home but I'm worried that Toby's support will swing Eugene back to the "safe" category.

The nervous chefs return and the final verdicts are laid out by Tom. Eugene is creative but his skill level needs to catch up. Melissa showed them who she is but revealed herself to have a lack of imagination and creativity. Carla overthought her dish and ruined something that could have been exceptional.

Melissa is asked to pack her knives and go. That was an easy guess, the tough decision comes between Eugene and Carla.

And the other chef going home isssssssssssss . . . . . . EUGENE. I'm relieved.

As the two eliminated chefs leave, Eugene muses about the fact that he has no regrets and did himself proud while Melissa worries that the TV audience will never realize what a creative and imaginative person she is.

I personally think that the judges sent the right two chefs home. I think that Eugene and Melissa were clear and away the most unskilled chefs out of the remaining 11 and I'm not sure that I'll miss them a lot. Of course, now the fun really starts. Nine chefs left and five episodes left til the finale. Let the games begin.