Weekend Forecast for January 9-11, 2009
By Reagen Sulewski
January 9, 2009
BoxOfficeProphets.com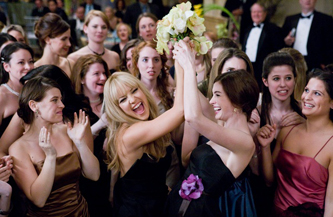 ---
We had to wait until the second weekend of the year for the first new releases of 2009, but it's hard to say it was worth the wait.

While January brings us the usual expanding films looking for Oscar glory and/or lucre, the movies this period with a calendar date of this year are almost always nothing to write home about, because, hey, if they were, why wouldn't they open in December? While I'm not a fan of pegging quality to release dates, this is one case where it usually fits.

Bride Wars stars Anne Hathaway and Kate Hudson in one of those films that's sure to set back the cause of women's rights about a decade. The two play best friends who accidentally schedule their weddings on the same day at the same venue, leading to fights over dresses, caterers, etc. etc. devolving into outright sabotage. Cattiness abounds for the two, threatening to derail both their happy days.

The actresses in this movie are a tale of two going in different directions. Hathaway had her second breakout year, starring in Get Smart and in Rachel Getting Married, which is almost certain to nab her an Oscar nomination. Hudson has seen her stock fall since getting a nomination of her own in Almost Famous, and has made most of her mark in sloppy romantic comedies like Fool's Gold and You, Me and Dupree. Still, it's a pretty good pairing and I think the two could work off each other.

The appeal of this one will depend a lot on how much you like those Bridezilla shows on TLC, and if you think jokes about bronzer hit the mark. There's probably quite a few of you out there to whom this applies, although if I may be so bold, the trailer is entirely laugh free. I would hope Bride Wars would bomb, but in a testimonial to the two lead's star power, it should arrive with about $16 million this weekend.

Over the last few months, horror has had a pretty good run in January, based on the formula of making something cheap with a young cast and hurling it into as many theatres as will take it. This year's is The Unborn, directed by David Goyer, who actually has a decent track record as a writer, if not necessarily a director (Blade: Trinity, anyone? Didn't think so).

Odette Yustman stars as a woman who, after a series of unsettling events, discovers that she was supposed to be a twin, but that her unborn sibling died in the womb. And it's trying to rectify that. Various creepifyin' things happen after that leading up to her confrontation with ultimate evil, I assume.

Another horror film from Michael Bay's production company, The Unborn has a couple of things going for it – a very bizarre creature/demon/tormented soul/something, and a creepy kid, which as we all know, sells tickets. Part of me thinks it actually inspires more laughs than scares, but sometimes that works too. Opening at 2,356 venues, look for the Unborn to come in with $11 million this weekend.

Expanding into wide release is Gran Torino, directed by and starring Clint Eastwood. Basically his last toss into the ring for an acting Oscar, Eastwood plays a racist war veteran who interrupts some gang activity in his neighborhood and winds up a local hero. He also winds up taking a young Hmong teenager under his wing, mostly against his better judgment, after he attempts to make up for stealing his car as part of a gang initiation. Eastwood's vet is still a tough old bastard, and decides that he can do more than just sit and watch his neighborhood disintegrate around him, and does what he knows best – fights.

If you're thinking this is Dirty Harry: The Twilight Years, you're probably not too far off. For some bizarre reason, they actually even put Eastwood yelling "Get off my lawn!" in the ads, which is not too far up there as threats go, even from Eastwood.

The second of Eastwood's films to come out this year, it's faring a little better critically than Changeling, though more in the acting than the picture category. It's also performed decently in limited release, pulling in almost $10 million so far, making me think that there's a lot of people out there still wanting to see Eastwood in one of his older-style roles. Expanding to 2,800 screens or so, I see this coming in with $11 million.

This brings us to our returning films, which are dominated by family releases. Unfortunately for them, this is usually the time they'll see a dropoff, as kids get back to school. It doesn't have to, as Night at the Museum showed, but it's a pretty common occurance. Still, Marley & Me can't complain after bringing in over $100 million so far based on the idea of a misbehaving golden lab. I see this adding about $14 million to its total this weekend.

Bedtime Stories, Adam Sandler`s attempt to make himself into a family entertainer, should come in right behind that with $12 million, passing $100 million itself with its fantastic (in the old style of the world) stories.

This brings us to the films for adults, like The Curious Case of Benjamin Button, Valkyrie, Yes Man, and Seven Pounds, the remainder of the interest films in terms of box office. Button has held up quite strongly, and is the sole one of these films that has a realistic shot at Best Picture contention (and in fact, a very strong one). A very long film, it's been handicapped by limited showings, though that in principle can help with legs, but shunting people to the following weeks. I see it earning about $11 million this weekend, and will be just shy of the $100 million mark itself.

Valkyrie has held up surprisingly well given its subject matter (Nazis) and its star, Tom Cruise, who's been an enormously polarizing figure in the last five years. I see it adding about $8 million to its total, just ahead of Yes Man, another film that's seen its star's luster dim. Meanwhile there's Seven Pounds, which has one of the truest box office stars out there right now in Will Smith, but has struggled due to its strange ad campaign that left audiences out in the cold and not really caring. I see it coming in with about $6 million in this weekend, its fourth.