A-List: Recent Oscar Snubs
By Sean Collier
January 5, 2009
BoxOfficeProphets.com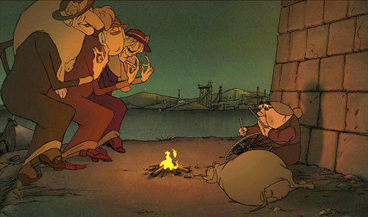 ---
It doesn't take a box office prophet to see that you can't judge a film's merit by how many awards it took home. Many factors besides quality determine who gets little gold statues; it comes down to which films can buy the nicest "For Your Consideration" ads, which genres are in favor, who has or hasn't offended the wrong members of the Academy or the press, so on and so forth. On some very rare occasions, the most lauded film actually was the Best Picture of the year; most of the time, however, a bunch of naked gold men just indicates that a film was pretty damn good.

Oscar nominations are less than a month away, and will be swiftly followed by the national critical harrumphing over the deserving films that went unnoticed. This is inevitably a matter of personal taste, and everyone has a favorite or two that miss out on higher recognition. However, some snubs are understandable. You could, for example, argue that John Cameron Mitchell's sublime Shortbus was one of the best films of 2006, and you'd have a solid case on your hands. However, a film with a ten-minute joy of masturbation sequence and what I can only refer to as a highly misdirected rendition of the Star-Spangled Banner isn't going to get an Oscar nomination, now or ever.

Other films, however, truly deserve to be recognized. The right kind of movies, the right kind of roles, true artistic achievements that somehow manage to slip through the cracks. Again, this is often more an effect of marketing and campaigning than true oversight, but nevertheless, there are injustices. We'll be seeing one such near miss this year, I'd wager – Slumdog Millionaire really, really feels like a best picture of the year. Not only because I think it's great, but all the elements are there. It just won't win.

Rather than find an excuse to whine with the rest of the nation one day after nominations (and one hour after the ceremony,) I thought I'd revisit some of my favorite unrecognized films of the past few years. I'm limiting this one to the past five years of Oscar eligibility, just so you're not here all night. With a reminder that the Calvins are the one and only true arbiter of a film's worth, The A-List presents The Best Recent Oscar Snubs.

Best Foreign Language Picture/Best Picture, 2004 - A Very Long Engagement

Director Jean-Pierre Jeunet's 2004 follow-up to Amelie reunited him with that film's star, Audrey Tautou. While the playful light romance of Amelie made for a much bigger hit, especially in American theaters, A Very Long Engagement is almost certainly a stronger film. A period romance set in the closing months of World War I, Tautou is allowed to stretch beyond the simple charm of her previous role, and Jeunet maintains his distinctive visual style while adding more gravitas to his approach to romance. A Very Long Engagement certainly could've been nominated for Best Picture in 2005, especially with three mediocre films (Ray, Sideways, and Finding Neverland) getting nods. The true insult, however, was that Jeunet's film didn't even manage a nomination for Best Foreign Language Film, passed over as France's entry in favor of the vastly inferior Les Choristes.


Best Animated Feature/Best Original Song, 2003 - The Triplets of Belleville

The very young award for Best Animated Feature might as well have Pixar's name on it. A Pixar joint has taken home the gold three times in seven chances (Finding Nemo, The Incredibles and Ratatouille,) and a fourth film, Spirited Away, won thanks to Pixar's US distribution and support. Now, lest I get kicked off the site faster than you can say WALL-E, most of these awards were certainly well deserved, and the one that Pixar snags this year will be just as righteous. However, while I'm a big fan of Finding Nemo, it had no business taking the 2003 trophy away from The Triplets of Belleville, quite possibly the most imaginative and innovative animated film of the decade. A film virtually free of dialogue, Triplets has more memorable sequences and brilliant artistic flourishes than a year's worth of DreamWorks Animation products. This one got robbed. Twice, actually – the film's perfect theme song, Belleville Rendez-vous, was passed over in favor of Annie Lennox's bland wailing nonsense from Return of the King. Do yourself a favor and dig the live performance of Belleville Rendez-vous up on YouTube.

Best Documentary, 2005 – Grizzly Man
Best Documentary, 2007 – The King of Kong: A Fistful of Quarters

Recent winners of the Academy Award for Best Documentary have skewed heavily in the direction of political commentary or world affairs. Five of the past six winners (excluding those irritating penguins) have been films with very relevant comments on war, the state of the third world, or American politics. This is perhaps an effort by the Academy to make up for a lack of political fiction deserving of awards. The unintended result, however, is an inability for smaller, focused documentaries to get a fair shake. Werner Herzog's gut-wrenching Grizzly Man, chronicling the gruesome death of adventurer Timothy Treadwell, couldn't even manage a nomination; nor could one of my favorite films of the decade, the indescribably compelling video game epic The King of Kong: A Fistful of Quarters. Both of these films are certainly worth your time, but you're doing yourself a great disservice if you haven't seen King of Kong; it's truly one of the most enjoyable, surprising films I've ever seen.

Best Picture, 2006 – Twelve and Holding
Best Picture, 2006 – Brick

Okay, so I'm stretching it with Twelve and Holding. My pick for the best film of 2006, Twelve and Holding was a tiny IFC Films release that grossed less than $100,000 domestically. It may well be a decidedly personal pick for me – I gravitate towards fractured domestic dramas, for some reason – but it's definitely worth a look. Directed by Michael Cuesta, the film follows several suburban children through a rough patch of their young lives. It's brutally realistic, to a fault, and features some excellent performances by a talented group of child actors – and a great supporting role by the criminally unappreciated Jeremy Renner.

The true 2006 screwjob was the snubbing that Brick received come awards season. Both the Academy and the Hollywood Foreign Press roundly ignored the pseudo-noir set in a California high school, despite the film's fanatic reception at Sundance and critical raves. Perhaps the subject matter – teens getting murdered in a drug war – was too much for mainstream recognition. If you haven't seen Brick, it should move to the top of your queue – it'll go down as one of the great forgotten movies of the 2000s.

Best Actor, 2003 – Peter Dinklage, The Station Agent
Best Actress, 2006 – Laura Dern, Inland Empire

Acting is a tough thing to quantify and rank. One need only trace the stylistic changes and shifting definitions of what makes "good" acting across time and genre to see that there's no clear way to declare what a performance on the screen is supposed to look like. Often, awards for acting go to the performer who can connect with the audience at large the most effectively; other times, the award is given for the most transformative performance, the role that looks nothing like the actor we know (or anyone else, for that matter.) When a performer gets snubbed, it's usually because the voters or the crowds can't see exactly what they're doing up there, or can't make sense of it. Peter Dinklage's performance in the 2003 drama The Station Agent is a good example; his surly railroad worker doesn't open up for most of the film, but his struggle is so big and so real that your heart will break for him if you watch carefully. For my money, however, Laura Dern's performance in David Lynch's experimental Inland Empire is one of the most impressive I've ever seen. Unlike Lynch's earlier works, there is no solution to Inland Empire; there is no way to put it all together. Laura Dern's performance was a three-hour ride on a broken roller coaster with no seatbelt, and she managed to hang on. If you can make it through Inland Empire – a film that has driven sleep away from several friends of mine – Dern is really something to see.