Weekend Wrap-Up
First Weekend of 2009 Hot for Holdovers
By John Hamann
January 4, 2009
BoxOfficeProphets.com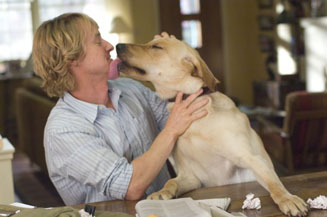 ---
Despite being the first movie-going weekend of 2009, studios presented zero new product in wide release, relying on a strong crop of openers to keep cash registers ringing. And ring they did. With strong product from wide releases Marley & Me, Bedtime Stories, The Curious Case of Benjamin Button and Valkyrie - as well as some fantastic limited release properties (Gran Torino, The Wrestler, Doubt, Slumdog Millionaire just to name a few) - the box office was in no need of new product. Rinse and repeat is the story of the weekend.

Our number one film for the second straight weekend is Marley & Me, the very well-marketed dog movie from 20th Century Fox. The unexpected (but maybe most deserving) holiday winner rang up another $24.1 million in sales this weekend, and was off an okay 34% compared to the Christmas frame last weekend. Maintaining high percentage holds from Christmas weekend to this one is tough, as the Sunday impact is felt much more strongly than it was last weekend. The Sunday drop off for Marley & Me will be its highest of its run so far, after 11 days of release.

Marley & Me is the perfect example of how films excel when opened over the holiday season. It had its biggest day on Christmas day ($14.4 million), and its lowest day on New Year's Eve ($6.9 million), but it averaged a monstrous $10.3 million over its first eight days of release. For a film like Marley & Me, there is absolutely no other time of year where this is going to happen. A dog comedy with Owen Wilson and Jennifer Aniston would get killed in the heights of summer, up against a Transformers sequel or the 100th Harry Potter film. Christmas is the only time of year that a family friendly film with limited CGI effects is going to dominate the box office like it has. Marley passed the $100 million mark this weekend, and currently the furry Fox flick has earned an outstanding $106.5 million after only 11 days of release. If we estimate a production cost of about $65 million for Marley, I think the folks at Fox will be very happy with this success, as it is a great way to end 2008 and provides a solid start to 2009.

Finishing second this weekend and up one spot from last weekend's third place finish, is Adam Sandler's Bedtime Stories. Sandler is our first of many big stars to lose out to the lovable dog in Marley & Me. After a $27.5 million haul over the Christmas weekend, Bedtime Stories holds quite well this weekend with an estimated take of $20.3 million and just missing a leap into the number one spot. After earning $10.1 million last Friday, Bedtime Stories surprised with a $9 million haul this Friday, and a drop of only 26% over the weekend. This is definitely an improvement over last weekend when the Adam Sandler flick debuted in a surprisingly low third place, and a relief for Disney and Happy Madison, as the budget here must have been $100 million plus. It is my belief that Bedtime Stories suffered from an extremely poor marketing campaign - almost the reverse of Marley and Me, as this should have been a huge holiday season movie. Bedtime Stories now has an 11 day cume of $85.4 million.

Dropping one spot from second last weekend to third this weekend is The Curious Case of Benjamin Button, the Brad Pitt Oscar bait movie. After a $26.8 million opening frame, Benjamin Button lost a significant amount of its opening weekend audience, finishing with an $18.4 million gross in its second frame. Button was off 31% compared to last weekend. Despite the drop, this is still going to be a big success for Paramount, as the opening weekend and expected $125 million plus domestic gross, will most likely keep it high in the minds of Oscar voters. This is especially true if the Academy looks to become more movie-goer-friendly this year. Benjamin Button could cross the $100 million plateau next weekend, but will still have a ways to go to recoup its $150 million production budget. I'll be looking next weekend to see if this one can improve on its weekend to weekend percentage drop, as it heads into the heart of awards season with the Golden Globes being handed out next Sunday.

It was a battle of superstars vying for fourth spot, as Tom Cruise and Valkyrie took on Jim Carrey and Yes Man. The winner was Valkyrie, though it's pretty close to being effectively tied with Yes Man. Valkyrie earned $14 million and was off 33% compared to last weekend. Tom Cruise played it smart with Valkyrie, as production costs were kept low at $75 million - what basically amounts to an insurance policy against odd behaviour from its star. With a gross so far of $60.7 million, it looks like Valkyrie will earn at least that amount domestically, and then go on to be a force in overseas markets. This has to be considered a success for Tom Cruise, and maybe more importantly his studio, United Artists.

Next up are Jim Carrey and Yes Man, as we move to the group of films that are two weekends old. Yes Man had a positive third frame this weekend, earning $13.9 million, which compares extremely favorably to the $16.7 million it took in last weekend. The totals give Yes Man a drop of 17% this weekend, and follows an 8% drop in the previous weekend. This result is telling us that the opening weekend figure - $18.2 million - was an aberration of poor scheduling, and not the downturn of a guy who once was the world's biggest movie star. Yes Man has now earned a respectable $79.4 million, and will not be the disaster I thought it would be three weekends ago. Like Valkyrie, Yes Man was a shrewd investment for distributor Warner Bros., as costs were kept down to $70 million, a figure it surpassed this weekend.

Seven Pounds, another star driven vehicle - this time for Will Smith - finishes in sixth spot. The drama earned $10 million, and like Yes Man, follows a low drop last weekend (11%) with another solid drop this weekend - 24%. Again, like Valkyrie and Yes Man, costs were low for this Will Smith project at only $55 million, and that amount was easily surpassed this weekend as its cumulative total is $60.3 million. Will Seven Pounds be a $100 million domestic earner? Probably not, but it will earn at least $85 million domestically, with a similar amount to come from overseas grosses.

The Tale of Despereaux has quietly had an okay Christmas season, and is another film that has followed the Valkyrie /Yes Man/Seven Pounds model by keeping costs down. In its third weekend, Despereaux earned $7 million, and was off a very small 21% compared to last weekend, where it fell only 12%. Like the others mentioned above, it didn't have a huge opening weekend, but due to the holiday season, it didn't really have to. The production cost was low for animation - especially what looks to be high end animation - with a budget of only $60 million. Sure it only has a gross so far of $43.7 million, but had it opened at any other time of the calendar, this would have been a disaster considering its $10 million opening weekend. I expect this one to finish close to its production budget figure, do okay overseas, and then do well again on DVD.

Doubt moves up two spots to eighth and manages an excellent hold. Doubt earned $5 million from only 1,287 venues and drops only 6% from the previous frame. With these grosses from such a small venue count, Doubt has increased its odds to be remembered on Oscar night; however, there are a lot more of these small films still to come. So far, Doubt has earned $18.7 million against a budget of $20 million.

The Day the Earth Stood Still finishes in ninth and has been all over the place since the start of its run. It opened to an okay but not great $30 million, plunged 68% in its second frame, and then recovered somewhat over the Christmas weekend with a 22% drop. This weekend, The Day the Earth Stood Still earned $4.9 million and dropped 37%. One might think that this effects heavy sci-fi flick might be in some trouble with a gross so far of $74.3 million, but with a budget of only $80 million and an overseas gross of over $100 million already, Fox won't have to worry about this one.

Finishing tenth is Slumdog Millionaire, Danny Boyle's best film since Trainspotting. Slumdog earned $4.8 million and increased 11% after eight weekends in limited release - the only film in the top 12 to do so. The small, $15 million film has now grossed $28.8 million for Fox Searchlight.

Eleventh goes to Twilight, which has seen its weekend percentage drops go from the mid-60s, to the mid-30, and into the single digits. This weekend Twilight earns $4.5 million, and drops 4%. Now out for an incredible seven weekends, the teen vampire flick has now grossed an astounding $176.8 million - not bad for the $35 million investment. The top 12 closes out with Bolt, which also saw a fantastic hold as it fell only 3% from last week to $3.3 million and increases its overall total to $109.9 million.

In limited release, Defiance with Daniel Craig did okay, earning $121,000 from only two venues. Revolution Road with DiCaprio and Winslet expanded to 35 venues, and pulled in $979,000. Gran Torino stayed on 84 screens, and earned $2.8 million, while The Reader expanded to 398 venues and pulled in $1.6 million. Finally, The Wrestler earned $431,884 from 18 venues. It's been a long while since we've seen limited release action like this - hopefully 2009 will see a resurgence of the arthouse film.

Overall, things are up compared to the first weekend in 2008. A year ago, National Treasure: Book of Secrets was on top with $20 million, and the entire top five grossed in excess of $12.5 million. The top 12 in 2008 earned $121.2 million. This year, with six films grossing more than $10 million, the top 12 films earned a powerful $130.1 million, a record for the first weekend in January.

2008 as a whole saw revenue drop slightly from $9.62 billion to $9.61 billion. Attendance, however, was down 3.8%, with 1.34 billion tickets sold as opposed to 1.39 billion tickets sold in 2007.