Weekend Wrap-Up
Sandler and Pitt Mauled by Adorable Puppy
By David Mumpower
December 28, 2008
BoxOfficeProphets.com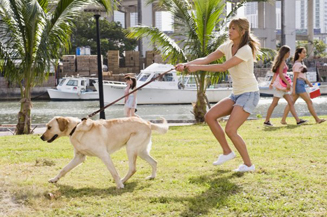 ---
Christmas week is among the most lucrative periods on the box office calendar each year. 2008 saw the release of five new titles on Christmas itself, and four of those comprise the top films this weekend. While box office heavyweights Adam Sandler and Brad Pitt starred in heavily hyped projects, North America chose a different face as its favorite: a puppy named Marley.

The industry saved one of the biggest surprises of 2008 for its final weekend. Marley and Me is the number one movie at the box office. The heartwarming tale of newlyweds John and Jenny Grogan and the incorrigible puppy that becomes an inseparable part of their new family proved to be the perfect piece of escapism for consumers with the end result being a magnificent $37.0 million weekend. Including Marley and Me's record-setting Christmas Day performance, the Jennifer Aniston/Owen Wilson comedy has already earned a whopping $51.7 million and will probably cross the $100 million mark by this time next week.

How did Marley and Me prove to be such a dominant success? Like Home Alone before it, this genteel comedy about the very definition of puppy love capitalized on a turbulent time in our continent's history. By being the perfect antidote for people tired of a constant onslaught of depressing news, Marley and Me offered something that the other releases did not. While some of the other films we will discuss in a moment are "important" movies that tell a message and will be recognized by the Academy, Marley and Me was recognized by consumers as being a feature length film version of everyone's favorite viral video, Shiba Inu Puppy Cam.

That silly little distraction is already the most-viewed Internet video of all time (oddly, an Avril Lavigne video had been the champion). With people investing over 800 combined viewer years watching Puppy Cam and almost $93 million watching an inferior version of Marley and Me, Beverly Hills Chihuahua, the success here seems obvious in hindsight. Of course, if you had told me on Monday that this movie with its 50% pro/con reviews on Rotten Tomatoes was going to earn $37.0 million in 3,480 locations at $10,632 a pop, I would have thought you were nuts. Just ask my wife since that's exactly what I told her. Here is my holiday gift to her: You were right and I was wrong about Marley and Me.

Adam Sandler's Bedtime Stories, the film most people (myself included) had pegged as the biggest film of December, winds up in second place this weekend with $28.1 million. Exhibited in 3,681 locations, this title managed $7,625 per play date and is a bona fide hit for Disney. It would be unfair of me to paint this as anything else simply because of the surprise success of Marley and Me. Had that title not been made, we would be talking up all of the positives of Sandler's latest feel good comedy. Second place doesn't change any of that. Combined with You Don't Mess with the Zohan, the popular funnyman is poised to have a pair of $100 million releases in 2008.

If we don't include Spanglish as a comedy (and we shouldn't, really), every Sandler comedy dating back to Eight Crazy Nights in 2002 has earned $100 million. He is the comedy Will Smith, but Bedtime Stories is probably going to leave some money on the table since it's...not good. Only 15% fresh at Rotten Tomatoes, this is one of the most critically reviled blockbusters of 2008. Even The Happening was 19% fresh, for God's sake. Due to the serendipitous timing of Bedtime Stories' release, however, it's going to rack up big time ticket sales over the next seven days, thereby assuring its success before the negative buzz severely undercuts its legs. This is the magic of Christmas releases.

Third place this weekend goes to The Curious Case of Benjamin Button, the daring Paramount release starring Brad Pitt as a man who ages in reverse. After a spectacular $12 million start on Thursday, the current favorite for The Oscars continued to enjoy holiday box office inflation with $27.2 million over the weekend. Unlike most awards contenders, Benjamin Button started its release phase ultra-wide with 2,988 locations, managing a solid per-venue average of $9,103. With $39.0 million in the bank, it's already done very well relative to most candidates in contention. I should note that the announced production budget for this title was $150 million, meaning it has to do very well just to break even. Another seven days of holiday ticket sales should have this title approaching $100 million, though.

With a strong Academy Awards push planned, this looks like a winner for Paramount and could possibly be remembered as the Forrest Gump of 2008, although with half of the revenue. The only note of concern – and I acknowledge this borders on nitpicking – is that the movie's 73% fresh rating at Rotten Tomatoes is significantly lower than some of the other major Best Picture contenders. That could derail Button's momentum if consumers agree that it's not the masterpiece the marketing campaign sold it to be. Time will tell.

The fourth new opener of the weekend, Valkyrie, finishes in fourth place with $21.5 million and a per-location average of $7,942 in 2,711 venues. Factoring in its $8.0 million debut on Thursday, the MGM drama about the plot to assassinate Hitler has already earned $30.0 million after only four days in release. Given that Tom Cruise's last starring role was in Lions for Lambs, a title that earned $15.0 million domestically, this result has to feel like a win for the studio as well as the actor. Of course, with a $95 million production budget, Valkyrie still has to avoid a quick box office flameout to wind up in the black. It should be roughly two thirds of the way there by this time next week.

Perhaps the biggest feat the movie has accomplished thus far, however, is that it is currently 61% fresh at Rotten Tomatoes. We all know how bitchy critics can be about actors, repeatedly trying to pile on while their careers on on the downswing, so Valkyrie's avoiding that fate is impressive. If even Cruise's harshest critics like the movie enough to take a pass on a cheap shot of him, it must be good.

The fifth and sixth place finishers this weekend are last weekend's big two, Yes Man and Seven Pounds. Those of you who have been reading BOP's Twelve Days of Box Office columns know that both titles have been performing like clockwork throughout the week given this particular Christmas week calendar configuration. That continued over the weekend as well. Our five comparison films from the most recent applicable years, 1997 and 2003, had five releases. Those were Mouse Hunt, Tomorrow Never Dies, Titanic, Mona Lisa Smile and The Lord of the Rings: The Return of the King. Those five titles increased 60%, fell 19%, increased 24%, fell 2%, and fell 30%, respectively. Yes Man and Seven Pounds are right in that with range, as the Jim Carrey comedy dropped 10% to $16.5 million and the Will Smith drama also declined 10% to $13.4 million. Yes Man's running total is $49.6 million while Seven Pounds is at $39.0 million after ten days. No one is blaming the weather for their lackluster performances any more, but we'll see that tired old saw run out again the next time a big movie needs an excuse.

The Tale of Despereaux and The Day The Earth Stood Still wind up in seventh and eighth place this weekend. The animated movie about the big-eared mouse made $10.1 million last weekend and fell only 7% this frame to $9.4 million. It may have suffered briefly from the introduction of Marley and Me and Bedtime Stories into the marketplace, but it has since recovered nicely. Despereaux is at $27.9 million after ten days, and should wind up a win for Universal after all its holiday revenue is accrued. The news is less cheery for Fox with the Keanu Reeves sci-fi flick. The Day The Earth Stood Still dropped from $9.9 million to $7.9 million, a 20% decline. Even worse, the movie lost 1,158 locations from last weekend's 3,560 to 2,402 now. Exhibitors are already washing their hands of this one, which means its running total of $63.6 million plus whatever it makes from now until next day will be the overwhelming majority of its final domestic take. The good news is that it is doing exceptionally well overseas, which could eventually make this a profitable venture in spite of the North American box office hiccup.

Rounding out the top twelve this week are a new release, an expanding awards contender and a pair of aging studs. The Spirit, Frank Miller's attempt to show that he didn't need Robert Rodriguez to be successful, earned only $6.5 million in 2,509 exhibitions, a dismal per-location average of $2,595. Clearly, Frank Miller needs Robert Rodriguez to be successful, at least in Hollywood. The news is sunnier for Doubt, the Meryl Streep drama from Miramax. Expanding from 39 to 1,267 locations, the movie earns a whopping $5.7 million. That's an increase of 733% from last weekend. We don't see those very often in this industry. Meanwhile, Four Christmases continues to show tremendous box office appeal. Another $5.0 million this weekend gives the Reese Witherspoon seasonal comedy a whopping $111.8 million. Clearly, what Hollywood needs to make next year is a Christmas movie with a dog in it. Look out, Titanic. Finally, Twilight makes another $4.5 million to give it an almost incomprehensible running tally of $167.1 million. So, I guess the Christmas dog's owner in the scenario above should be a lovelorn vampire.

Combined revenue for the top twelve this week is a sizzling $194.6 million. That is a spike of 15.4% from last year's $168.6 million. The 2007 holiday campaign was anchored by the continued staying power of National Treasure: Book of Secrets and Alvin and the Chipmunks, but the sheer volume of quality releases this week proved to be more than a match.