Twelve Days of Box Office:
Friday Box Office Analysis
By Tim Briody
December 27, 2008
BoxOfficeProphets.com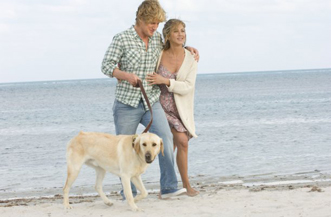 ---
Continuing the sudden hot streak at the box office, the day after Christmas also brings a lot of presents to Hollywood.

Marley and Me

After $14.5 million on Christmas Day, Marley and Me brings in another $14 million on Friday, and is already putting some distance between itself and everything else, making the [bp:1156_]Jennifer Aniston[/bp] and [bp:965_]Owen Wilson[/bp] film the big, big winner of the 2008 holiday season. Saturday and Sunday should be strong as well, and will also see solid earnings over the next 10 days thanks to how the calendar falls. Marley and Me should come up with a three-day weekend total of $44.8 million.

[tm:2545_]The Curious Case of Benjamin Button[/tm]

Being the most theatrically accessible of the current award contenders and having heavy star power help The Curious Case of Benjamin Button to a $10.2 million Friday after $11.8 million on Christmas Day. Adult audiences will likely choose between this and [tm:4347_]Valkyrie[/tm] and Benjamin Button will likely win out over Nazis. Give The Curious Case of Benjamin Button $38.9 million over the weekend.

[tm:4165_]Bedtime Stories[/tm]

The [bp:1130_]Adam Sandler[/bp] family comedy took in $10 million on Friday, which is solid, but one can't help but think that it's being held down a bit by Marley and Me. It's a little hard to nitpick about $20 million in two days, however, but it seems that when given the choice of Happy Gilmore or a puppy, families are choosing the dog. Big surprise, huh? Bedtime Stories should still have a pretty solid $35 million weekend.

Valkyrie

Onto somewhat heavier subjets, the [bp:145_]Tom Cruise[/bp]-led World War II film Valkyrie earned $8.1 million. This is pretty much a testament to the star power that Cruise still holds, because Nazis aren't exactly the first thing that comes to mind when you think of Christmas releases. Look for a weekend of $25.9 million.

[tm:1555_]The Spirit[/tm]

The bomb among this Christmas' releases, Sin City redux The Spirit, loses quite a bit off the $4 million earned on Christmas Day, down to $2.6 million Friday. This will vanish quickly and there's even a shot it's not in the top ten when the weekend estimates roll in. Give it $7.8 million for the weekend.

Notable Holdovers

[tm:2464_]Yes Man[/tm] is off 10% from last Friday to $5.9 million. While a straightforward comedy that should be a strong performer this time of year, Yes Man stumbled a bit out of the gate and now is being beaten handily by four of the Christmas openers. While it should still have some decent earnings over the next 10 days, there will certainly be a lot of questions about what happened to [bp:1155_]Jim Carrey[/bp]'s drawing power. A weekend $19.5 million appears to be in store.

[bp:91_]Will Smith[/bp]'s [tm:4182_]Seven Pounds[/tm] is off 9% from its opening day to $4.7 million. This is well on its way to being one of the more disappointing earners of The Fresh Prince's career. Call it a weekend of $15.3 million.