Weekend Forecast for Dec. 25-28, 2008
By Reagen Sulewski
December 24, 2008
BoxOfficeProphets.com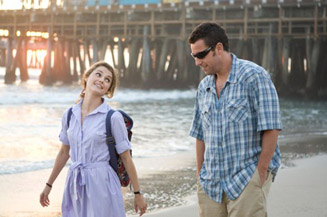 ---
With the last proper weekend of 2008, Christmas hurls an overstuffed stocking full of new releases at us, for what should prove to be one of the most lucrative eight days of the year.

With kids out of school and families coming together for the holidays, the week between Christmas and New Year's sees movie-going behavior change drastically from the other 51 weeks of the year, with a rising tide lifting all boats dramatically. Combine that with the rush to get films out for Oscar contention and we have our six new films in wide release, plus several more in limited runs. The fun part – there's probably room for all of them, even with the old films already out there. Most films open on Thursday, Christmas Day, which in this calendar configuration, will be the best earning day for many films over the next week.

Family films lead the way, with Adam Sandler's Bedtime Stories looking like the clear winner. While the general concept of that seems a tad frightening on first glance, it's Sandler working with Disney, so they've hopefully got him somewhat in check.

The concept of the film is pretty simple, but novel, with Sandler starring as a hotel handyman who finds that the stories he tells his niece and nephew come to life, no matter how outlandish. As his stories become crazier, he starts to realize how he can use this newfound power to make his own dreams of becoming the manager of the hotel come true. Live large, dude, live large.

Sandler survived the battle of the unfunny summer comedies this year with You Don't Mess With the Zohan, which squeaked over $100 million domestic. Obviously that proves something about Sandler's star power (and movie-goers' tastes, though that one's not such a positive lesson), and the timing of Bedtime Stories probably couldn't be better. The PG-rated fantasies, complete with outlandish effects (as Bolt proved, hamsters with big eyes are a go-to cute animal). Opening at over 3,500 theaters, Bedtime Stories should prove to be a big winner for families a la Night at the Museum, and should open around $50 million over four days.

More competition in this regard comes from Marley and Me, starring Jennifer Aniston and Owen Wilson. Adapted from the popular book, the movie centers around Marley, a golden lab and "worst dog in the world", and its owners, played by the two leads mentioned above. As Marley misbehaves in ever increasingly bizarre ways, he only serves to bring his owners closer together.

This isn't a complicated movie by any stretch and lives and dies on its ability to tug at heartstrings. This also makes it kind of an odd candidate for a blockbuster, but given the season and the popularity of the book, it just might have a chance. This is Aniston's first film since 2006's The Break-Up, so it's difficult to gauge her star power, though she's not been short of unrelated publicity lately. Something about some ex of hers, I think. Wilson has been a little more active lately, but not to any great success (Drillbit Taylor anyone? No? Anybody?). I think we're looking at a solid four-day total of $24 million.

Finally we get into the films for grownups. The Curious Case of Benjamin Button is one of the more unusual ideas for a mainstream film to come along in some time, since maybe Eternal Sunshine of the Spotless Mind. Based on a short story by F. Scott Fitzgerald, it stars Brad Pitt as a man aging backwards through time – born in his 80s and growing younger as he grows older.

Directed by David Fincher, it seems to play as a less sentimental, more poetic Forrest Gump, as Button experiences the 20th century in his unique way, though still unable to escape time. Cate Blanchett also stars in the film, as a girl he grows up with, born at the same time but aging normally.

The major struggle of this film will be to get audiences to accept such a bizarre premise, and the uglification of one of the biggest leads for at least part of the film. It might suffer a little bit from some of the same "But what's it about" problem that Seven Pounds did last weekend, though the awards attention it's received can't hurt it to get over that. This is ultimately going to be another test of star power (and its lead has also been in the news lately – something about an ex...) Opening at 2,900 venues, I see it starting with about $17 million.

One of the more remarkable stories of WWII was the Valkyrie Plot, a plan by a group of German officers to kill Hitler in order to stop his mad plans to continue to fight the Allies against all logic. And while it didn't quite work (I sincerely hope you don't consider that a spoiler), it's still a fascinating story and the subject of Valkyrie, starring Tom Cruise.

In the film, he plays a German colonel at the center of the plot, and the one tasked with actually performing the deed. Directed by Bryan Singer, it's a story of what it would take to hatch such a daring plan in one of the most restrictive societies the world has ever known.

At the same time, it's kind of a ridiculous idea for a Hollywood movie, seeing as how it's a failed plot by one of our enemies, starring a guy that a good portion of the public actively hates. Cruise's public perception has bounced back a little from the couch-jumping insanity of a couple of years ago, but he's not back to what he once was and never will be. Add to that a lot of criticism has been leveled at his performance in this movie, and it's not looking good, though it should see a four-day total of about $14 million.

Every year needs at least one bomb. This year, The Spirit should fulfill that role. Based on the 1950s graphic novel/comic series by Will Eisner, this is the big screen adaptation by Frank Miller, creator of 300 and Sin City. Never one to let a good gimmick go to waste, Miller has directed the film to look almost exactly like Sin City, all desaturated images with strategic splashes of color. While in theory, this isn't that bad of an idea, a little of it goes a long way, and we're entering one-trick-pony land here.

The Spirit is the story of a rookie cop who takes on a city full of corruption and populated by strange, kooky villains. Stop me if this sounds familiar. It's quite tongue-in-cheek, however, and the movie seems to take it all the way out to "cheesy" and "corny". Samuel L. Jackson as the villain The Octopus is a classic example of this, hamming up with gusto.

Relative unknown Gabriel Macht stars as the lead character, with a bevy of beauties, including Scarlett Johansson, Eva Mendes and Sarah Paulson making the film a little more tolerable. But audiences so rarely respond to ironic films unless they have "Movie" in the title. This feels like a big mistake overall, and we should see a $6 million take for The Spirit.

Doubt expands to 1,200 venues this weekend, making a serious push for Oscars. The drama, starring Philip Seymour Hoffman, Meryl Streep and Amy Adams, centers on a power struggle inside a Catholic Church in the 1960s, between a young, innovating priest and an old-guard nun. When the priest is suspected of something...untoward, the nun uses it as an attempt to shove him out the door and keep control of the church. Adams is the young nun caught between the two and used as a pawn in their power play.

Based on the director's own stage play, it's been receiving pretty strong reviews and has made some impact in limited release, hitting 15th place last week on 39 screens. With this expansion, it should come up to about $4 million over four days.

The star-studded openers from last week should see a boost from the holidays, with very small drops and possibly even increases in the cards. Yes Man seems more likely to get a boost, as the biggest comedy aimed at adults alone. However, it's probably not enough to turn Jim Carrey's latest in to a proper hit. Give it $22 million over four days.

Seven Pounds now finds itself in a very crowded drama marketplace, with not much to distinguish it from other stuff. Will Smith's cryptically-advertised film just didn't grab people, and I don't see the view of it improving with competition out there from Benjamin Button, Valkyrie and Doubt. I see about $15 million in its second week.

The Tale of Despereaux might be in tough as well against Bedtime Stories, though it's different enough that it might not suffer, and could definitely benefit from sellouts. It's already seen some upticks in the weekday figures. After a $10 million opening weekend, it could bounce up to $13 million this frame.

Adding to this glut are Four Christmases, which has the right theme and decent enough word-of-mouth, Twilight, which might be a chance for teens to escape their parents for a couple of hours, and The Day The Earth Stood Still, which is in free fall. All three should be in the $5 to $7 million range.