Twelve Days of Box Office
By David Mumpower
December 24, 2008
BoxOfficeProphets.com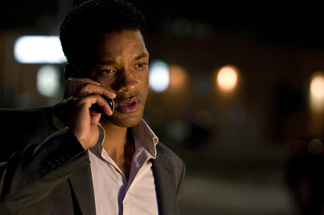 ---
Before we get to Tuesday numbers, let's take a moment to consider what happened in 1997 and 2003. We want to keep in mind how this Christmas week calendar configuration has worked in the past in order to determine if this past weekend's new releases are behaving as expected.

On December 23, 1997, Mouse Hunt increased from $1,256,047 the previous day to $1.405 million, an improvement of 12%. This total actually exceeded the $1.385 million it made on its first day in theaters. We obviously should not expect similar behavior from other films in terms of Friday/Tuesday holdover, but the increase from Monday to Tuesday is not wholly out of line for strong performers.

As the official holiday approaches, more consumers use vacation days. This liberates them to have the free time to go see a movie if so inclined. To wit, the other pre-Christmas week releases in 1997 also saw Monday-Tuesday increases. Titanic improved 9% to $6.075 million while Tomorrow Never Dies also went up 12% to $4.175 million. Relative to its opening Friday, Titanic retained 71% of its box office while Tomorrow Never Dies managed only 49%. Opening day James Bond rush was a factor in that one's behavior. We'll see over the next several days that it largely performed uniformly to its first Monday/Tuesday over the long holiday period.

In 2003, the two major releases were The Lord of the Rings: The Return of the King and Mona Lisa Smile. Okay, one of them was major and I was being polite with the other. What's important here is that Return of the King had fallen 42% from Sunday to Monday with $13,563,208 on the weekday. Part of that is an issue of scale; we have seen with The Dark Knight over the summer that a lot of $10+ million days is a hard feat for any film to accomplish.

On its first Tuesday in theaters, Return of the King managed a much better hold of 8% depreciation to $12,476,242. That is a retention rate of 57% from its first Friday of $21,811,549, which I feel is a better indicator on this one that the first day of $34,450,834. Fanboy rush was near an all-time high for any movie with the release of the end of the Tolkien trilogy. Frankly, I don't think this one makes for a good model at all when we factor in weekend numbers, but it works quite well in demonstrating that the daily numbers have that same expected behavioral pattern for this calendar configuration. Driving that point home is Mona Lisa Smile, which fell 5% from Monday's $2,311,494 to just under $2.2 million on Tuesday. That number reflects 51% of the film's opening day tally of $4.3 million.

What we can take from the above is straightforward. Films generally should have a Monday/Tuesday performance within 12% of one another, up or down. The five examples above are +12%, +9%, +12%, -8% and -5%. With regards to opening day retention for the first Tuesday, the numbers are 101% (remember that Mouse Hunt increased), 71%, 49%, 57% and 51%. That's a much larger range, but it does demonstrate that anything under 50% is unsatisfactory. These are the facts to keep in mind as we take a look at our three new releases this past weekend.

The first place finisher again on Tuesday was Yes Man, enjoying its fifth consecutive day at the top of the charts. Yes Man fell 6% from $3,610,321 on Monday to $3,403,394 on Tuesday. The $3.4 million yesterday reflects 52% retention from its Friday tally of $6,495,077. That's perfectly acceptable behavior given the information above if a bit on the low side with regards to the retention rate. Overall, this Tuesday data is neither reflective of remarkable early legs nor a quick flameout. Instead, Yes Man is acting like what it was: a relatively disappointing Jim Carrey comedy. The only thing laughable about it at the moment are those people who wanted to excuse its performance using the weather. One of these days, people will retire that tired logical fallacy once and for all. Until then, BOP will keep having fun with the silliness of it.

With regards to the other two openers this past weekend, here are the numbers. The Tale of Despereaux again usurps Seven Pounds' spot on the charts with another second place finish. A $2.47 million Tuesday is a decline of less than 1% from yesterday's $2.48 million. It is also 70% of the heroic mouse movie's Friday debut of $3.54 million. This one is showing clear signs of solid legs. Meanwhile, Seven Pounds falls short of the marks of Yes Man and Despereaux. Its $2,189,232 is a 5% drop from Monday's $2,310,779. That number also indicates a an alarming 42% retention rate from the title's $5,199,842 Friday debut. Seven Pounds is in some trouble.

Christmas Eve box office will reveal the anti-holiday box office phenomenon once more. You should expect all of the titles to fall around 40% from yesterday's total. The good news is that this is a temporary concern. Everything will double on Christmas Day and all titles in release will have several consecutive good days in that time frame. We also see the release of four new entries into the marketplace. Bedtime Stories is not only the largest of these but it is also expected to be the biggest December title. Marley & Me and The Curious Case of Benjamin Button are also heavily anticipated titles. Conversely, MGM is faced with the difficult (some would say nearly impossible) task of marketing a Tom Cruise-in-an-eye patch Nazi movie. If that one is a hit, their advertising team all deserve Mark Teixeira-sized contracts.

Site note for Christmas Day: I will do an update for daily numbers on Thursday, but since I will be dressed in a Santa hat and PJs all day, it's obviously not going to be a large one. BOP will have new daily content throughout the holiday season. That doesn't mean we won't enjoy a couple of holidays for ourselves as well, though. As you read this, I am probably on the way to my annual family visit to my hometown, and you may or may not be traveling as well. Where you are, throw up some mistletoe, grab the one you love (or want to love) and make the magic happen. I speak for all of BOP when I say that we wish you the happiest of holiday seasons. Thanks so much for reading us every day and helping contribute to our success. We couldn't do it without you.