Twelve Days of Box Office
By David Mumpower
December 23, 2008
BoxOfficeProphets.com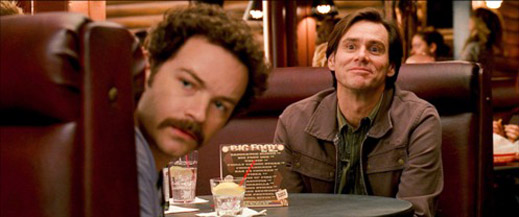 ---
Hello and welcome to the eighth annual 12 Days of Box Office here at BOP. This year is going to be a bit more interesting than usual due to the calendar configuration. Christmas last fell on a Thursday in 2003 and 1997 before that. Before we get to today's results, I want to examine how each of those two years behaved. As always, BOP stresses that historical precedent is huge with regards to late December box office behavior.

1997 had the more novel behavior, so we'll start with an examination of that time period. Let's first focus on the titles that opened the same weekend then that Yes Man, Seven Pounds, and The Tale of Despereaux opened this year. Two of those titles were a James Bond release, Tomorrow Never Dies, and an eerily similar title to Despereaux, Mouse Hunt. Coincidentally, there was one other title that has come up from time to time during our Daily Box Office Analysis discussions over the summer. It's called Titanic. No, we won't be using that one much for modeling purposes. If Yes Man is still the number one film in March, feel free to taunt me for my mistake.

Upon release, Mouse Hunt earned a paltry $6,062,922. What makes this one of the most fascinating releases in recent box office history is that its final domestic take was $61,894,591. Wide releases don't behave in such a fashion any more, but it wasn't that unusual just 11 years ago. Consider that a 1996 December release in the same time frame, Scream, actually surpassed what Mouse Hunt did. Scream started with $6,354,586 before becoming a bona fide blockbuster with final receipts of $103,046,663. That's a final box office multiplier (final take divided by opening weekend) of 16.2. Those don't come around much in 2008. If The Tale of Despereaux behaved similarly to Mouse Hunt, it would be a $100 million movie. If it matched what Scream did, we'd be talking about a $160 million result. Obviously, that won't happen, and it exemplifies the changing behavior of box office since the late 1990s.

Even with the revolutionary changes, there is still much to be learned from 1997's behavior. Let's look at the numbers for Tomorrow Never Dies and figure out what we know. The James Bond flick started with $25,143,007 and wound up with $125,304,276. Along the way, the film's first two weekend depreciations after its debut were 18.5% and 32.6%. Those are good drops, but they are certainly not enough for a movie to have a final multiplier in the range of 5. What aided Tomorrow Never Dies were its weekday results during the holiday period. From Monday to Thursday of its first week, the film accrued receipts of $16,287,946. That's a retention of 65% on the weekdays from the weekend. After a $20,480,931 weekend, the following Monday-Thursday period had receipts of $15,984,086. Effectively, $45.6 million worth of weekends were matched by $32.3 million worth of weekdays. This phenomenon is what makes the December holiday period so lucrative.

Let's look at Mouse Hunt again for comparison. Its first two weekend drops were...well, that's a different situation. Mouse Hunt's second weekend saw an increase of 60.0% to $9,702,770. Then, it fell 13% to $8,418,001, a total that was still $2.4 million ahead of its $6,062,922 start. What's amazing about how Mouse Hunt behaved is that its first Monday after release saw box office of $1,256,047, remarkable considering its first day in theaters had revenue of $1.39 million. Its first Tuesday of $1.41 million actually surpassed that of its debut day, a stunning feat for any title over the past quarter century. Mouse Hunt's first Monday-through-Thursday had combined revenue of $5,506,047, 90.8% retention from the weekend to the weekdays. The following weekdays totaled $10,057,843. No, that's not a typo. The film made more in its second set of weekdays than its first set or either of its first two weekends. So, Mouse Hunt is a bit anomalous and we should not expect its behavior to be matched this season. If Despereaux even approaches such behavior, it's golden.

Even if we ignore the anomaly, however, here is what we can take from Mouse Hunt and Tomorrow Never Dies. Both of them had solid first weekend to second weekend holdovers. As such, that seems like a reasonably expectable result for the 2008 releases. They also saw weekday retention the likes of which is generally demonstrated over the summer, only in a heightened capacity. At the start of business on Monday, December 22, 1997, Mouse Hunt had $6,062,922 and Tomorrow Never Dies had $25,143,007. At close of business on January 4, 1998, the end of the holiday run, the two films were at $40,021,527 and $92,408,204, respectively. Revenue piles up that quickly during the late December period. Just for fun, here is the logical extreme of that idea. Titanic finished its first weekend with $28,638,131. By January 4, 1998, it was at $157,467,971.

The obvious concern with using 1997 data is that box office behavior has evolved dramatically over the past 11 years. The proof is in looking at the top openings of all time. The first 28 (!) on the list have happened since 2000. The Lost World, a 1997 release, is the only non-2000s release in the top 45. Star Wars: Episode One – The Phantom Menace is the only other pre-2000s release in the top 60. The market has changed on a fundamental level due to the nature of exhibitor contracts. Studios get paid more in the first month of a title's release, so they construct their entire marketing campaign around a film's debut. Theoretically, legs have been truncated for all releases, but the December holiday season is an entity unto itself.

Let's use 2003 as proof of this. The big release that season was the climax of Peter Jackson's adaptation of J.R.R. Tolkien, The Lord of the Rings: The Return of the King. Mona Lisa Smile was also released that weekend, which is an amusing little movie trivia anecdote: "Which chick flick was sacrificed to the box office gods in honor of Peter Jackson?" At least, that would be the perception based upon Mona Lisa Smile's $11,528,498 debut. Of course, people who paid attention remember that the Julia Roberts film went on to earn $63,803,100, a final multiplier of roughly 5.5. By January 4, 2004, the movie had jumped from its modest $11.5 million start to $50,006,766. That's how quickly things change around this time of year.

With regards to Return of the King, that production's then-record $72,629,713 December debut was followed by a series of truly spectacular weekdays. When January 4, 2004 rolled around, the movie was already at $290,410,961. That's $218 million in box office in two weeks. Even Titanic's $129 million pales in comparison to that. Despite that record-setting opening weekend, Return of the King still managed a final multiplier of 5.2. That gives us a total of five films released this same weekend in 2003 and 1997. The smallest final multiplier of the group is 5, and that's why there is at least some cause for optimism for our three most recent openers. As long as they follow that pattern, Yes Man winds up with at least $91 million, Seven Pounds hits $75 million, and The Tale of Despereaux crosses $50 million. These are our landmarks moving forward over the next couple of weeks.

Now that we have the playing field set up, let's discuss Monday's box office.

As expected, Yes Man finished in first place with $3,610,321. That number is a decrease of 30% from Sunday's $5,121,271 and the total represents 20% of its weekend total of $18,262,471. Circling back to the historical comparisons, Mouse Hunt fell 28% during its first Sunday/Monday set and had a total that reflected 21% of its weekend total. Tomorrow Never Dies fell 53% and made 15% of its weekend total. Titanic fell 38% and earned 20% of its first weekend. Mona Lisa Smile fell 31% with 20% retention. Return of the King's totals fell 42% (keep in mind that it's on a much larger scale with $23,326,111 on Sunday and $13,563,208 on Monday) with 19% hold against what was the then biggest December performance ever. Reviewing, that's 28%, 53%, 31%, and 42% Sunday/Monday declines with 20%, 21%, 15%, 20% and 19% retentions from the weekend as a whole. Yes Man's 30% drop and 20% hold is as uniform as could possibly happen. That's the magic of the holiday season box office.

Now that we know what should happen on Monday and that Yes Man has behaved appropriately, let's examine the other two films. The shocker from Monday box office is that the second place movie does not star Will Smith. Instead, The Tale of Despereaux edges it with $2,483,145. That's an exemplary decline of only 10%, giving it bragging rights over every other title listed here...including Titanic and The Return of the King. Not bad, eh? It also had a retention of 25%, which is also best in the group for this calendar configuration. Normally, I would say that this is the advantage of smaller numbers at the start, but Mouse Hunt actually has an advantage there yet Despereaux outperformed it. This is all very good news for Universal as we start Christmas week at the box office.

With regards to Seven Pounds, the biggest story over the next few days is obviously going to be whether it makes a run at the expected $100 million mark Will Smith movies usually reach. Monday's box office of $2,310,779 is a decline of 42% and a retention rate of only 16%. As you can see, both of those numbers are toward the bottom of the list and once we factor in scale, it's easily the worst performer. Seven Pounds is in a lot of trouble already.

We'll focus on the rest of the top ten as the week continues. The only other pertinent piece of data for now is that the group combined to earn $15,855,791. Those of you who read the summer box office columns will instantly recognize that this is an okay but unspectacular result for the entire group. This is just not a great time at the box office. I would hate to be the person in charge of marketing a Tom Cruise in an eye patch movie about Nazis right now. Err, moreso than normal.