Weekend Wrap-Up
Jim Carrey Says Yes, Audiences Say Meh
By David Mumpower
December 21, 2008
BoxOfficeProphets.com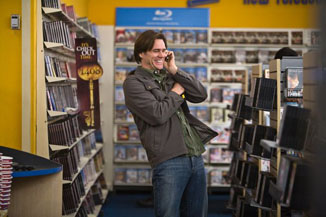 ---
After a disappointing start to the holiday box office campaign last weekend, Hollywood turned to its biggest stars in anticipation of jump-starting December box office. Much has been expected of Jim Carrey's Yes Man and Will Smith's Seven Pounds. Two of the most reliable openers in the industry, Carrey and Smith were supposed to open their films well this weekend then watch them excel during the Christmas-New Year's holiday period. The latter may yet happen; the former most assuredly did not.

Yes Man, the Liar Liar-esque new comedy from Jim Carrey, won the weekend with an estimated $18.2 million. Surprisingly, this mediocre debut is Carrey's second best opening weekend since Bruce Almighty in 2003. Excluding voice acting work, only his outing in Lemony Snicket's A Series of Unfortunate Events did better over the past five years. There is simply no disputing the fact that the formerly most popular movie comedian in the world has been a slump.

Part of the cause of the downturn was his decision to do take more offbeat roles after How the Grinch Stole Christmas and Bruce Almighty combined to earn $500 million domestically. Eternal Sunshine of the Spotless Mind was another doomed attempt to get an Academy Awards nomination for the actor, but Kate Winslet was lauded instead. Carrey had to settle for a Golden Globes nod and domestic box office of only $34.4 million. He took on the role of the over the top villain Count Olaf in the widely anticipated Lemony Snicket adaptation, but Paramount's $156 million investment netted only $118.6 million domestically.

After his hit with Fun with Dick and Jane, Carrey had one of the worst performances of his post-Ace Ventura career with the critically reviled The Number 23. Coming off of that film's $35.2 million take, Carrey needed a hit, but it was not to be with Yes Man. For whatever reason, consumers found this one to be familiar ground and possibly even an inferior copy of Liar Liar, Carrey's prior $181.4 million blockbuster ($281.4 million adjusted for 2008 ticket pricing). Critics have indicated equal disappointment in the product. Yes Man is currently only 45% fresh at Rotten Tomatoes.

Exhibited in 3,434 locations, Yes Man had a per-venue average of only $5,288, which is right in line with Carrey's last two outings. The disastrous The Number 23 had a per-venue average of $5,293, while the blockbuster hit Fun With Dick and Jane managed only $4,707 its first weekend. The $35.2 million and $110.6 million results are the logical extremes for future expectations for Yes Man, but those of you who are long time readers of this column know to expect the latter. We are almost to the period where every day of the week will be as lucrative at the box office as your average Friday, which is welcome news for Yes Man. The 2008 release has actually opened better than Fun with Dick and Jane, which started with only $14.4 million. For whatever reason, that title felt fresher and more in demand than this one, however, which is further grim news for a December campaign that already absorbed a body blow last week with the disappointment of The Day the Earth Stood Still.


Even with the early disappointment of Yes Man, the weekend box office still could have been saved by Will Smith. After all, he's done it before. In fact, he just did it last Christmas when I Am Legend became the biggest December opening ever with a $77.2 million start on the way to an exemplary domestic run of $256.4 million. It became the third $250 million hit of Smith's remarkable box office career as well as the seventh of what has now become eight consecutive $100 million domestic performers. With Hancock, he moved ahead of Tom Hanks and tied Tom Cruise's record for the most $100 million movies in a row.

Another $100 million movie with his latest release would break the record, but Smith is going to have to work that much harder to accomplish the feat. Seven Pounds opened to only $16 million this weekend in 2,758 locations. This is Smith's worst opening for a film since 2001's Ali (fact check), which was also the last Smith film to earn less than $100 million. That title finished with only $58.2 million domestically; this would be a good-sized hit for your average movie star, but it's what qualifies as a disappointment for the Fresh Prince.

Seven Pounds had a per-venue average of $5,801, which narrowly beats Slumdog Millionaire for best in the top ten. This number is on a par with Smith's least popular films this decade. The Legend of Bagger Vance, a zen golf movie set in the 1930s (seriously), had a per-venue average of $5,588 while the Muhammad Ali biopic was $6,014. Given that the combined domestic box office of these two titles is $88.9 million, Smith's streak of $100 million movies is in significant jeopardy. We'll know as soon as next Sunday whether Seven Pounds has recovered enough to make a strong run at that particular threshold. Until then, what can be said with certainty is that critics feel this is his worst film since Bad Boys II in 2003. Only 27% of Rotten Tomatoes critics gave this one their thumbs up; suffice it to say that Seven Pounds is not going to be the awards contender it had been expected to be. The good news for Sony is that this production was made for a modest $55 million, meaning it should finish in the black by the end of its theatrical run.

The Tale of Despereaux, a charming animated film about a heroic mouse with Dumbo ears, earns third place this weekend. Exhibited in 3,104 locations, the Universal release managed a respectable $10.5 million with a per-venue average of $3,810. This relatively unheralded production is positioned to be the family film choice of the holidays, meaning it could wind up a low key hit. Also, while this is damning with faint praise, the Kate DiCamillo adaptation is the best reviewed new release this weekend. 51% of Rotten Tomatoes critics liked it, which makes it roughly twice the crowd pleaser that Seven Pounds is.

The two movies that round out the top five are heading in opposite directions. The Day The Earth Stood Still falls from first to fourth place with $10.2 million. How poor is this result? The Keanu Reeves sci-fi flick is down a whopping 67% from last weekend. This isn't summer and we aren't talking about a huge debut last frame, either. In short, this movie is not getting it done at the box office as demonstrated by its ten-day tally of only $48.6 million. The only positive Fox can take from its performance thus far is that the film is doing well overseas, surpassing its domestic total abroad. Meanwhile, the news couldn't be much sunnier for Four Christmases. While dropping from second to fifth place this weekend, it still manages a solid $7.7 million, a drop of 41% from $13.1 million last frame. It has a 26-day total of $100.2 million and now it's Christmas week, the time when everyone always penciled in this movie's best days after opening weekend.

The films in sixth and seventh place this weekend are both clear cut hits. The only difference is in scale. Twilight gains another $5.2 million from disaffected teen girls, giving it a running total of $158.5 million. This weekend, it passed Horton Hears a Who to become the ninth most successful movie of 2008 and -am I really typing these words? - is going to finish ahead of Quantum of Solace in final domestic gross. Meanwhile, TV's Bolt (featuring the voice of Mark Walton as Hamster-in-a-Ball) earned $4.3 million this weekend. It has a running tally of $95 million after 31 days of box office. This marvelous little movie will be over $100 million by next weekend. Score one for the good guys.

Rounding out the top ten this weekend are Slumdog Millionaire, Australia and Quantum of Solace. The presence of Danny Boyle's latest movie is something of a surprise. Exhibited in only 589 locations, Slumdog Millionaire managed a laudable $3.2 million with a per-venue average of $5,348. It's already earned $12.1 million and hasn't even gone wide yet. Meanwhile, the news for Australia continues to be grim. Dropping from fifth to ninth place, it's already almost out of the top ten. $2.3 million this frame gives it a running tally of $41.9 million. While the lucrative holiday period will help some, this one is a loser. For Quantum of Solace, the news is rosier. Another $2.2 million gives it a running total of $161.3 million domestically on top of the $400 million it's already brought in worldwide. I don't think it's going to quite have enough steam to become the first $200 million Bond movie domestically, but it will become the most successful title in the franchise at some point during the next week.

On the limited release front, The Wrestler earned a whopping $209,474 from only four theaters. That's a stratospheric per venue average of $52,369. Doubt made $729,000 from 39 locations, a per location average of $18,692. And Gran Torino continues to score highly in a small number of theaters, making $468,000 in its 19 locations. Its per venue average is $24,632. The Kate Winslet film The Reader earned $100,150 in its eight venues, giving it a per location average of $12,519. And finally, Frost/Nixon made $364,845 from 39 locations, a per venue average of $9,355.

Combined revenue for the top ten was $82.8 million, down - way down - 46% from last year's $151.9 mllion. Will Smith and Jim Carrey's movies did not combine for enough revenue to cancel last year's major release, National Treasure: Book of Secrets with its $44.8 million debut - and it just got worse from there. Conventional wisdom is that movie theaters are recession-proof, but there is clearly odd box office behavior at play thus far in December. We'll know for sure whether the economy was a factor by this time next week. As an aside, I will be doing an abbreviated version (due to the calendar configuration) of BOP's annual Twelve Days of Box Office starting on Tuesday.