Weekend Forecast for December 19-21, 2008
By Reagen Sulewski
December 19, 2008
BoxOfficeProphets.com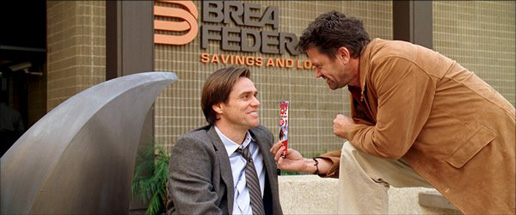 ---
Two of the biggest names in Hollywood go head to head on this, one of the final weekends of 2008, with two very intriguing films. Add what looks like a pretty inventive family film, and this looks like one of the more competitive weekends we've seen in awhile.

Yes Man sees Jim Carrey in his first live-action comedy role since 2005's Fun With Dick and Jane, and it's a return to the kind of high-concept films that made him a star in the first place. Carrey plays a negative nelly, who after a lifetime of saying "no" to everything, is challenged to say "yes" to every opportunity that comes his way. In typical Hollywood fashion, this leads to wacky hijinks, and allows Carrey to pull out his ol' Rubber Face routine.

While not exactly the same thing as Liar Liar, it's a pretty close cousin. Putting Carrey in a restrictive situation and letting him rip has worked quite well in the past (Bruce Almighty also comes to mind) so this feels like a natural extension. But with so many years between his comedies, and one all-world awful film from him in the meantime (The Number 23), there's a good question as to whether audiences still care about him, or if they're possibly sick of him. My guess is that while a good portion of his former fans have moved on, there's still a sizable number that are waiting for the old Jim to come back.

It helps that it's an attractively advertised film, with some genuinely funny moments ("Every pretty girl deserves to go to a ball" is a winner here). Zooey Deschanel plays Carrey's potential love interest (just ignore the 18 year age difference), with direction by Peyton Reed, who was responsible for Bring it On (that's good) and The Break-Up (that's bad). Opening at 3,434 venues, it seems like an easy winner for the weekend with around $35 million.

Seven Pounds is an enigmatic-looking drama starring a rather emaciated Will Smith (or maybe just clean-shaven). In it, he plays an IRS agent who decides to dramatically change the lives of seven strangers as a redemptive act. Redemption for what, we don't quite know. Despite what seems like a positive act, the film takes on a dark and foreboding tone because of the mystery of what Smith is trying to pay back for.

Directed by Gabriele Muccino, who had a hit with Smith with The Pursuit of Happyness, it also stars a pretty strong cast, including Rosario Dawson, Woody Harrelson, Barry Pepper and others.

While I don't think we're talking about a Sixth Sense level of mystery here, Seven Pounds is definitely selling itself with as a film with a secret to reveal. And it had better deliver on that, as the ads are cryptic to the point of aggravation. Ultimately, I think this hurts the film, as audiences probably have no idea what they're getting. Smith can sell this kind of drama, which is why I see this having a solid weekend of about $23 million, but it's probably leaving some dollars on the table.


With nowhere to go but up from last week's Delgo, The Tale of Despereaux arrives in about 3,100 theatres on Friday. Based on a children's book, the animated film, one of Universal's first big entries into the genre, tells the story of a bookworm mouse forced into bravery to help save a medieval kingdom. There's some interaction between humans and the mice and rats, which I'm sure I'd be familiar with if I'd actually read the book this is based on.

While it feels something like a middle ages version of The Secret of NIMH, what makes Despereaux an interesting film is its spectacular look, which feels like a painting brought to life. Voice talent comes from Matthew Broderick, Dustin Hoffman, Emma Watson and a few other recognizable names, but no one that'll cause a stampede. It's a cute enough looking film that should at least be tolerable, and perhaps even enjoyable for adults, which is almost the key demographic for animated films these days. I look for a weekend of about $14.

Another cryptic film, The Day the Earth Stood Still, will relinquish the top spot after a $30 million opening weekend. And although that's probably a pretty good take for what looked like a bit of a depressing sci-fi film, it's due to drop pretty heavily this weekend. Reviews were middling at best, with many outright mocking the film and Keanu Reeves' wooden performance (on purpose this time, honest!). Effects can go a long way, but audiences clearly aren't in the mood for gloom. Give it $13 million this weekend.

Four Christmases seems to be the compromise film of choice for this holiday season, as it's performed very strongly in its three weeks of release, maintaining a great holdover through some difficult weekends. There's always going to be a market for inoffensive holiday-themed romantic comedy at this time of year, and while this might not quite fit that bill entirely, it's close enough. It should see a $10 million take this weekend, vaulting it past the $100 million mark.

Bolt is hoping to do the same thing for family films, although Despereaux complicates things from that perspective. Disney exists in a different realm of animation than other studios so it should be able to fight past that, but the 25% drops of past weekends probably can't be taken for granted. Give it $5 million and hope it hangs on for another week for the big bucks.

Twilight held a little better than I expected last weekend, managing to hit the $150 million mark by earning $8 million. It's kind of the end of the line for this vampire film, though, as it's run out of impressionable teen girls afraid of boys. It should fall to $4 million this weekend, with a good chance it tops out below $175 million total.

Opening in limited release is The Wrestler, Darren Aronofsky's film about a washed-up professional wrestler starring Mickey Rourke and Marisa Tomei, which is getting tremendous Oscar buzz. No really. It's only on four screens for now, but could have a strong impact this weekend, possibly even to about $200,000.