Weekend Wrap-Up
Earth Stands Tall...ish
By David Mumpower
December 14, 2008
BoxOfficeProphets.com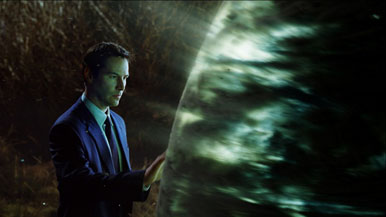 ---
The first major December release entered theaters this weekend. Keanu Reeves' first post-Matrix science fiction flick, The Day The Earth Stood Still, won the weekend, but it wasn't an I Am Legend, or a National Treasure: Book of Secrets or even an Alvin and the Chipmunks. Instead, the film's $31 million debut it was closer to the opening of The Golden Compass, which is an ominous way to start the holiday box office season.

The performance of The Day the Earth Stood Still lends credence to the fact that there might be reason for economic concern during this December timeframe. These are anxious times for all major corporations and the movie industry in particular is nervous about their holiday slate. After summer, the December schedule is the most important revenue source on the box office calendar. Films have always been considered recession-proof, but an unusual combination of events has industry observers wondering if that trend will hold over the holidays. The writer's strike at the start of the year has created a dearth of high quality releases with the many of those being exhibited in November. A lackluster December schedule combined with competing technologies on home video and an unprecedented economic collapse has created a lot of tension about the expected holiday money train.

While December has historically been a time of deflated opening weekends followed by lengthy legs for major releases, the perception has been fundamentally altered in recent years. The dozen largest openings of this month have all occurred in December with three of the top ten coming last year. Simply put, the era of the mega-opening has reached December now as well. Consider that this same weekend in 2007 saw the release of two movies that earned north of $44 million in I Am Legend and Alvin and the Chipmunks. I Am Legend's performance set the monthly record for largest debut, besting the previous champion, The Lord of the Rings: The Return of the King, by almost $5 million. The following weekend saw the release of National Treasure: Book of Secrets, a title also debuted with $44.8 million.

With last year's hottest December films finding record-setting opening weekends, there was reason to hope that a big budget action film featuring the star of The Matrix would perform on a level with the National Treasure sequel, if not better. Tracking had indicated that this was a possibility. After all, Keanu Reeves has delivered consistent box office results over the past five years. Beginning with Hardball, a low budget film that earned back roughly double its production budget, Reeves has been on a hot streak. His success with the Matrix sequels created a historically unprecedented financial windfall for the actors, upwards of $200 million according to some reports. Then, he turned the unheralded comic book character Constantine into a successful $76.0 million hit domestically that had a flabbergasting $230 million in worldwide revenue. Even his dalliance in the romantic comedy genre, The Lake House, brought in $52.3 million domestically and $114.8 million worldwide against a $40 million production budget. Reeves has quietly but consistently been a box office draw this entire decade.

Alas, the breakaway success of The Day The Earth Stood Still wasn't to be. Instead, a $31 million opening reflects a per-venue average of $8,708 from 3,560 locations. That's far from a blockbuster performance. Consider that the second National Treasure film's per-location average was $11,687, while Alvin and the Chipmunks managed $12,750 and I Am Legend delivered a magnificent $21,412. I referenced Golden Compass above, and its number in this category is particularly relevant. That title had a per-location average of only $7,308 and wound up earning only $70.1 million domestically. While its international success was not well publicized, that title wound up having an acceptable overall result due to its $372.2 million in worldwide receipts. The Day The Earth Stood Still should probably not expect similar salvation, but the news is not all bad. This production has a relatively modest budget of $80 million, meaning it should be profitable for Fox.

This is welcome news for the studio since the rest of 2008 has been a series of unfortunate events. There was The Happening, which started well but vanished almost immediately. There was The X-Files: I Want to Believe, a film that was technically profitable due to a frugal budget; it was, however, the scorn of even the most diehard X-Files fans. And those two films are what qualifies as successful to the studio when we consider that their other 2008 stinkers include Australia, Meet Dave, The Rocker, and Babylon A.D. Fox is a Horton Hears a Who and What Happens in Vegas away from abject humiliation this year. The studio had hoped that The Earth Stood Still would be the type of four quadrants tentpole release that would achieve huge box office success. Instead, it's a modest hit thus far and the news moving forward isn't particularly positive. In fact, the reviews at Rotten Tomatoes are grim. 98 out of 128 reviewers disliked the movie, giving it a Fresh rating of only 22%. Even with late December box office behavior factored in, this title appears unlikely to show tremendous legs, which means it's not the hit it could have been. Fox just couldn't catch a break in 2008.

Four Christmases, the number one film over the previous two weekends, falls to second place this week with an estimated $13.3 million. This total represents an exceptional decline of only 21%. While the inclination may be to expect solid holdovers for all titles this weekend after the lousy post-Thanksgiving box office dead zone, the Reese Witherspoon/Vince Vaughn comedy had the best depreciation in the top 12. This is the latest demonstration of its impressive box office pull. A running total of $88 million puts it squarely within range of $100 million, a total it should reach by this time next week. This is Vaughn's fifth $100 million earner after Dodgeball: A True Underdog Story, Mr. & Mrs. Smith, Wedding Crashers and The Break-Up. Meanwhile, this is Witherspoon's third such feat after Sweet Home Alabama and Walk the Line.

Of course, the success of Four Christmases is a drop in the bucket compared to Twilight. The vampire romance started in first place, fell to third, moved back up to second and now settles back in third again with an estimated $8 million. That's a drop of only 39% this weekend after falling 62.2% and 50.5% the prior two frames. BOP had discussed whether our staff believed in the legs of Twilight, and most of the staff said no. A running total of about $150 million ($150.1 million to be exact) after a month shows it is not Cloverfield by any stretch but it is relatively frontloaded. What I wonder now is whether the movie may yet find renewed life over Christmas break when its target audience is liberated from the pressures of Geometry exams and Band practice. I don't think it has quite enough steam for $200 million, but I also didn't think its opening weekend would approach $70 million, either. Under any circumstance, Twilight has passed films such as Wanted, The Incredible Hulk and Mamma Mia! to become the 11th most successful movie of 2008. It will also pass Sex and the City and Horton Hears a Who in a matter of days to earn ninth place. A top ten finish from an unheralded distributor is no small accomplishment, and Summit Entertainment should be very proud of what they have accomplished here, issues with the (old) director notwithstanding.

Bolt, the adorable 3-D animated comedy from Disney, earns fourth place this week with another $7.5 million. The movie's modest decline of 23% shows that it's not out of steam quite yet, while the running tally of $89 million means it's going to pass Meet the Robinsons' $97.8 million to become the second most popular 3-D animated release thus far. Chicken Little's $135.4 million, on the other hand, is probably out of reach despite the benefit Bolt will receive from holiday box office. This release is a hit, but it's not quite the blockbuster it deserves to be. Even so, I commend Disney for adding a Cars short to the title this weekend in order to try to give it a box office boost.

The most financially gruesome movie in the top ten is Australia, our fifth place finisher this week. The Baz Luhrmann/Nicole Kidman/Hugh Jackman celebration of their homeland has been soundly rejected by North American audiences who apparently couldn't distinguish it from various Yahoo Serious projects. Shot at a production cost of $130 million, Australia has earned a paltry $37.9 million after 19 days. For perspective, Speed Racer was at $37.8 million after the same time frame. While Australia should do better than that title's final domestic take of $43.9 million, it won't be by much. Given that Speed Racer is generally regarded as the biggest bomb of the year (a title more appropriately focused upon Babylon A.D.), this is some scary company for Australia to be keeping.

I can't blame Kidman and Luhrmann for wanting to revisit their success with Moulin Rouge!, but it just didn't work out. The good news for Jackman is that while Academy Awards contention is a distant memory now, the producers of the show were kind enough to let him host it. Here's hoping he doesn't bum rush the thespian who winds up with the Best Actor award Wolverine had been angling to attain. Also, let's be honest that between Viva Laughlin and Australia, Jackman desperately needs a hit. For Kidman, whose last few projects are The Golden Compass, The Invasion, Margot at the Wedding and Bewitched, that goes double.

Quantum of Solace continues to excel at the box office. Another $3.8 million is good enough for sixth place this week. Even better, its running total of $157.7 million puts the Daniel Craig film within shouting distance of Madagascar: Escape 2 Africa's $170 million for eighth place in 2008. In addition, the title is only a couple of weeks away from surpassing Casino Royale's $167.4 million to become the Bond franchise's most lucrative title, not adjusting for inflation, of course. Of course, with a reported production budget of $230 million, this title needs its worldwide receipts (currently around $525 million) to be considered profitable.

The other new release this week is Nothing Like the Holidays, an unheralded title with an exemplary cast. Featured in the project are Alfred Molina, Elizabeth Pena, Luis Guzman, John Leguizamo, Debra Messing and BOP faves Jay Hernandez (The Rookie, Friday Night Lights and Crazy/Beautiful) and Freddy Rodriguez (the on again/off again object of Ugly Betty's affection). The who's who group of Latino actors didn't impress North American audiences, as the title earned only $3.5 million, good enough for only seventh place. I'm very disappointed in all of you.

Three very different movies comprise the rest of the top ten. Madagascar: Escape 2 Africa was already discussed above as (currently) the eighth most successful movie of 2008. Oddly, it is only the second most successful title from DreamWorks Animation in the same time frame, but there is no dishonor in failing to match Kung Fu Panda's $215.4 million nor the original Madagascar's $193.6 million. Of course, the latter scenario is not certain yet. Another $3.3 million gives the film $170 million, which is successful no matter the criteria involved...unless the budget is Quantum of Solace-sized, of course. Ninth place goes to a film with a lot of upward mobility, Milk. $2.6 million in 328 locations represents a solid per-venue average of $8,035, indicating that this end-of-year awards contender may be just getting started. Rounding out the top ten is the fading Transporter 3, a cheap Lionsgate acquisition that has earned $29.3 million for the distributor. While it's not a blockbuster by any stretch, this was a savvy pick-up that borders on arbitrage for the up and coming studio.

Overall revenue for the top 12 was $83.3 million, down a significant 45.1% from 2007's $151.9 million. As was mentioned above, the key is that this week's biggest title, The Day The Earth Stood Still, earned roughly $90 million less than 2007's heavy hitting tandem of I Am Legend and Alvin and the Chipmunks. It is imperative for the trio of big releases next week - Seven Pounds, Yes Man and Tale of Despereaux - to perform as expected or better. Otherwise, December box office is in a world of hurt.