Weekend Wrap-Up
Weekend Box Office Is Punished
By John Hamann
December 7, 2008
BoxOfficeProphets.com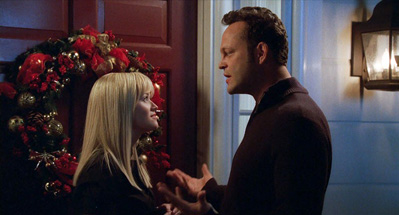 ---
The weekend that follows Thanksgiving in the United States is one of the worst weekends of the year to open a movie, joining Labor Day as the "Two Black Holes of Box Office". It's a curious thing, as November is a hot month, followed by December, which is one of the biggest months of the year. This weekend, the big studios mostly stayed away from opening films on this dreaded weekend, as there was only one major release that was joined by two small pictures. New films include Punisher: War Zone, an attempted franchise reboot for Lionsgate, and two films on fewer than 900 screens - Cadillac Records from Sony and Nobel Son from Freestyle Releasing. The news was mostly grim - unless you are a really bad Christmas movie.

Yes, the first box office weekend in December is a nasty place to be. Last year, Enchanted was enjoying its second weekend, having opened big over the Thanksgiving frame in 2007, to the tune of $34 million over three days and about $49 million over its first five days. Enchanted went on to become a fairly leggy release ($128 million domestic finish), and enjoyed a strong December - except for the post-Thanksgiving weekend, when it dropped a severe 52%. The post-turkey frame is hardest on children's movies, as the kids are back in school. Thanksgiving's Thursday/Friday combo easily outgrossed this entire weekend of box office ($95 million to $77.5 million). Kid flicks aren't the only victims of the turkey blues. Last year, the average percentage drop in the top ten was 51.4% - and that's indicative of the weekend - as over the second weekend in December 2007, the average drop was only 33%.

So how did it roll out this weekend? Our number one film is the same as last weekend - Four Christmases. Its drop actually beats the trend. Four Christmases grossed $18.2 million after opening with a three-day haul of $31 million and $46 million over five days. This weekend, the Vince Vaughn/Reese Witherspoon flick had a good-for-this-weekend drop of 42%. The percentage decline is really good news for the folks at Warner Bros., as like Enchanted, this is most likely going to be the worst weekend drop that Four Christmases sees prior to Boxing Day. If we look at a similarly awful movie like Christmas With The Kranks, we know these holiday films are bullet-proof. Kranks was 5% fresh at RottenTomatoes (yes, 5%), but still managed to earn $74 million domestic, after opening to $21 million. Over its run, Kranks earned more than three times its opening weekend, despite being one of the most heinous films ever. I'm looking for Four Christmases to finish with more than $100 million without sweating, and $125 million is not out of the question. After 12 days of release, Four Christmases has already earned $70.8 million.

Second this weekend is surprisingly not Bolt. Instead, it's Twilight, as the teen girl repeat viewers may be finally coming out of the woodwork. Twilight earned $13.2 million, and its weekend drop completely threw off the trend. In Twilight's sophomore frame last weekend, the teen-vamp flick got crushed, losing 62% of its opening weekend sales, despite being in the padded Thanksgiving frame, where drops should be slim. This weekend, Twilight actually improves on last weekend's drop with a plunge of 50%, something we just don't see unless a film is expanding. Summit did add 195 venues this weekend, but it shouldn't have been enough to break the trend. That means Twilight has now earned $138.6 million, and while I don't think it will reach $200 million, it is still going to be a very healthy finish for Summit Entertainment, and the birth of a what could be a very strong franchise.

Dropping to third is Disney's Bolt, as it stuck to the trend and got hammered in the post-Thanksgiving frame. Bolt earned $9.7 million and was off a brutal 64% from its $26.6 million haul last weekend, where it was actually up 1% compared to its opening. Bolt fans, do not despair. With the big haul last weekend and the upcoming holidays, Bolt is going to be a $100 million plus earner. So far, Bolt has earned $79.3 million for Disney.

Rising one spot to fourth is Baz Luhrmann's Australia. The Fox epic earned $7 million this weekend, and despite getting ahead of James Bond, the Nicole Kidman starrer still dropped 53%. Australia has a reported budget in the $10-125 million range, and a gross of far of $30.9 million. The legs here would have to be insane to match the budget; however, foreign sales may help this one out.

That means Quantum of Solace moves down to fifth, as the Sony/MGM actioner loses a lot of momentum. Quantum picked up another $6.6 million and was off a hard 65% compared to last weekend. Quantum of Solace is approaching the $165 million that Casino Royale earned in 2006 - $50 million of which was earned after December 4, 2006 - its 18th day of release. So far, Quantum of Solace has picked up $151.5 million domestically, and another $340 million overseas. This one will end up a half-billion earner, against a production cost of $200 million in US dollars.

It was a close battle between sequels this weekend. For the kids, Madagascar 2 earned $5.1 million, dropping 64%. For adults, Transporter 3 earned $4.5 million, and was off 63%. That's where the similarities end, as Madagascar 2 has a domestic cume of $165.7 million versus Transporter 3's total of $25.4 million.

Way down in an embarrassing eighth is Punisher: War Zone, Lionsgate's feeble attempt at rebooting this franchise (it's dead, Jim). Released to 2,508 venues, Punisher earned a measly $4 million, delivering a brutal venue average of $1,595. Not all comic book properties are winners, which Lionsgate knows now as their first shot at The Punisher opened to a much better $12 million and finished with $33 million. However, it should be noted that John Travolta did make an appearance, alongside former Punisher Thomas Jane. That version cost Lionsgate $33 million, so it wasn't too bad of a loss. This time out, Ray Stevenson plays The Punisher, and there's no big name bad guy, and this is the result. War Zone cost Lionsgate $20 million, and I'm thinking we won't see another Punisher for quite awhile.

Not far off the wide Punisher flick is Cadillac Records, the small, 686 venue release from Sony. Considering the size of release, Cadillac Records didn't do too badly, but no one will be dancing in the aisles either, as the musical drama earned $3.5 million this weekend, good for a venue average of $5,102.

Finally in tenth is Role Models, the little film that has done very well for Universal. Role Models earned $2.6 million in its fifth weekend, and was off 50%. Universal now has $61.7 million in the kitty for this one, against a budget of only $28 million.

The biggest disaster of the weekend is Nobel Son, the new issue from Freestyle Releasing. Despite launching in 893 venues, this one earned only $370,575, and had a venue average of $415. These results are astonishingly bad, to the point where I might think the cast is led by George Bush and OJ Simpson.

In limited release this weekend, we had some very strong titles. Sean Penn's Milk increased it venues to 93 this weekend, and the biopic earned $1.7 million and had a venue average of $17,076. Slumdog Millionaire added 29 venues to go up to 79 screens, and pulled in $1.4 million. Finally, Universal opened Frost/Nixon at three venues, and had an outstanding average of $60,049.

Overall, things were up slightly over last year, but then last year hit a record for low follow-ups to Thanksgiving. This year, the top 12 films earned $77.5 million which compares positively with last year, when the top 12 earned $75.9 million. Next weekend brings the holiday blockbuster The Day the Earth Stood Still with Keanu Reeves, along with the (poorly) animated Delgo and Nothing Like the Holidays from Overture Films.