Watch What We Say: Top Chef
Episode 4
By Jason Lee
December 4, 2008
BoxOfficeProphets.com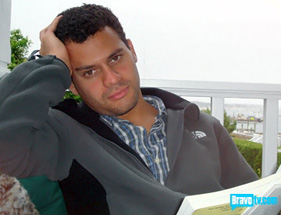 ---
This week on Watch What We Say: Cooking on TV is hard.

In recent years, the evolution of Top Chef has mirrored another landmark show in the genre of reality TV: MTV"s Real World. While the first season (and arguably the second season as well) was filled with experienced, hard-boiled chefs who were each supremely confident of their own individual mastery of the culinary art form, the third and fourth seasons (while still filled with exquisite chefs) seemed to include a few contestants that were not just interested in winning a prestigious cooking competition, but doing it in front of millions of people as a reality TV star.

Call me crazy, but chefs like Season Three winner Hung and Season Four contestant Spike Mendelsohn seemed to have been chosen as much for their cooking ability as for their divisive, egotistical personalities.

It is for this reason that I found this week's Top Chef Elimination Challenge so fascinating: conduct a two and a half minute cooking demonstration suitable for inclusion on a live morning talk show with a meal that the audience would find interesting and the hosts would find delicious. This challenge is almost a self-recognition by the producers that to win (or even compete) on Top Chef, you must possess some semblance of on-screen charisma and the ability to create a rapport with your audience. Consider that the numerous guest judges that have appeared on Top Chef, including some of the most influential chefs in the world, have all been relatively charming, well-spoken on camera and frankly, attractive. This Elimination puts this unspoken requirement for culinary greatest to the test.

But I'm getting ahead of myself. The Quickfire Challenge for this week is an awesome one: compose a breakfast amuse-bouche. For those who aren't familiar with the term, an amuse-bouche is a culinary term for a single, bite-sized hors d'œuvre that typically introduces a diner to the chef's culinary style at the beginning of a meal. Well, the chefs are going to have a chance to try their hand at creating their own amuse-bouche, except in the style of breakfast.

I'm loving this challenge for two reasons. Number one, I love breakfast. I love everything about it. If I could, I'd eat breakfast all day long (except that by Friday, I'd probably be struggling with cardiac arrest). My second reason for excitement is the fact that we've seen some spectacular failures with amuse-bouches in past seasons of Top Chef. I fondly remember Clay's hollowed-out apple amuse-bouche from the Season 3 premiere.

In any case, there are no outright failures with this breakfast challenge (but how can anyone REALLY fail with breakfast? It's so yummy!). There are a number of chefs who cater directly to the admission by Rocco diSpirito, frequent Top Chef participant and acting as Guest Judge this week, that he loves bacon (who doesn't?). Our favorite underdog, Ariane, does a French toast with bacon amuse-bouche, Leah does a bacon egg and cheese amuse-bouche, etc.

Apart from these obvious choices, the big standouts for me are Daniel's corn-flake crusted zucchini flowers (which sound like they could be an imaginative hit or a disgusting failure), Fabio's brioche with banana cream (which sounds like something sweeter than any breakfast I ever make) and Stefan's huevos racheros (which seem to hinge on the fact that he used a cool little tool to cut the top half of the egg shell off and served his dish in the bottom half of the shell).

Surprisingly, it seems like the chefs that attempted the most creative dishes ended up on the bottom of this challenge, with Rocco neither a fan of Daniel's zucchini nor Fabio's brioche. As for the successful dishes, Rocco likes the bacon-egg-and-cheese from Leah and the excellent breakfast sandwich from Jaime, who has now made a truly delicious Quickfire dish for the second week in a row.

And for the second week in a row, Jaime is edged by Leah for the Quickfire win. She is understandably frustrated.

After the Quickfire Challenge, Padma announces their Elimination Challenge. As I mentioned earlier, the 13 chefs will be creating a dish for a two and a half minute presentation suitable for live TV. The dish must be easy enough that a viewer at home could re-create it and each chef will perform their demonstration one at a time, alone in the kitchen save for the four judges.
Upon learning this, Carla's eyes bug out of her head farther than I'd previously thought possible from a sight-enabled human being. Leah confesses that she's scared of live TV (never fear, girl, you have immunity). Fabio worries about being able to talk in perfect English for the required two and a half minutes on camera.

The chefs head to Whole Foods Market to purchase ingredients for their dishes. Already, warning signals are going off in my brain. Many chefs seem to be making dishes that are far too complicated for a two and a half minute demonstration. Immunity-holding Leah goes for seared duck breast. Alex wants to do crème brûlée. Melissa, sounding like an emphasemic Courtney Love, wants to do shrimp with habanero chilis.

Before we know it, the demonstrations are underway. Ariane with her beefsteak tomato dish is very attractive and likable on camera, though a little nervous. Jaime sounds confident and comfortable but can't finish her duck egg in the allotted time and plates it while it's still raw. Alex, with his crème brûlée, is severely overtime and doesn't even get it in the oven after the two and a half minutes. Fabio is appealingly overbearing with his personality and accent, creating a lovely dish. Daniel tries to set the kitchen on fire with his skirt steak.

And then there's Melissa. Poor Melissa. She introduces the habanero flavor into her dish so liberally that Tom Colicchio must walk off-camera and spit out the astronomically-spicy shrimp. For those of you keeping score at home, so far this season we have one Spit-Out by Padma (Ariane's dessert) and one Spit-Out by Tom (Melissa's shrimp).

As you can imagine, the bottom three are comprised of Jaime with her raw egg, Melissa with her biological-weapon-shrimp and Alex with his non-existent crème brûlée. On top are hot-mama Ariane, funny Fabio and pretty boy Jeff who, made a middle eastern dish with an incomprehensible name. The overall winner and loser of the challenge, for whatever reason, will be announced tomorrow.

The contestants tromp back to their loft, the winners extremely pleased with themselves and the losers forced to endure a night of pure anxiety as they wonder who will be going home. Jaime cries herself to sleep. Melissa gets some sound advice from Leah ("Fight. Tell them you don't want to go home") and Alex confronts the fact that maybe he doesn't want to stay in the competition because he's getting married in 20 days.

The time is 2:00 a.m. Tom Colicchio is entering the Top Chef loft. This cannot be good. If Tom ever walked into my apartment to wake me up at 2:00 a.m, I think I'd hit him with a spatula. (That's right, I sleep with a spatula beside my bed, you wanna make something of it?)

Our top three chefs awaken and find out that they will be going to Rockerfeller Plaza this morning where the hosts of NBC's Today Show will be tasting each dish and choosing the winner of the competition. Excited but sleepy (who wouldn't be?) the chefs head over to the studio and begin preparing their dishes.

Meanwhile at the loft, the other non-winning chefs wake up to find that Ariane, Fabio and Jeff are missing. Additionally, there's a mysterious big-screen TV sitting in their common room. With the channel turned to NBC. Ooooh, maybe we should watch!

Back at 30 Rock, I'm not sure what's going on. Initially, I thought that the top three would be cooking their dishes live on TV. Then I thought that maybe only the winner would be cooking their dish on TV. It turns out that the four hosts of the Today Show will try each chef's dish, which was not created under any time constraints, and the winning chef will return to cook their dish live on the Today Show the day after this Top Chef episode airs (meaning, today).

The hosts try Ariane's strategically simple dish (beefsteak tomato salad with watermelon) and they all enjoy it very much (even though Meridith Viera dislikes watermelon for some unexplained reason). Fabio's seared tuna is a mild success. Then comes Jeff's middle eastern dish . . . and after taking a single bite, Kathie Lee Gifford runs off stage where she spits it out. (Score: Padma, 1. Tom, 1. Kathie Lee Giford, 1.)

Jeff is understandably mortified. The judges at Top Chefs are a bit elitist with their culinary tastes – if they spit something out, one still imagines that it would have been a passable for any Joe Six-Pack, Hockey Mom or Vice Presidential candidate. But when a host of the Today Show spits it out? On live TV? When you didn't have a time constraint? When you weren't forced to cook the dish in microwaves or toaster ovens? Wow. Not fun at all.

Back at the loft, the other chefs are laughing hysterically.

In an incredible turn of events, the four Today Show hosts confer and decide that Ariane has the winning dish. She is thrilled. So am I. I still don't think that she has a shot as winning the whole shebang but I'm at least happy that she's had a chance to redeem herself after her early struggles.

The bottom three slouch out to Judges Table. Melissa gets hammered for her overly-spicy shrimp. Rocco doesn't believe that even Melissa could have eaten her shrimp. Padma says that the entire left side of her mouth was throbbing after eating it. Gail chides her for using habanero chilies when it's simply not an ingredient that a home cook should be experimenting with. Maybe Melissa is going home?

Uh oh, Jaime gets nailed next. Tom points out that if her egg was going to be under-done, she could have simply flipped it during the waning moments to, at the very least, get the egg cooked all the way. Rocco seems to have a major problem with her body language during the challenge, crossing her arms and becoming uncommunicative after she plated her dish. Clearly, he's forgotten about last year's finalist, Crossed Arms Lisa, who had the body language of a pissed off orangutan.

Alex is next and he gets the same painful treatment from the judges. Why use a dish that takes more than an hour to make for a two and a half minute demonstration? It was a doomed project from the start. Alex stands up for his decision to make a crème brûlée, saying that he was just trying to make a dish that would stand out among his fellow chefs. "The whole point of Top Chef is to be different," Alex says. "The whole point of Top Chef is to win," Tom shoots back.

The chefs leave and the judges confer. Tom seems very willing to forgive Jaime's slight mess-up with her egg. "Jaime was really close to having a good dish," he says. Rocco disagrees instantly. "The difference between a cooked egg and a raw egg is a huge difference," he says. He seems to have a real vendetta against Jaime. The execution failed. Serving a raw egg is unforgivable. The whole dish was a disaster. As I hear him speak, I begin to truly fear for Jaime's ability to continue on with Top Chef. Will this be the end of Team Rainbow?

The other judges have points to consider as well. Padma argues that the amount of spice heaped onto Melissa's shrimp was unacceptable in any situation. Gail feels that Alex's crème brûlée was flawed from the start. Rocco agrees and says that Alex's dish was a mathematical impossibility. Tom points out that Alex never even gave them a crème brûlée.

I agree with Tom. You give each chef an extra 15 seconds and Jaime would have turned in a good dish. Not so with Spice-Happy Melissa and Invisible-Crème-Brûlée Alex. They had fundamental flaws in their dish that prevented them from any sort of executional success. I'd send Alex home.

And the judges agree. Tom says that Alex could have never completed the task set forth by the judges and Padma asks him to pack his knives and go. It's somewhat sad . . . but only somewhat. Alex never got the camera time that the other chefs did and I never felt like we ever truly got to know him. Though I'm sure he's talented, I didn't feel any emotion when he left.

I did, however, feel emotion when Jaime returned to the Stew Room, hugged Stefan and heard him say to her, "I'm glad you're still here." What a compliment. Clearly, Stefan, a good chef in his own right, recognizes that Jaime is a very talented chef and deserves to stay in the competition. I'm eager to see how this whole competition develops. We clearly have some great chefs this season. Even Ariane.

As for Alex, I hope he has a great wedding.

BOP is doing a link exchange with our good friends at Buddy TV this season. For more Top Chef info, visit their site.