December 2008 Forecast
By David Mumpower
December 5, 2008
BoxOfficeProphets.com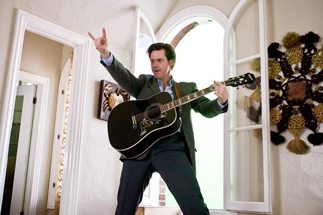 ---
1) Yes Man

Way back in 1997, Liar Liar was an epic blockbuster by the standards of the day. The film earned $181.4 million, making it the number three film of the year. The only titles that offered stronger domestic performances were Men in Black and The Lost World: Jurassic Park. Liar Liar's box office inflation adjusts to $281.4 million, meaning that in 2008 dollars, it would be the #4 performer of the year behind The Dark Knight, Iron Man and Indiana Jones and The Kingdom of the Crystal Skull. Given this context, you should easily understand why I am so bullish on the prospects of Yes Man, a de facto sequel.

Since most Jim Carrey sequels don't star Jim Carrey (Evan Almighty, Son of the Mask, Dumb and Dumberer: When Harry Met Lloyd), this is a rare opportunity for instant box office credibility. The concern is that Carrey's career has been scattershot in recent years. The Number 23 was a disaster and Lemony Snicket: A Series of Unfortunate Events was a disappointment relative to expectations. We have to go back five years to find the last Carrey film that was a monster hit, but I still feel that the holiday season is a time for comedy. This was perhaps best demonstrated recently by the $250.8 million success of Night at the Museum. I don't think Yes Man is going to match that type of box office, but I do believe that this is a $150 million earner. In a pretty lousy December, that should be good enough for first place.

2) Bedtime Stories

Adam Sandler's most recent comedy, You Don't Mess with the Zohan, is what passes for unsuccessful for the SNL graduate who will always be The Stud Boy to me. The film barely and I mean *barely* crossed the $100 million with only $18,000 left to spare. It was the first true Sandler comedy since 2000's Little Nicky to struggle to make that mark. What we learned from this is that if the funniest gag is, "Was that your foot?", you haven't sufficiently brought the funny. Bedtime Stories is not going to have that problem. It's much more in the Jumanji family of slapstick humor, and it even has a splash of The Princess Bride thrown in for good measure. Sandler's character reads out stories to some children only to discover that what they are saying immediately comes true. Just from that sentence, you should have a good feel for why this is going to be one of the biggest hits of the season. The fact that Sandler is involved steals the deal. I vacillated back and forth between this and Yes Man for the number one position. In the end, I settled upon Yes Man because Carrey's films tend to break out much more than Sandler's. Stud Boy has never had a film do more than $165 million domestically. He's big but he's never been Carrey big. I think this one could put him over the top, but I cannot bet against the two funny men's track records to date.


3) The Day The Earth Stood Still

I feel like I'm really out on a limb with this one, but hear me out. Keanu Reeves has a strong cachet in certain sorts of movies. Generally, these are action films wherein he acts confused and/or mysterious throughout. Obviously, there is The Matrix franchise as the blueprint example of this, but Constantine demonstrates that his reach is not confined to Neo. He also is a relatively solid box office draw. Garbage like The Lake House and Hardball should have been nothing projects rather than two films with combined box office approaching $100 million. People are naturally inclined to like Keanu Reeves for whatever reason. His anchoring the only real action blockbuster on the December schedule (sorry, Punisher: War Zone) should be enough for this re-make to carve out a nice share of seasonal box office. I fully expect an opening in the $40 million range, which is wonderful for this month, followed by good enough legs to get the title in the $125-$140 million range.

4) Seven Pounds

The numbers are astonishing. Sure, I mention them each time Smith has a new title released, but the reason for it is simple. These numbers matter. Will Smith's last eight films have all earned over $100 million domestically. In point of fact, they have all earned $138.5 million. This run of success is historically unprecedented in the industry in that none of the last six titles has been a sequel. One of the other two was a sequel to a $65.6 million earner. Only the Men in Black follow-up was a certain success, which is amusing since that's probably the most disappointing performer of the bunch.

Stating the obvious, Will Smith is the most consistent box office draw in the industry today. I've been saying this since Hitch and any questions about the point were answered when The Pursuit of Happyness somehow managed to make $162.6 million in North America. Smith's most recent films are his most successful ones since the original Men in Black's release in 1997. Hancock and I Am Legend accrued $227.9 million and $256.4 million, respectively. He's on the hot streak of his career, which leads to the logical question you are probably wondering right about now. Why is this ranked no higher than third on my list? This is a completely valid question, and I may offer you nothing better than the truth in reply.

I have a hunch here. The Seven Pounds commercials are inscrutable enough to hide the film's premise, but I think that this one is not going to be as well received as his recent spate of titles have been. I believe this is Smith's least engaging film since Bad Boys II, and I expect its box office to be negatively impacted by that. I believe that holiday legs will carry the film to another $100 million, but I don't see it doing quite as well over the duration of its run as the two films above it.

5) The Curious Case of Benjamin Button

I think this movie looks creepy rather than good. I find the trailer wildly unsettling and I am a bit mystified by the attention it has received to date. Of course, I have long since made peace with the fact that what is appealing to North America oftentimes befuddles me...and I'm not just discussing the Tyler Perry oeuvre. This film is at the top of BOP's Best Picture power rankings for a reason. It appears to be the heavyweight contender of the year with early critical praise being nothing short of orgasmic. This is also the rare awards bait film that stars a legitimate box office draw in Brad Pitt, so Benjamin Button has a lot going for it. In spite of the creepy.

6) Frost/Nixon

Ron Howard is the rare film mogul who is able to walk that fine line between major awards credibility and box office champion. Unlike most moviemakers of this ilk, his works tend to skew toward the latter. This makes him the envy of his more lauded peers, although few of them would ever admit it. Frost/Nixon is the type of drama seeped with political intrigue that would seem like a $10 million earner in the hands of a less accredited director. After all, the film's stars are Frank Langella and Michael Sheen. You and I have as much combined box office earning power as they do. With Howard's name in the credits, however, this one evolves into a film that could wind up nestled in the $60-$75 million range, which would be an impressive demonstration of Howard's appeal.

7) Marley and Me
8) The Tale of Despereaux

We are now officially in the family films portion of the top 10. Marley and Me couldn't look any worse if it were a Uwe Boll production, but it's two name actors, Jennifer Aniston and Owen Wilson, chasing after an adorable puppy for 100 minutes. I'm depressed to know that this is how Out of Sight scribe Scott Frank is passing his days, but the commercial nature of the project is unmistakable. Meanwhile, Desperaux ramps up the cuteness quotient for the month of December. This animated adaptation of the Kate DiCamillo tells the story of a heroic mouse, the human princess he loves, a servant girl and an easily distracted rat. Kids will eat this one up and it will be a lot better for them intellectually than Marley and Me. So, if you parents are given a choice by Junior, you know what you have to do. But you won't. Mice just aren't as cute as dogs.

9) The Spirit
10) Valkyrie

What do these titles have in common? They are both big budget projects that should do very well in theaters but probably won't. The Spirit absolutely mystifies me since it has such a wonderful flair to its ads yet they reveal...absolutely nothing. It's a dude who likes hot women. How...enlightening. Meanwhile, Valkyrie's production still of Tom Cruise in an eye patch is remarkably ill-considered. Okay, who could have possibly thought this was a good idea? Angelina Jolie does the same look in Sky Captain in the World of Tomorrow, but hers is clearly satirical. How can movie goers possibly be expected to take that picture seriously? This is Cruise's worst career move since Oprah, as far as I can tell.