Max Braden's December 2008 Forecast
By Max Braden
December 5, 2008
BoxOfficeProphets.com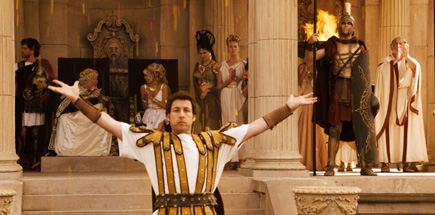 ---
Weekend Starting December 5th

Punisher: War Zone
The first weekend in December isn't typically a moneymaker for new openers, with the bigger films premiering before Thanksgiving or closer to Christmas. That trend is demonstrated here with a throwaway action flick being the only fully wide new release this weekend. The 2004 Punisher movie starred Thomas Jane with John Travolta as villain; in War Zone, Jane is replaced by an actor who's probably only known to fans of the Rome series. It also faces competition from James Bond and Jason Statham, so a double digit opening may be a struggle.
Forecast: $10 million.

Cadillac Records
On the surface the strongest hook for this ensemble of 1950s blues singers might seem to be Beyonce as Etta James, but I'm predicting audiences will be talking about Jeffrey Wright as Muddy Waters as they exit theaters. He's already starred as Colin Powell in W and as James Bond's CIA counterpart this fall. Jamie Foxx scored his Oscar with Ray, and Eddie Murphy got a nomination for last year's Dreamgirls, so there's a chance Wright could be in the running for at least a nomination. On the other hand, the Denzel Washington Oscar bait drama The Great Debaters barely caught any notice last year at this time.
Forecast: strong business leading to expanded release and strong buzz for Jeffrey Wright.

Awards Season Alert! Political junkies may be interested in Frost/Nixon, Ron Howard's dramatization of the 1977 Richard Nixon interview, with Frank Langella as the former President. But I don't expect most audiences to embrace it, and by the Oscars it will be lumped in with W. as just "notable."

Weekend Starting December 12th

The Day the Earth Stood Still
Like Spielberg's remake of War of the Worlds, this remake of the 1951 sci-fi classic is pretty much all about the eye candy. With Neo strung out on Prozac, audiences are going to want to see those big shiny ornaments nearly ruin Christmas for Jennifer Connelly. Similar blockbuster films in this time frame have been I Am Legend and King Kong. Let's hope the preachy Earth consciousness doesn't result in a bomb of M. Night proportions.
Forecast: $45 million.

Doubt
First glance at the poster for this movie might conjure images of a spoof from Tropic Thunder, but no!, this is serious. Meryl Streep stars as a nun who accuses her equally headstrong Catholic school colleague Philip Seymour Hoffman of sinning with a student, with innocent pawn Amy Adams caught in the crossfire. Based on the Pulitzer and Tony Award winning play, the sharp dialogue allows Streep draw on her icy Devil Wears Prada attitude. Hoffman may be seen more as reacting than acting, and there's that unpleasant subject matter facing audiences.
Forecast: Award nominations for Streep and screenplay by Shanley.

Awards Season Alert! Oscar maven Kate Winslet stars in The Reader, based on the novel about a post war trial and romantic entanglements, but she'll get more attention from her pairing with Titanic costar Leonardo DiCaprio in Revolutionary Road.

Weekend Starting December 19th

Yes Man
Box office competition heats up this weekend, but Jim Carrey should come out on top with this comedy, which looks strikingly similar to Liar, Liar.
Forecast: $35 million.

The Tale of Despereaux
Based on the award winning children's books about an underdog mouse who saves a princess, this animated fairy tale should do very well with kids and more than a few adults. The Universal Pictures animation isn't Pixar, but the charm is there, and Despereaux is a cross between Fievel and Remy from Ratatouille.
Forecast: $30 million.

Seven Pounds
This movie has two things going for it. One is Will Smith, who is pretty much the first name in movies. Two is the intrigue: How is the ensemble connected? Is this more Pay it Forward, or more Atonement? And what's his obsession with running? He seems rich enough he could afford a driver. Anyway, there are a some drawbacks, too. The Pursuit of Happyness pulled in over $162 million but drew criticism about glossy drama. Smith is coming off of Hancock, not one of his better reviewed films. And audiences might be wary of a mystery hook after realizing there wasn't much going on in The Happening.
Forecast: $25 million opening and his lowest total gross since I, Robot.

Awards Season Alert! Everyone loves underdogs and swan songs, which is why Mickey Rourke may finally see his first Oscar nomination for The Wrestler.

Christmas Week

Bedtime Stories
Combining the imagination of A Night at The Museum and Zathura, Bedtime Stories will be Adam Sandler's tenth $100+ million grossing film and likely the ultimate box office winner for this month's releases. While he's previously scored with brash characters geared more toward college and older crowds, this Disney release will appeal mostly to family audiences.
Forecast: $65 million based on its Wednesday opening.

Valkyrie
"One occult obsessed paranoid takes on another in Crazy vs. Crazy..." Sending Tom Cruise to kill Hitler sounds like a logical move to me, because Tom is so intense you practically duck when he looks your way for fear of his eye lasers melting your brain. Not intense enough to try a German accent, though. Still, I find the inevitable doom appealing enough to go see.
Forecast: $20 million.

The Curious Case of Benjamin Button
The what-if premise of aging backwards seems intriguing on paper, but I wonder it can be pulled off in the context of a romance on screen. Won't the age difference be just wrong for all but a few minutes in the story? The draw here is the prequel to Forrest Gump's epic tour of an American era. Plus there are those that will see anything starring Brad Pitt and Cate Blanchett.
Forecast: $15 million and the top contender for Best Picture awards.

Awards Season Alert! Sam Mendes directs Kate Winslet and Leonardo DiCaprio in Revolutionary Road, about the emotional prison of 1950s suburbia. It's the kind of material that won Mendes his Oscar for American Beauty.