Weekend Wrap-Up
Thanksgiving Bountiful at the Box Office
By John Hamann
November 30, 2008
BoxOfficeProphets.com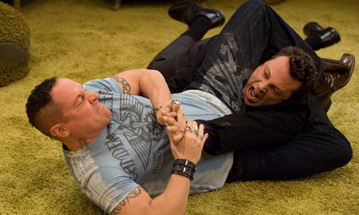 ---
The 2008 version of the Thanksgiving box office weekend was a wild ride. We had three openers hitting screens over the holiday weekend. They included Australia, an epic, star-driven picture with Hugh Jackman and Nicole Kidman, Four Christmases, a silly, 88-minute comedy from Warner Bros., and Transporter 3, an unnecessary sequel with Jason Statham. On top of the new stuff, we have the three huge holdovers that all opened above $60 million: Twilight, Quantum of Solace, and Madagascar 2. With all of these big films, why does the story of the weekend focus on none of them? Read on to find out!

Our number one film of the Thanksgiving weekend is Four Christmases, the awful new holiday comedy starring Vince Vaughn, Reese Witherspoon, and a slew of other recognizable names. Number one with a rocket, Four Christmases pulled in $31.7 million over the three-day portion of the weekend, and a surprisingly large $46.7 million since opening on Wednesday (where have all the vampires gone?). Out to 3,310 venues, Four Christmases wasn't the widest film in release (it was the fifth biggest), but it worked well with the venues where it was playing. While it didn't open to the heights of something like How the Grinch Stole Christmas ($55 million), it did beat some other big Christmas titles like Elf ($31.1 million) and Home Alone 2 ($31 million in 1992 dollars). Four Christmases even came close to taking down last year's Thanksgiving champ, Enchanted, which took in about $34.4 million last year, and will be third biggest Thanksgiving opener on the books.

Four Christmases opened on Wednesday in second place with $6.1 million, behind Twilight $(8.1 million Wednesday), and just ahead of Bolt ($5.1 million). It wouldn't be close after that. Thanksgiving Thursday was big for this one ($8.9 million), and Friday's gross of $12 million cemented the win. While no budget data is available, a good guess puts the cost of this one at around $50 million, a figure Four Christmases will have earned by Tuesday.

For Vince Vaughn and Reese Witherspoon, this opening will put them back on top in the comedy world. Witherspoon hadn't done comedy since Just Like Heaven in September 2005, and that one opened to a lower-than-expected $16.5 million, well off the $35.6 million debut of Sweet Home Alabama in 2002. For Vaughn, Four Christmases washes away the disappointing opening of last November's Fred Claus ($18.5 million), but not the critical stink. At RottenTomatoes, Four Christmases was the bottom feeder of the weekend, with only 27 reviews out of 108 coming up positive (25% fresh). Some of the reviews I have read suggest a 0% rating might be more appropriate, as I've heard this one is akin to torture. The good news is that I will only have to write about it for the next five weekends.

The surprise of the weekend is our second place finisher, Disney's Bolt, as the CGI dog managed to move from third spot last weekend to second spot this weekend. Bolt, which opened to $26.2 million last frame, actually increases on that take slightly as it pulls in $26.6 million from only three more screens than it had last weekend. Obviously, with vampires dominating cineplexes last weekend and interest in Twilight quickly waning, exhibitors put Bolt into some larger venues to take advantage of this kid-friendly weekend. We haven't had a Thanksgiving hold like this since Santa Clause 3 increased its take to $9.9 million from $8.3 million (a 20% increase) from the weekend previous in 2006. This is the reason why that release date prior to Thanksgiving is so important. Bolt made $10 million over Wednesday and Thursday, and then managed to increase its take over the previous weekend. Now, after two weekends, Bolt has earned $66.9 million and should now play strongly until Christmas, where it will reap the benefits of a strong release date once again. I'm now looking for Bolt to finish with about $150 million.

Third goes to Twilight, which didn't enjoy the same success as Bolt in its second weekend. Instead it found the complete opposite. After earning a huge $69.6 million in its first three days, Twilight was grounded badly over the Thanksgiving frame, as it took in only $26.4 million - good for a drop of 62%. Again, releasing a film prior to Thanksgiving is supposed to give a film two solid weekends, but that is not the case with Twilight. Teen girl viewers did not return for second helpings, leaving Twilight with a huge drop despite a second weekend ad blitz. The good news for Summit Entertainment is that their film managed to cross the $100 million mark on Friday, only its seventh day of release. It accomplishes this feat one day faster than our other November $60 million plus openers, Madagascar 2 and Quantum of Solace. The other good news for Summit is that Twilight was cheap to make at only $37 million, so with a total so far of $119.7 million, the upstart distributor can afford to pay off the production and advertising budget for this one, as well as fund the upcoming sequel. At this point, knowing where Twilight will finish is a tough bet, but a good guess puts it somewhere around $170 million.

Like Bolt, Quantum of Solace had a fantastic follow-up frame to last weekend, when the James Bond flick earned $26 million. This weekend, with a big $8.2 million Friday, Quantum of Solace approaches $20 million again, earning $19.5 million. It was off 27%, but that's a huge improvement over last weekend's drop of 60%. Casino Royale's second weekend was Thanksgiving, and in 2006 it dropped 25% over the turkey frame. Casino Royale finished with about $167 million on the domestic front, and Quantum of Solace already has $142.1 million after only three weekends. Quantum looks like it will approach $200 million, but a lot will depend on how it does in the weekends leading up to Christmas.

Well down in fifth is Australia, the Baz Luhrmann epic/travelogue starring Hugh Jackman and Nicole Kidman. Australia got off to a tough start on Wednesday, opening to only $2.3 million and seventh place, behind even the likes of Madagascar 2 and Transporter 3. It bounced back somewhat on Thursday with $2.9 million, good for fifth, but then only improved on Friday to $5.7 million. It finishes with a not-so-great three-day total of $14.8 million, and a five day cume of $20 million. This is a tough opening for a film that cost $100 million to make, and has reviews split down the middle. RottenTomatoes gathered 126 reviews and 65 were positive, leaving Australia with a 52% fresh rating.

As for box office, Australia is another example of how dollars are not coming from lavish star driven vehicles. Instead, they are coming from gimmicks, like Twilight or High School Musical 3. For Nicole Kidman, this is more bad news for a career that has paled since the early 2000s (Cold Mountain, The Hours, The Others). Jackman, on the other hand, should look at this as a success, as his last two films, The Fountain and Deception, hardly saw the light of day. Australia isn't dead yet, as it should see some big foreign grosses, but domestically, it will need a very good hold next weekend to keep its head above water.

Madagascar: Escape 2 Africa manages a sixth place finish this weekend and like Bolt, the winners of the weekend are aimed at the kids. Madagascar 2 pulled in $14.5 million, just a 7% drop from last weekend's take of $15.7 million. The hold will be a relief for Paramount and DreamWorks, as last weekend Madagascar 2 dropped 55% against Bolt and Twilight. So far, Madagascar 2 has earned $159.5 million, and while it doesn't look like it will approach the $193 million the original did, $185 million for the sequel isn't out of the question.

Seventh is Transporter 3, the unnecessary sequel for the long holiday weekend. Transporter 2 managed to earn $20 million over the Labor Day weekend in 2005, but the third entry in the series doesn't quite find the same success over the Thanksgiving weekend three years later. Over three days, Transporter 3 earned $12.3 million from 2,626 venues, and found $18.5 million over five days. It will earn 2.5 times that over its run - and half of that again on foreign shores - before doing well on DVD.

Eighth goes to Role Models, as the counter-programming comedy continues its healthy run. Role Models earned $5.3 million over three-day portion of the weekend, and despite new comedy competition, only drops 28%. The $28 million comedy from Universal has now earned a very respectable $57.9 million.

Ninth goes to The Boy in Striped Pajamas, the Miramax surprise that finished in eighth last weekend. Miramax added about 175 venues this weekend, and The Boy in the Striped Pajamas earned $1.7 million. This small film has now earned $5.2 million domestically, and has taken in $20 million plus overseas.

Sean Penn's Milk is a complete surprise in tenth, as it opened the weekend in only 36 venues. Despite the tiny count, Milk managed to earn $1.4 million and had a remarkable venue average of $38,375. Since Milk is 93% fresh at RottenTomatoes, we are going to hear a lot about this one in the weekends to come, as Penn is the current favorite for a Best Actor nod.

Finally, Slumdog Millionaire finishes 11th with a gross of $1.4 million from only 49 venues. It's another Oscar favorite. Slumdog had a venue average of $27,890 and has a total so far of $3.6 million.

Overall, the 2008 Thanksgiving box office had a strong showing. The top 12 films this weekend earned a powerful $156.7 million, blowing away the same weekend in 2007's tally of $75.9 million (and keeping it ahead of last year's three-day Thanksgiving weekend tally of $150.6 million). Next weekend brings two small films and one big film. Openers include Cadillac Records and Nobel Son (the smaller films) and Punisher: War Zone, a sequel even more unnecessary than Transporter 3.