Weekend Forecast for November 26-30, 2008
By Reagen Sulewski
November 26, 2008
BoxOfficeProphets.com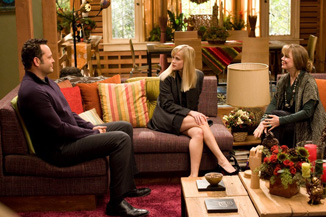 ---
The hypercharged November box office has seen three straight weekends where the number one film at the box office earned more than the previous week's, and earned over $60 million. Will Thanksgiving continue that trend? Eh, not so much.

In movie world, Thanksgiving weekend, if not earlier in the month, is the ideal time to bring out Christmas movies. For some strange reason, this works more often than not, and they're generally foolproof in terms of the box office, unless you do something dumb like pay Arnold Schwartzenegger $20 million to be in it.

This year's model is Four Christmases. Vince Vaughn and Reese Witherspoon star as a non-committal couple that are both children of divorce, who visit all four of their parents on Christmas Day with hilarious and wacky results for all. The encounters range from the redneck (Vaughn's father Robert Duvall and his psychotic brothers Jon Favreau and Tim McGraw) to the uncomfortable (from Witherspoon's mother Mary Steenburgen, as a born-again Christian).

This is the second straight one of these films for Vaughn, who last year played a similar kind of black sheep role in Fred Claus to moderate success. Witherspoon doesn't have anything quite the same in her repertoire as a lead, but Sweet Home Alabama isn't worlds away. Importantly, they seem to have a decent chemistry (recent rumors notwithstanding), though the film seems to built largely around setpieces, Meet the Parents-style. Some of them seem like they work (Favreau beating up on Vaughn, for instance) and some don't (the projectile vomiting baby), but the whole package seems blandly inoffensive enough to work. Opening at 3,200 venues this weekend, it should be the top new film with $27 million over three days and about $40 million over five.

Arriving without a lot of fanfare is The Transporter 3, a sequel that I'm not sure anyone was really chomping at the bit for. Jason Statham returns as the deliveryman/hitman who always ends up in the middle of a gunfight to protect his "parcel", typically a beautiful woman who he inevitably falls in love with.

The Transporter series, as created by mad French genius Luc Besson, is known for its outlandish stunt work that includes things like hang gliding onto trains and jumping cars from one parking garage to another. It seems that Statham is kind of outgrowing this kind of film after this year's The Bank Job (and yet – Crank 2 is coming) but it's hard to give up ridiculous action films after they become your thing. Transporter 2 opened to a slightly shocking $20 million in September of 2005, but this arrives in the middle of a busy season with a Bond film to go up against. I don't count on it repeating those numbers, but $15 million in three days and $22 million in five days wouldn't shock me.

Baz Lurhmann's Australia arrives to fill the big messy romantic historical epic film category that's largely been missing from theatres, since, oh let's say Pearl Harbor. Covering some of the same time period, Lurhmann's tribute to his homeland stars Nicole Kidman as an English heiress and Hugh Jackman as a rough and tumble backwoodsman in Northern Australia who find unlikely romance.

Luhrmann's aiming for nothing less than Gone With the Wind here, though he's more known for his fever dream kinetic filmmaking as opposed to straight ahead storytelling. This kind of shows in the finished product, which appears to have gotten away from him to some regard, though you could hardly call it epic if it hadn't in some way.

And for all Kidman's fame, she's never actually been that reliable at the box office and has had a lot of notable flops in recent years (The Invasion, Bewitched, The Stepford Wives). Jackman hasn't had a lot of luck outside of X-Men and Van Helsing, though that's almost nitpicking given how much of his career those roles have taken since he started to become famous. Combining the two for an epic film seems like it would work in theory, though, which is I'm sure how the calculus of casting these two went.

In practice, however, the operative adjective from my first sentence seems to be "messy", and the cultural story is one that isn't really familiar to North American audiences, any maybe not even that interesting to them. Opening at about 2,600 venues, Australia could be in big trouble. I look for a $13 million total over three days, and $18 million over five.

This opens the door for Twilight to repeat as box office champ. The latest "out of nowhere" sensation shattered everyone's expectations with a $69 million opening weekend, preying on preteen and teen girl romantic angst and the vampire mythos. Although it's made virtual overnight stars of Kristen Stewart and Robert Pattinson, a couple of questions remain about the series. One, is it a one weekend sensation, or can it actually get enough repeat business to make a significant impact and two, will this enthusiasm carryover for the inevitable sequels?

The second question won't be answered soon, but this weekend should be very telling about the first, even if Thanksgiving muddles things somewhat. It has to be a little troubling that over 50% of the film's opening weekend was earned on Friday and in preview screenings. That doesn't always mean disaster, but it rarely means good things. And the film's demographic, while they can be extremely passionate about films (see: Titanic), can also be pretty fickle. I'm looking for a pretty massive falloff from its opening weekend, to $30 million in three days, and $42 million over five days, which should still propel it well over $100 million total.

Quantum of Solace had what has to be a pretty disturbing drop last weekend to $26 million after starting in the mid $60s. That's of course mitigated by it being by far the fastest starting Bond film in history, but you always have to worry about burning out your audience too quickly. Have we grown tired of Daniel Craig as the new Bond so quickly? I don't see another 60% drop over Thanksgiving weekend, mostly out of disbelief that it could happen, but it's clearly this isn't going to turn around overnight into a 27 week sensation. Watch for about $13 million over three days and $21 million over five.

A couple of family films round out the rest of the weekend's important films at the box office. Bolt should actually sneak past Bond in the standings, as the number one family film typically does very well this weekend. $26 million was probably a little disappointing for a Disney animated feature, but it's in strong shape to move up on the strength of Pixar's John Lasseter in the producer's chair and some bright and attractive visuals. Look for it to pick up about $19 million in three days and $28 million over five.

Madagascar 2 will play a bit of second fiddle here, even though it's earned significantly more to this date. It should move past the $150 million milestone this weekend with around $9 million in three days and $13 million in five days. And if nothing else, this bodes well for Bolt 2.