Friday Box Office Analysis
By Tim Briody
November 22, 2008
BoxOfficeProphets.com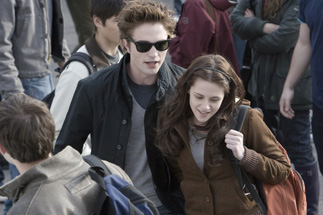 ---
Twilight

Legions of teenage girls flocked to theaters for the adaptation of the love story with vampires, Twilight. There had already been reports of more than $7 million in earnings just from midnight showings alone. All told, pent up interest in the Summit Entertainment release (there's one for the trivia books) has resulted in a $35.2 million Friday take for Twilight. To spin this as anything other than outstanding and one of the biggest box office stories of the year is completely ridiculous. Unless you're called Harry Potter, book-to-movie adaptations are not supposed to open this strongly, especially one aimed pretty much just at teenage girls. I would also like to point out that Twilight has already made back its production budget by the time you read this.

The large opening number of $35 million means that this is going to be an outstanding opening even with a ridiculously bad weekend multiplier, which is pretty much guaranteed at this point. Also keep in mind that $7 million or so of that is attributed to midnight showings. When we take those out of the picture, it's a $28 million Friday, still excellent. I'm going to use that number to calculate the weekend and throw the $7 million back in at the end.

The burning question, as always, is what happens now? Is there massive repeat business over the same opening weekend? Were all those Fandango presales used Friday evening? Last month's High School Musical 3, a film you would have expected to show some repeat business, disappointed with a 2.47 weekend multiplier. As David Mumpower pointed out in the forecast, Sex and the City also had strong presales and had a somewhat similar (if older) niche audience built-in. That threw down a fascinating 2.1 weekend multiplier. So despite $35 million in one day, we still need to retain a bit of perspective here.

Based on the information that has been presented, a 2.25 multiplier is what I can call an educated guess here as far as the weekend goes. The box office rules have all been rewritten numerous times in 2008, and I wouldn't be shocked at all if I was very, very wrong. The 2.25 multiplier means a weekend of $63 million. Throw the Friday midnight showings number back in and there's your $70 million.

Bolt

In the shadow of Twilight and James Bond, Disney's Bolt lets it begin with $7 million. While not nearly as sexy as Twilight's performance, is a good start. It should shine over the remainder of the weekend with $25.2 million and hold strongly as we head into the Thanksgiving holiday.

Quantum of Solace

After blowing the doors off the previous best for a James Bond film, Quantum of Solace plummets 68% from last Friday to $8.7 million. The second weekend of the second Daniel Craig Bond film should stay in second place for the weekend with a still strong $28.3 million.