Weekend Forecast
By David Mumpower
November 20, 2008
BoxOfficeProphets.com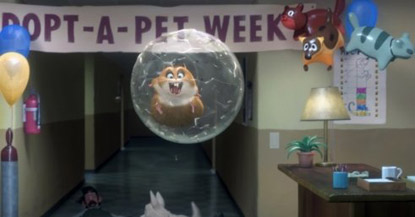 ---
After consecutive weekends with $60+ million openings, a scorching November box office campaign should sustain momentum this week thanks to the release of two high profile titles. Disney's latest 3-D animated family film, Bolt, won BOP's heart many months ago with the release of its winning trailer featuring our favorite hamster-in-a-ball, Rhino. We expect the rest of North America to catch up with us on the point this weekend. Meanwhile, teen girls and cougars are swooning over the release of Twilight, the latest romantic take on a teen girl in love with the gothic darkness. BOP loves TV's Bolt, but man's best friend is no match for lovelorn vampires, we fear.

Last month, the staff at BOP had a group discussion regarding Twilight wherein we collectively threw our hands up in the air and said, "I have no idea." The column is available for your perusal here. I will also let the introduction for that column serve as the background data for Twilight rather than regurgitate it here. Frankly, if you didn't know what Twilight was already, you don't care what happens next. If you were already a fan, you don't need the back story anyway, just the box office evaluation. The gist of it is that our range was as broad as possible when we had this discussion just a month ago in mid-October. Some people believed a $20 million opening was in the cards while others went as high as mid-$50s. At this point, all of these predictions appear to be potentially low. Even the harshest critics of the project at the time have acknowledged that they had low-balled demand for this title, and the reason why is obvious.

As of yesterday, Fandango reports that Twilight is the #7 title of all-time in terms of pre-sales. The vampire flick surpassed The Lord of the Rings: The Return of the King to earn this lofty spot on the charts. Among the tidbits included in the press release are that 94% (!) of sales on Fandango.com this week are for Twilight. Before you claim this is due to it being the biggest release of the weekend, I would like to point out that Twilight was also outselling Quantum of Solace this past week. In case you have attention deficit disorder and have already forgotten, the latest James Bond flick opened to $67.5 million. So, when I point out that Twilight was outselling it by a two to one ratio last week, that makes the performance all the more impressive.

Also noteworthy is the fact that 84% of the respondents surveyed by Fandango indicated they will see Twilight multiple times in theaters. This speaks well for the title's ability to avoid a Cloverfield fate wherein it opens huge (in this case, $40 million) but also does half of its business on opening weekend. Assuming that this sample survey is indicative of broader behavior, Twilight should not be a one weekend wonder. This, however, is a topic for Reagen Sulewski's return next week. For now, what matters is how well the movie performs on opening weekend. Surprisingly, there is still quite a bit to consider despite the Fandango data point.

What happens when reports of massive early sellouts filter in is that people grow recklessly optimistic about a movie's opening weekend performance. A perfect recent example of this is Sex and the City. That title, also an entrant on Fandango's all-time pre-sales top 10 list, made a whopping $26.8 million on its first Friday. The only places that did better business than theaters that day were places that sold drinks with "tini" in the title. Girls' night out has never been celebrated so significantly at the box office, but the title's opening weekend reflected that almost half of Sex's business happened on Friday. Another $30 million on Saturday and Sunday gave it $56.8 million for the three days, a spectacular total to be sure. It was, however, an amount that fell short of the expectations raised by pre-sales.

In fact, the film just ahead of Sex and the City on Fandango's chart, Spider-Man 3, earned almost $100 million more on opening weekend. What does this say about the differences in the target demographics? The main logical inference is obvious. Women are better planners, ordering tickets online ahead of time as opposed to the primary young male demographic that carried Spider-Man 3 to a new opening weekend record. That bunch just stood in line and played with their PSPs and iPods instead of planning ahead. Practicality is a specialty of women much more than men, and I think that's also reflected by the film just ahead of Twilight on the Fandango pre-sales top 10, Hannah Montana 3D.

That silly little concert movie (just in case my niece is reading this, let me emphasize that yes, the Jonas Brothers are dreamy) opened to $31.1 million in only 683 venues. Your instinct would be to think that the fact that its pre-sales were so high in so few venues is indicative of an even greater number for Twilight if we extrapolate out to the venue count that is over four times as large. That's a rookie mistake. In fact, this is just a finite count of tickets sold that in no way reflects venue count. If anything, what this reflects is what a small portion of overall ticket sales are done online. As a fan of Fandango since pretty much the beginning of the site (and someone who says "Chitra, my queen, I used Fandango" far too often), this depresses me but facts are facts. Being #6 all-time in terms of ticket pre-sales on that site guaranteed Best of Both Worlds nothing more than a $31.1 million opening weekend. As such, let's keep some objectivity when we consider all of these sellout stories floating around for Twilight.

In terms of the negatives and positives of Twilight this weekend, I think they've all been established. The books are huge, at one point owning four of the top six spots on the USA Today sales chart. As I type this, the four books are currently ranked #4, #2, #3 and #6 on Amazon. And one of the two books otherwise in the mix in the top six is the pre-sale of Beetle the Bard, meaning that four of the top five books currently available on Amazon.com are a part of this series. Had the Twilight movies been started this year instead of last and had a more established production house created them, we would be talking about $100 million openings as a solid possibility. That's no exaggeration, at least not from my perspective. As it is, the question is whether Summit Entertaiment has the cachet to bend the movie industry to its will this weekend in the same way that Newmarket did once and only once with The Passion of the Christ. We'll know the answer to that in less than 72 hours, but I think we all it's regrettable that Twilight's production quality is closer in tone to The Convenant than The Order of the Phoenix. That's what holds it back from epic box office greatness in my eyes.

What I can say with certainty is this. Friday's debut for Twilight is going to be a spectacular single day total. The demographics are perfect for this. Teens are the ones most likely to experience opening day rush. Giggling fans of the book have been staking out theaters for days now (right about now is when you're glad you don't work at a movie theater). There are planned parties and theme nights taking place all across the United States and Canada. Friday is going to be a massive night for Twilight. I don't doubt this for a second. In fact, I see $25 million as the likely outcome and won't even discount $30 million as a possibility. The question is what happens after that. I expect to see the same split as Sex and the City with perhaps an eerily similar $27 million start and $58 million finish in the cards. It's hard for me to go further beyond that, even with the spectacular presale stories.

The other major title released this weekend is one close to my heart, Bolt. After being a film journalist for a decade now, it's hard for any movie to really grab me the way that Bolt's trailer did. The genius of Rhino, the hamster-in-a-ball, was such that I went out and created a fan page for the lil dude on Facebook. Rare is a character who captivates me as completely as Rhino has done, but I have to say that what is impressive about Bolt is that he is not the only adorable character in the film. Loathe as I am to mention Lilo & Stitch due to the awkward connection to Chris Sanders, the original director of Bolt, that film is the comparison I keep making. It was the last animated work wherein the over-the-top character kids would love (Stitch then versus Rhino now) is matched every step of the way by an equally adorable lead (Lilo then versus Bolt now).

Bolt is the third consecutive 3-D animated title from Disney (after Chicken Little and Meet the Robinsons) to succeed in highlighting new technology without losing sight of character development. While I was blown away by Meet the Robinsons, an underrated masterpiece along the lines of The Emperor's New Groove, Bolt is an even better release. Given the $25-$40 million range between those two titles, it's fair to slot Bolt somewhere between them. Tracking has been a little more generous, saying even $45 million is possible. I think that's a bit too ambitious, as I am expecting a three-day result of about $36 million. The good news is that Bolt is wonderful. Disney itself verified this with a sneak last weekend that achieved some of the best scores in the studio's recent history. I fully expect this one to become a buzz film over Thanksgiving as people get together with loved ones and talk about the wonderful film Disney has made. Even without the Miley Cyrus connection, I think this one would have been a winner.