Weekend Wrap-Up
Quantum of Box Office for Bond
By John Hamann
November 16, 2008
BoxOfficeProphets.com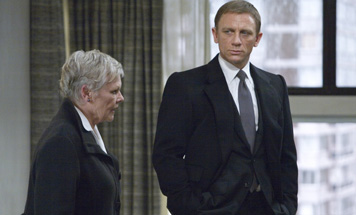 ---
With last year's writers strike affecting this year's pre-holiday movie choices, some belieed we were in for a slower November than usual, especially prior to Thanksgiving. Harry Potter and the Half Blood Prince picked up and moved to next summer, leaving Madagascar: Escape 2 Africa, Quantum of Solace, Bolt and Twilight as the only breakout hopes for box office heading into the heady days of the holiday season. We know that Madagascar 2 broke out solidly last weekend, and theater chains were hoping the trend would continue with Quantum of Solace. If that was the case, there could be four big choices for patrons over the Thanksgiving frame. Would Quantum of Solace break out? Would Madagascar: Escape 2 Africa hold despite being a sequel?

Welcome to the big time, Mr. Bond. Yes, Quantum of Solace is our number one film of the weekend, but the size of the opening is going to make headlines through the early part of the week. Quantum of Solace did not just surpass former Bond box office record holder Die Another Day's opening weekend. It obliterated it by opening to a massive $70.4 million. That is a huge jump from the opening of 2006's Casino Royale ($40.8 million), and exceeds the opening of Madagascar 2 - a kids' flick - by several million. Released to 3,451 venues, the 22nd incarnation of Bond had a venue average this weekend of $20,400, again a Bond record. Quantum of Solace becomes the fifth biggest November opening, parking itself behind three Harry Potter flicks and The Incredibles (though Bond might jump to fourth when actuals come in).

Compared to the other top openers in November, this James Bond is truly an adult amongst children. Prior to Quantum, the top ten openers in November were all aimed at the youth set, as they all involved Harry Potter, Pixar, or the Grinch. This is a crowning achievement for Sony, who, after only two pictures, has revolutionized the James Bond franchise with MGM. It's no secret that Bond has already dominated Europe, with an international gross approaching $200 million.

Why did this one work so much better than the previous 21 Bond films? First, let's start with Sony. When the franchise rebooted, MGM brought Sony on as a partner. At that point, the whole idea of Bond changed, and it marked a shift in Bond culture from the old school to the new school. We went from a dapper spy to a brute killer, changing with the times instead of desperately holding onto the Cold War era. With Sony, production values improved, and stunts for the sake of stunts were done away with. Plot became the driver for Bond, and 2006's Casino Royale proved that the new and improved Bond would play solidly with old and new audiences, even if some of the old crowd whined for the good old days. Casino Royale's opening dipped from the last Pierce Brosnan outing, Die Another Day, moving from $47 million for Die to $40 million for Casino Royale. In the end though, fortunes reversed, as Casino Royale outgrossed Die Another Day by about $7 million. The big difference between the films came overseas, as the Daniel Craig version outdid the Pierce Brosnan one by $160 million when Casino Royale's worldwide gross approached $600 million.

Reviews were not as kind to Bond this time out as they were for Casino Royale. Quantum of Solace lapped up 179 reviews, and 116 of those were positive, leaving this Bond with a barely fresh rating of 66%. Some critics thought director Marc Forster was doing a Jason Bourne impression, and some longed for the days of Connery and martinis. The ones that liked it praised the action. The bigger downside comes with what RottenTomatoes calls the "nation's top critics". They weren't kind to Bond, as this subset thought this Bond only 35% fresh, with only 13 positives out of a possible 37. Does this mean that Quantum of Solace won't be the first Bond to gross more than $200 million in North America? Forget about it. With Thanksgiving and even Christmas in play for Quantum of Solace, $250 million or more should be attainable stateside. With a production cost rumoured to be more than $200 million, big grosses on the domestic front are necessary, but unlike the usual Hollywood fare, the biggest gross won't come from North America.

Finishing second is Madagascar: Escape 2 Africa, which follows last weekend's impressive breakout with a more down to earth sophomore frame. The Paramount distributed, DreamWorks animated feature earned $36.1 million, off 43% from its $63.1 million debut last weekend. The original Madagascar was off 40.5% in its second frame, so this drop isn't that far off the original, despite being a sequel. Often, the "sequel effect" will have audiences charging out for a film in the first weekend, and then abandoning it in the second. Madagascar passed the $100 million mark on Saturday, its eighth day of release, and joins other kid-friendly releases like The Incredibles and How the Grinch Stole Christmas as eight-day $100 million earners. Madagascar 2 cost Paramount $160 million to make, and has a total of $118 million after two weekends . Next weekend we will see how this one fares with some competition from Disney's Bolt and to a lesser extent, Twilight.

Last weekend's surprising success of Role Models left me wondering if it was a one-weekend surprise or if it would hold up following its opening weekend. After a $19.2 million debut last weekend, I was expecting a second weekend very close to $10 million (or below). Therefore, I am somewhat surprised to see a second weekend gross of $11.7 million. The Paul Rudd/Seann William Scott comedy dropped a fair 39% this weekend, but shows a film like this one can have back to back $10 million plus weekends. Role Models proves to be excellent counter-programming against big films like Quantum of Solace, as that massive debut could have crushed everything in the top ten except Madagascar 2 (which could have crushed itself). After two weekends, Role Models has a gross of $38.1 million against a budget of only $28 million, which has to leave Universal feeling pretty good, especially with the lucrative Thanksgiving weekend coming in a couple of weeks.

With strong draws from the top three films, the rest of the top ten doesn't look so hot. Fourth goes to High School Musical 3: Senior Year, the "could've been a lot bigger" effort from Disney. Considering Twilight's debut next weekend, Disney should have been pushing for one more big weekend - $10 million plus - but are left with a weekend gross of $5.9 million, due mostly to poor scheduling from Disney executives. HSM3 drops 36% in its fourth frame, and is looking now like it won't make it to $100 million despite a $42 million opening frame. The current total for the former phenomenon has reached $84.4 million.

Changeling finishes fifth, as Universal shows it can do more with a film like Role Models than an Angelina Jolie flick directed by Clint Eastwood. After a $7.2 million gross last weekend, Changeling falls to $4.2 million for a drop of 41%. Universal added a handful of venues, bringing the run up to 1,896, but it wasn't enough to keep momentum and word-of-mouth going. Now the $55 million release has a gross of $27.6 million. Unless something odd happens, I'm looking for Changeling to finish with about $45 million.

That means Zack and Miri Make a Porno drops to sixth this weekend. The Kevin Smith flick earned $3.2 million in its third frame, and drops 49% from the previous weekend. The $24 million flick has a domestic gross so far of $26.5 million, but will still end up being Seth Rogen's lowest grosser. Too bad he didn't stick with Paul Rudd and do Role Models.

Soul Men drops one spot to seventh, with a very low gross of $2.4 million. The Bernie Mac/Samuel L. Jackson flick didn't work, and drops 55% in its second weekend. Soul Men now has a gross of $9.4 million after two weekends.

Eighth goes to The Secret Life of Bees, one of the good news stories in the bottom rungs of the top ten. Bees earned another $2.4 million in its fifth weekend of release, and drops a small 22% compared to last weekend. The $11 million Fox Searchlight feature has now earned $33.7 million.

Ninth is Saw V, as Jigsaw is just about done for another year. Saw V earned $1.8 million and was off 56% compared to last weekend. It has a total now of $55.4 million against an $11 million budget.

Finally in tenth is The Haunting of Molly Hartley, which earns $1.6 million as it drops another 50%. Released by Freestyle, this movie has to be considered a minor success, as it has more than doubled its $5 million budget with a running total of $12.7 million.

I just want to make a quick point about Fireproof, the religious Kirk Cameron starrer. When this one showed up fourth place in late September with $6.8 million, I thought it would disappear quickly, but man has it held on. It dropped 41% in its second weekend, but since then hasn't seen a drop above 21%. This weekend it earned more than a million for the eighth consecutive weekend, and has a gross so far of approximately $30 million - against a budget of only $500,000.

In limited release this weekend, Danny Boyle's Slumdog Millionaire opened, and is noted as it could be an Oscar nominated release. This Fox Searchlight release opened at 10 venues, and had a gross of $350,000 - good for a venue average of $35,000. Expect to hear a lot more about this one as the weekends move forward.

Overall, the box office blasted last year off the map. The top 12 films earned an amazing $142.9 million, thanks to James Bond, Madagascar, and Role Models. At this time last year, the box office was floundering with the top 12 earning only $92.7 million. Fred Claus had missed, a Tom Cruise feature (Lions for Lambs) flopped, and Mr. Magorium's Magic Emporium opened to only $9 million. With 2008 hot, next weekend could bring two very big films in Twilight and Bolt, so check back then to see how it all rolls out.