Watch What We Say: Top Chef
Season 5, Episode 1
By Jason Lee
November 13, 2008
BoxOfficeProphets.com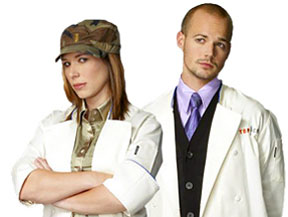 ---
Watch What We Say: Top Chef

For what it's worth, I believe that "Top Chef" is simply the best reality show on the air right now, if not one of the very best shows on television, period. For the next four months or so, we'll be bringing you the latest and greatest news from the Top Chef kitchen on a weekly basis. In fact, these recaps will be so witty and funny, you might not even need to watch the show yourself.

But you should anyways because it really is a great show.

This week on Watch What We Say: Exploring NY cuisine, Top Chef style!

Seriously, I've been waiting for this night for months now. Finally. Wednesday night at 10:00 p.m. EST / 9:00 p.m. CST on Bravo. Season 5 of Top Chef. *drool*

As I wrote this article, I wracked my brain trying to find an apt metaphor for how I felt when Top Chef finally returned to the airwaves. A mother welcoming home her college son at the start of summer vacation. A lonely wife awaiting the return of her husband from war. A pimply college dork waiting for World of Warcraft: Wrath of the Lich King to go on sale. Nothing quite worked. Suffice to say that I had to check my TiVo three different times on three different days to make sure that the episode would record.

Why do I love Top Chef? I think there are two primary reasons. First of all, the contestants are actually talented. I feel like I'm actually watching skilled artists do what they love to do and what they do best. Secondly and probably the most important reason, I love the judges. They're smart, they're witty, they're incredibly accomplished and they really do try to make the most fair and objective decision based on the challenge of each episode. I respect them and I would love to take them out for drinks sometime.

For those of you who aren't familiar with Top Chef, the episode is typically broken down into two parts: the quickfire challenge and the elimination challenge. The quickfire challenge is short, typically presenting the chefs with a simple objective and a single complicating factor. They have a limited amount of time and must present a dish to be judged. The winner will typically earn immunity from elimination on that episode, save for the later half of the season in which the winner does not receive immunity but gets a significant advantage in the elimination challenge.

The elimination challenge does exactly what it says it does: it presents the chefs with a significant culinary challenge and the losing chef gets eliminated at the end of the episode.

Yesterday's season premiere opened with a quick and briskly moving montage that briefly introduced us to some of this season's chefs, all done Real World-style. Few chefs are memorable except for a cocky woman named Lauren, a narcissistic pretty boy named Jeff and a self-impressed Italian with a bruising accent named Fabio ("There are two types of Europeans," Fabio says later in the episode, "those that are Italian and those that want to be Italian.")


Not five minutes after getting off the ferry in NYC does the quickfire challenge begin. They are to peel 15 apples using nothing but a knife – the first nine are safe and the remaining eight chefs must go on to the next quickfire round in which they brunoise (finely chop) enough apples to make two cups. Remarkably, these two challenges do a fine job of weeding out the less experienced, less adept chefs and we are left with four chefs who, in a surprising turn of events, must avoid being the only chef in Top Chef history to get eliminated during the quickfire challenge portion of the episode (this NEVER happens).

The final four chefs (a 28-year-old executive chef named Radhika, a sous-chef from NYC named Leah, a baby-faced culinary student named Patrick and our cocky lady Lauren) each get 20 minutes to turn their apples into a scrumptious dish and avoid elimination. Right off the bat, both Lauren and Patrick (who know each other from culinary school) seem to aim for the least complicated option, each deciding to make an apple salad. Sure enough, they end up in the bottom two and good ole brassy Lauren becomes the first Top Chef contestant to not even make it to the elimination challenge ("I didn't even get to see the kitchen," she remarks sadly, as the ferry takes her back to LaGuardia).

As Lauren is shipped off, the elimination challenge begins. Each contestant will be assigned an iconic area in NYC that's known for a specific type of ethnic cuisine (Chinatown, Little Italy, Queens, etc.) and will compete head-to-head against another chef with dishes inspired by that area. Chefs that win the head-to-head competition will be eligible to win the challenge, those that lose the head-to-head will be in danger of elimination.

The chefs take off to their respective districts to get a firsthand experience with the area and to shop for ingredients. As this happens, I'm struck by how superficial the chefs are being with their areas of NYC. "I have Chinatown so I'll do Asian!" or "I have Little Italy so I'll do Italian!" No thought about the types of people that are there, the community feel of the area, the personality of the streets, etc.

Maybe I'm expecting too much, but I couldn't help but think that last year's runner up, the always imaginative Richard Blaise, would have come up with a dish that really encapsulated how one feels in the area that he'd been assigned as opposed to taking the area's ethnic background as a broad generalization by which to direct his dish. It's the difference between "Chinatown is Chinese and so I'll make a Chinese dish" and "Chinatown is Chinese and blends together elements from antiquity and modern so I'm going to do Crispy Duck in two ways: one with all classic cooking techniques and one as a deconstructed modern take, but both using the same ingredients."

But I digress. As the pairs scurry about, I challenge myself to identify which chefs that seem most in trouble. The ones that stand out are culinary student Patrick (who seems to be thinking to himself, "What is the most clichéd Chinese dish I can serve?"), 41-year old restaurant owner Ariane (who seems to have a self-esteem problem), San Diego native Richard (who thinks that a lamb slider is representative of Greek cuisine) and the pair of Gene and Alex who have no experience whatsoever with Indian cuisine and seem to be stumbling through their Indian grocery store in a confused, drunken reenactment of a scene from Dumb and Dumber.

I keep my eyes on these five individuals as cooking begins, alert to any sign of disaster. Alas, the only warning signs are emanating from Ariane (who I am beginning to root for due to her vulnerability but has dangerously undercooked her farro grain) and Patrick (who has violated Rule #1 at Top Chef: When you're in an elimination challenge, don't use ingredients that you're not familiar with).

Every instance in which a chef has ignored this rule has resulted in utter catastrophe and I fear that Patrick, with his woeful attempt at cooking black rice noodles for the first time, will be the latest example of what not to do.

After the contestants present their dishes to the panel of judges, which includes one of the most celebrated chefs on the planet, Jean-Georges Vongerichten, the judges deliberate and pick the best and worst dishes of the night. On top are sous-chef Leah with a modern Italian dish, an overly-confident Fin named Stefan (also the Quickfire Challenge winner), who composed an elegant Middle Eastern dish and Gene, who despite ignorance of what tzatziki is, composed a delicious recreation of a classic Indian dish. Stefan ends up winning.

On the bottom are, as I feared, Ariane and Patrick. I agree with most of the judges sentiments: Ariane was guilty of a technical error in that she severely undercooked her farro grain. Patrick was guilty of a culinary inspiration error in that he didn't really capture anything quintessential about Chinese cuisine in his dish and botched the black rice noodles ("He thought that he could slop some bok choy on the plate and it would be Chinese," remarked Jean-Georges).

For my own taste, I think it's pretty obvious that Patrick should go home. Not only does he lack ambition and experience, but he also came up with the most simplistic, amateur dish of the bunch. On top of that, I just don't believe that he has a whole lot of passion for cooking.

In the end, Patrick is indeed sent home and Ariane breathes a sigh of relief.

As a whole, I would say that the episode was enjoyable but not great. The early episodes of every season of Top Chef are plagued by a lack of time to adequately cover the actions by all the chefs and as a viewer, you haven't really had the chance to get to know any of them yet. While I had a good time and am thrilled that Top Chef is back, I can only give it a rating of Three TiVos.

That is not to say, however, that I won't be back for seconds. I'm going to be back for seconds and thirds and fourths and fifths and a whole lot of dessert. Believe me, I am eagerly awaiting the next couple of weeks.

Watch What We Say rating for the Top Chef Season Premiere: Three TiVos

Watch What We Say: Rating System

Four TiVos: This is television content raised to the level of a transcendent art form. Not only should you TiVo this program for yourself, you should keep it on your TiVo for future generations to watch and savor.

Three TiVos: This is a very good show with a regular spot in my TiVo rotation. I watch every week and will often invite my friends over to share the enjoyable experience.

Two TiVos: I'll TiVo this show if I need something to watch while I'm folding laundry or dusting furniture.

One TiVo: I actively dislike this show and never allow it to take up space in my TiVo. Often times, I'll gripe about the show's producers, ridicule the actors and lambaste the network for keeping it on the air.

Zero TiVos: If this show is on, I unplug my TiVo for fear that the show is accidentally recorded and my entire home entertainment system gets contaminated with this malignant, diseased trash.

BOP is doing a link exchange with our good friends at Buddy TV this season. For more Top Chef info, visit their site.