The Amazing Race 13, Episode 7
My Nose Is on Fire
By Kim Hollis and David Mumpower
November 9, 2008
BoxOfficeProphets.com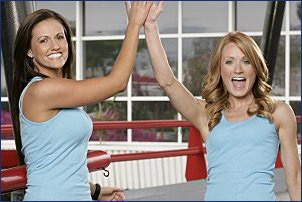 ---
Previously on the Amazing Race, the impossible task of ironing(?) shocked the frat boys, the allure of flirting snared Starr and Dallas, and the constant strain of marriage destroyed Ken & Tina anew. The former NFL player and his separated wife are living on borrowed time this week after having finished in last place during the previous leg of the race. The good news for them is that it was a non-elimination leg and they get to spend more time together. Or is that the bad news?

Nick & Starr are first out of the gate this week at 8:55 a.m. By far the strongest competitors thus far in the game, they look like the team to beat. However, we don't think their lea is going to be that large to start today. They are instructed to make their way through the streets of Delhi to Deshbandhu Apartments, where they must search for the central park at the complex for their next clue.

Right on cue, Kelly & Christy are ready to depart, and they're only seven minutes behind the leaders. With regard to their game skills, let's just say we don't hold them in as high esteem as Nick & Starr. To date, the only skills in which they have excelled are being nasty to others and showing false bravado.

Toni & Dallas are out in another eight minutes, which means first and third place are separated by only 15 minutes. Thus far, this mother/son team has surprised us with their steadiness. Generally, parent/child teams have trouble getting along, but that hasn't been the case for them so far. They seem to have just the right combination of her wisdom and experience and his brawn and positive attitude. Really, they just seem to have a really positive relationship.

Twenty minutes later, Terence & Sarah, this year's offenders in the dreaded "Baby baby baby" category, join the chase. The nicest thing we can say about them as people is that we're happy when the camera doesn't show them. They've fought more this season than we have in the seven years we've been a couple. We don't think it's rocket science that if you actively dislike someone, you probably shouldn't date them. Their angry sex must be world class.

We take time out from the morning departures to show Kelly & Christy being evil as usual. Their catty subject of choice today is Team Superbad, as they wonder which of the two guys would be better to make out with. It's not their constant snarkiness that bothers us (that would be hypocritical of us), it's that they aren't the least bit funny when they do it. The best the one chick can come up with is that after a long kissing session, Dan would have to pace. Hilarious!

Speaking of the frat boys, they are about 50 minutes behind the first place team, so everyone is looking to be pretty well bunched up today. If *we* had to make out with one of Andrew or Dan, we would pick Dan because we like his glasses. Also, we don't wish to cast aspersions on Seth Rogen, someone we find genuinely funny, but Andrew looks like him and that's not a plus.

Ken & Tina are 55 minutes behind the first place team; however, as last place finishers in the previous leg, they will have to perform a task that no one else does. This means that their deficit is much larger than an hour. In a way, making last week a non-elimination round was like pulling a cruel prank on them. They clearly can't stand to be around each other.

Once teams arrive at the first clue block, they must do a Roadblock that has them taking part in a Holi Festival. One team member, must make their way through an Indian version of a paintball tournament. They go a bit more old school here, throwing powder and water on the festival participants. The contestants must find their way to a ladder, where they will have to search from dozens upon dozens of cards to find one that says "The Amazing Race" instead of "Try Again". Just from the images they show of people throwing powder at each other, this looks like it's going to be nasty right from the start.

Starr is the first person to attempt this task. She makes it through the crowd to the ladder with no problem, and we wonder if we've miscalculated the awfulness of this challenge. Once she gets to the top, though, we realize it was a trap. No fewer than seven men start bombarding her with colored powder, making a man-made colored dust bowl. Our asthma hurts just watching this. To her credit, she accomplishes her goal before anyone else arrives.

Their next clue has them traveling through Old Delhi to find the Charity Birds Hospital. This is a haven for injured birds, and they're required to look through the creatures' cages for their next clue. How sanitary.

Before the siblings can leave, Nick performs his dutiful task as Starr's brother and attempts to clean her face from the powdery beating it has absorbed. During the middle of this act of benevolence, some random guy comes up and spikes Nick's face with pink dust. What's the opposite of Ugly American? Obnoxious local?

Kelly & Christy get lost, allowing Toni & Dallas to arrive at the Roadblock in second place. As Dallas starts the challenge, the editing adds some ominous drums. Wait, that's not the editing. There are actually a few psychos loudly banging drums to let the new entrants know they're about to absorb a beating. Right on cue, a tornado of paint dust heads his way. We thought Starr had gotten it bad, but the ante is truly upped on Nick. We don't even know how he can see inside that color cloud. He's like Pigpen with colors surrounding him. To his credit, Dallas finishes quickly and is a good sport about the whole thing.

Eventually, Kelly & Christy find the clue box, and Kelly offers herself up for humiliation. At this moment, she is like a bride leaving her wedding. The onlookers line up to pelt her with paint instead of rice, but the effect is the same. In the span of seven seconds, we count 23 blasts of paint dust thrown at her face. Before she gets near the clue box, she's already had it worse than the other two contestants combined. It's almost like the Holi Festival participants understand who is most deserving of paint molestation. They block her from going to the ladder, and it's so bad that she has to go back to Christy to get some water to clean out her mouth. In sporting vernacular, she's run out of the stadium.

If you're wondering how Kelly looks at this point, well, there isn't an inch of her that isn't covered in paint. While preparing for her second leg, she bundles up like an exterminator, putting on a hat and covering her mouth with a bandana . This strategy would have succeeded if she had paid more attention to instructions. Alas, she's not that type of player. Rather than search to find a card with "Amazing Race" on it, she simply rips one down and runs back to her teammate, who bitterly informs her it's not the right one. She has to go back.

In the meantime, Team Babe Babe Babe has arrived, and the sight of Kelly undermines any confidence they may have had. Terence very nervously indicates that he'll do the Roadblock, but you can tell he's doing so in the same way that someone might volunteer to stick their head in a lion's mouth. He remembers an hour ago when he saw Kelly and she looked like a caucasian.

As Kelly embarks on a new strategy of running the paint gauntlet and returning with a single (wrong) card, Terence does what any rational person would do (if they read the clue correctly) and stays there until he finds the appropriate one. A shell-shocked Terence becomes the first person to go on the offensive, knocking people out of his way as he returns to home base.

Posted without comment: "I am spitting out color." --Terence

Dan is the sucker who agrees to do the Roadblock, and pretty much breezes through the task. In fact, he does so well that Andrew actually gets pelted about as badly as Dan does. Kelly's composure is pretty much non-existent at this point, especially after she face-plants into a paint puddle. She returns to her partner and informs her matter-of-factly that she can't do this...and there is ample evidence to support this assertion.

After about a half hour of Sherwin-Williams hell, the no-longer-gay divorcees finally have they epiphany that perhaps they should read the clue. Their stupid hurts us.

While Kelly finally retrieves the appropriate clue, the hundreds of paint bullies surrounding Christy notice that she has very little paint on her. Bombardment ensues.

Given their struggles with the competition, we are nothing short of giddy to see how Ken & Tina handle this. May a rainbow of Crayola undo their Amazing Race candidacy once and for all. As Ken attempts to complete the task, a funny situation develops outside as the taxi drivers of India determine that the divorcees are too unclean to give a ride.

A funny combination of editing occurs as Tina begins to receive the bombardment treament. At the same time, Kelly all but assaults a taxi, only to be told "no ticket". In the meantime, Ken finishes his task and he and Tina successfully hail a taxi. The women who started this leg eight minutes out of first have now fallen behind a team almost an hour behind them at the start of the leg. The moral of the story? Always carefully read the clues.

Switching back to the people who are good at Amazing Race, Nick & Starr are celebrating the glory of Alfred Hitchcock's The Birds. They have to walk barefoot through an area of caged birds and search for a clue inside the bird cages. Their next clue has them headed to the Detour. The easier task is called "Bleary Eyed". All that contestants need to do is to pay attention to small numbers displayed on various signs in a marketplace. While there is enough advertising here to make downtown Tokyo blush, Phil goes out of his way to note that attentive teams can finish this task quickly. Conversely, the other task, "Teary Eyed" sounds absolutely brutal. Teams must carry 40 pound bags of hot chilis a quarter mile to a location where they must grind their own chili powder using a mortar and pestle. Anyone who chooses "Teary Eyed" is just asking to be voted off, in our opinion. Phil's comments would seem to indicate we're right.

The show loses some cohesion as it starts showing some random bits from the contestants. Terence & Sarah keep preventing birds from pooping in a litter box, which is just mean. Andrew & Dan butcher the native language, while Kelly & Christy start trying to scare people through their dirty looks and loud noises. Just let them get to know you, ladies. That's plenty scary enough.

Once Ken & Tina arrive at the bird hospital, they run into the Speedbump, which is the task only they have to perform this week. They must serve holy water to people worshipping at a temple. You'd better not let it touch you, Ken & Tina.

Both Nick & Starr and Toni & Dallas choose the "bleary-eyed" task, and though Nick tries to trick the other team into a misinterpretation of how this round is played, they quickly suss it out. At this point, Starr firmly tells her brother that they'll work together with the other team, which we suspect she's already doing at the Pitstops, anyway.

Terence & Sarah decide to do the chili task, and she instantly starts bitching the moment they begin to carry the bags. Over at the Speedbump, Ken & Tina actually seem to be having fun, though Ken was oblivious to the fact that the water was even blessed. Maybe he shouldn't pick "bleary eyed" here in a moment.

Note to Tina if you read this: you look surprisingly great with green hair.

While the holy water task itself wasn't that difficult for Ken & Tina, they experience a lot of difficulty in trying to leave the area as trafic is at a standstill. The good news is that Kelly & Christy appear to be lost, and let's face it. Kelly & Christy definitely deserve to be eliminated this leg.

Nick & Starr and Toni & Dallas easily complete the number challenge and will have a race to the finish line for some vacation prize that will inevitably be used by Dallas and Starr anyway.

"We should have done the other one." --Sarah

Yeah, we told you so, baby.

Back over at "Bleary Eyed", Team Superbad and the divorcees both appear to be missing some vital numbers in their quest to move forward. This proves to be true when Andrew & Dan take their numbers to the "judge", who tells them that their combination is incorrect. Kelly & Christy don't fare any better.

Nick & Starr are first to the Pitstop, earning a five-day trip to glorious Hawaii. Starr & Dallas will really enjoy that. You know, if Nick and Toni went, there probably wouldn't be nearly as much humping. Toni & Dallas arrive soon after.

Back at the "bleary eyed" challenge, Andrew & Dan ask Kelly & Christy if they want to work together since neither team is having much luck on their own, but the girls turn them down, saying that they think it's really down to the wire. In the meantime, Terence & Sarah somehow manage to finish the chili grinding challenge.

A bad day grows worse for the divorcees (and the team they just blew off) as Ken & Tina arrive and start working on the challenge. Christy continues to be a great sport by attempting to use a scarf to hide their results from the new arrivals. A somewhat disgusted Tina says, "Don't worry, we'll get our own numbers." A more honest statement would be "We doubt you have the right numbers in the first place. Also, your mascara appears to have run all over your face, clothes and hair."

Approximately seven seconds later, Kelly & Christy are sent back to search for the right numbers, while Ken & Tina are given the thumbs up for completing the assignment. Thank goodness nobody looked at anyone else's numbers, right, Christy?

What's the benefit of being a nice team as opposed to being a team of super bitches? Another team (like Ken & Tina) is more likely to show you where the correct numbers are. Both Ken & Tina and Andrew & Dan seem to agree that this might not have been the best strategy for moving forward in the Amazing Race, but it's nice to see a random act of benevolence like that. Particularly from such an unexpected source. We are gratified to see them finish in fourth place.

The end result is that Andrew & Dan finish ahead of the divorcees, who are now in last place by an undetermined amount. With these being the last two teams remaining, it appears that traffic will determine who is the final team to arrive. The divorcees invoke a higher power in wishing the traffic demon away, but karma dictates that Team Superbad wins. The two teams might have been much closer had they, you know, worked together.

A few moments later, Kelly & Christy are the last team to arrive and are informed that they have been eliminated. On the plus side, we think they get to keep all of the paint they picked up.

BOP is doing a link exchange with our good friends at Buddy TV this season. For more The Amazing Race info, visit their site.