Weekend Wrap-Up
Madagascar Rules Box Office; Role Models Real Winner
By John Hamann
November 9, 2008
BoxOfficeProphets.com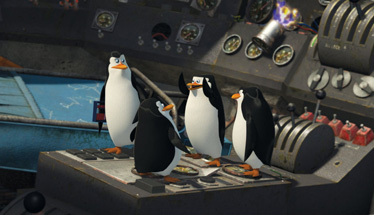 ---
After what was a crazy Halloween weekend with highs and lows of the most ridiculous kind, the box office bounced back sharply as it appears many moviegoers took last weekend off. The big payoff belongs to some of the new films opening this weekend. They include Madagascar: Escape 2 Africa, Role Models, and Soul Men, along with arthouse expander Rachel Getting Married from director Jonathan Demme. Another big question surrounded High School Musical 3: Senior Year - would it bounce back after a 68% drop last weekend, or die the slow death that so many of us are hoping for?

Our number one film of the weekend is no surprise. It's Madagascar: Escape 2 Africa, from DreamWorks Animation with Paramount distributing. Madagascar 2 got off to a huge start and was at the high end of expectations with a fantastic opening weekend gross of $63.5 million. The kids' flick debuted on 4,056 venues, a huge count for any time of year, and earned a venue average of $15,654 - by far the highest in the top ten. This is a huge opening for Paramount, as the original Madagascar flick opened to $47 million over the three-day portion of the Memorial Day weekend in 2005 (it earned $61 million over four days). This tells us that the same audience that showed up in 2005 over four days came out this weekend over three days. The original Madagascar had a lot more competition to deal with when it opened, versus the sequel's opening. The original actually debuted in third spot in 2005, finishing behind Star Wars: Revenge of the Sith, and Adam Sandler's The Longest Yard. This year, with High School Musical 3 being eviscerated last weekend and Beverly Hills Chihuahua just about done, our favourite African animals had free reign with the family audience and triumphed broadly. This debut makes it one of the biggest openers ever for the month of November, trailing a handful of Harry Potter flicks (Goblet of Fire at $102 million, Sorcerer's Stone at $90.3 million, Chamber of Secrets at $88.4 million) and The Incredibles ($70.5 million). Oddly enough, this is a very similar total to that of Kung Fu Panda - that one opened to $60.2 million in June of this year, and just so happens to come out on DVD this weekend (it's a VERY big weekend for Paramount).

Madagascar 2 not only improved on opening weekend take compared to the original, it also received better reviews. This version of Madagascar came in at 60% fresh, with 51 critics out of a possible 85 liking it, compared to 55% for the original animated flick. The future should be bright for this sequel at the box office, as Warner Bros. moved Harry Potter and the Half Blood Prince out of November 2008 to Summer 2009, leaving Disney's Bolt the only animated competition for Madagascar 2 in November - and Bolt doesn't open until November 21st. Will this Madagascar improve on the $195 million the original earned? It should, considering Thanksgiving and the holiday season are on the way (it could still be earning in the low millions come Christmas Day). To put it at its most simple, Madagascar: Escape 2 Africa is a huge coup for Paramount and DreamWorks Animation.

While Madagascar 2 is admittedly huge, the story of the weekend should go to Role Models, the slacker comedy with great trailers and TV ads. Role Models is a movie that exceeded all kinds of expectations by grossing $19.4 million over its opening frame, a total that some thought this one would never make in its entire run. From the always inventive Universal, Role Models was tracking to open in the "low single digit millions", so to double that is a huge, huge win. Role Models has a hilarious trailer and a laugh out loud TV ad, which equals dollars during tough economic times, and is almost a celebration after a very long election period. Role Models stars Paul Rudd and Sean William Scott as guys who are forced into community service as big brother types. The flick also stars McLovin from Superbad, which couldn't have hurt ticket sales either. Paul Rudd and director David Wain have worked together quite a bit, and Rudd's association with uber-producer Judd Apatow has made him a household name. Rudd has appeared in five Apatow flicks, and obviously carries some weight at the box office on his own. The biggest winner here is going to be Seann William Scott, who was in need of a hit. His last film that did not premiere on an airplane was Mr. Woodcock with Billy Bob Thornton and Susan Sarandon. That one finished with a low $26 million. Time was definitely running out, with sitcom guest appearances hovering in his future. Unfortunately, budget data is not available for Role Models, but the smart money puts it at about $15 million, meaning Role Models is likely already in the black by the end of next weekend.

High School Musical 3: Senior Year drops from first last weekend to third this weekend, and if I were a Disney investor, I would not be happy with how this film was scheduled. First, the business: HSM3 earned $9.3 million and was off an okay 39% from last weekend, where it got embalmed by Halloween with a drop of 64%. The total so far for the musical sits at $75.7 million against a budget of only $11 million, which is not bad whatsoever. My point is that Disney gave this one away by simply scheduling it poorly. Sure, we can argue that HSM3 might have flamed out anyway after a huge $42 million opening frame, with the kids turning out over opening weekend and then staying away. My question is why a studio, aiming for a very certain demographic, would open this on the weekend before Halloween when scare day is on a Friday, with a sure-to-be-huge kids flick on the weekend following Halloween. The holiday season this year is one big blah, as the writer's strike from last year is finally catching up to Hollywood. High School Musical 3 could have absolutely owned Thanksgiving, or even Christmas for that matter, and could have easily been a $200 million film for Disney. Now, with a simple scheduling mistake, it looks like HSM3 will finish with just a shade over $100 million. At the very least, this is a $50 million mistake, and heads should roll. Really, this is like McCain picking Palin. Why?

Changeling winds up in fourth this weekend, despite Universal only adding a handful of screens. The Angeline Jolie flick went wide last weekend on 1,850 venues and earned $9.4 million, which wasn't bad considering the scheduling and tone of this picture. In its follow up weekend, Changeling earned $7.2 million from 1,855 venues, and drops a slight 23% compared to last weekend. I'm looking for Universal to expand or die next weekend. Currently, the Clint Eastwood flick has a total of $20.5 million.

Fifth spot goes to Zack and Miri Make A Porno, Kevin Smith's return to the big screen, this time with Seth Rogen. Considering the subject matter, Zack and Miri got off to an okay start over that crazy Halloween weekend with a $10 million opening. It follows that debut up with a decent second frame with a gross of $6.4 million. The gross gives Zack and Miri a second weekend drop of only 36%, which is not bad considering Clerks II, Smith's last flick, fell over 60% in its second weekend. Zack and Miri has now earned $20.8 million, a number that is okay when you consider that this one must have cost about $20 million.

New release Soul Men finishes sixth as one of Bernie Mac's last films opens softly. Soul Men found $5.5 million from 2,044 venues for MGM, and had a venue average of $2,688. I'm thinking Soul Men could disappear quickly, as if reviews are any indication, this won't be a talked abut picture.

As expected, Saw V sees another big drop, moving from third last weekend to seventh this weekend. Saw V took in $4.1 million and was off a big 59%. The Lionsgate effort has now earned $52.2 million against a budget of $11 million, and should finish close to Saw IV's final figure of $63.3 million.

After a poor showing last weekend, The Haunting of Molly Hartley has a better frame this weekend, but it's too little too late. Molly Hartley earned $3.2 million and was off 41% compared to its opening. The flick from Freestyle Releasing has now earned $9.9 million.

Ninth spot goes to The Secret Life of Bees, the Queen Latifah/Jennifer Hudson starrer. Bees earned $3.1 million and was off a decent 22%. This $11 million production from Fox Searchlight has turned into quite a success, as it's now earned $29.9 million.

Finally in tenth is Eagle Eye, the seven-week-old thriller. Eagle Eye earned $2.6 million and was off 27%. It now has a total of $96.4 million.

In limited release, Rachel Getting Married moved up to 370 venues this weekend, and earned $1.4 million in the process. It had a venue average of $3,813 and has a total so far of $5.4 million.

Overall this weekend, we have a very big win. A year ago, the top 12 films at the box office failed to reach $100 million, as Fred Claus came in quite lower than expected, showing a debut weekend of only $18.5 million, and Bee Movie won the weekend despite being in its sophomore frame. The top 12 tally last year came in at only $97.8 million, and with Madagascar 2 and Role Models opening strongly, the 2008 weekend put that figure in the dirt, coming in at $129.2 million. Next weekend brings Bond, all by himself, so Quantum of Solace could have a Madagascar 2 kind of weekend. Check back next weekend to see how it all unfolds.