Weekend Wrap-Up
High School Musical Temporarily Down But Not Out
By John Hamann
November 3, 2008
BoxOfficeProphets.com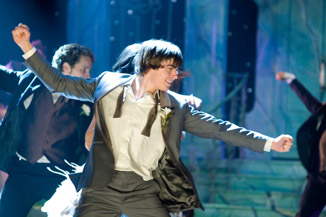 ---
Studios and theater owners must have had a huge black mark circled around this weekend, or maybe a poison symbol. Yes, Halloween landed on a Friday this year, and it was truly horrific for the box office. The last time the spookiest day of the year landed on a Friday was in 2003, and the same havoc reigned then. Disney decided to release a big animated film, Brother Bear, on a Saturday instead of a Friday (it was the only opener). This year was very different. The weekend saw two new films, Zack and Miri Make a Porno and The Haunting of Molly Hartley, as well as two high profile expanders in Changeling and RocknRolla. Finally, with only crickets taking seats on Friday, what would that do to last weekend's phenomenon, High School Musical 3?

To say we have a mess on our hands is going to be the understatement of the year. Halloween landing on a Friday or Saturday delivers bad business of epic proportions. In 1998, All Hallows Eve landed on a Saturday, and it brought the weekend down to the second lowest top 12 total of that year ($45.6 million). That weekend, the only opener was John Carpenter's Vampires, and it was the number one film of the weekend; however, it only earned $9 million. As I mentioned above, October 31, 2003 landed on a Friday, and Hollywood at least made a few smart moves to stem the tide of bad box office.

Disney waited to open the animated flick Brother Bear until Saturday, and still managed to earn $19.4 million over two days, and saved the overall box office in the end. The primary holdover was Scary Movie 3. While it was off 58%, it still earned $20 million. Maybe the most surprising achievement was the strength of the remake of The Texas Chainsaw Massacre. It earned $10.8 million but was only off 25% despite Saturday and Sunday being post-Halloween. The top 12 films managed to earn a respectable $90 million, but this number would have been $70 million had Disney not opened Brother Bear on Saturday. Hollywood basically chose to ignore the fact that Halloween was scheduled poorly this year, and they're paying for it.

Here is the sentence I wrote yesterday in planning out this column: "Our number one film is not High School Musical 3, last weekend's runaway winner. It's Saw V, last weekend's runner up to HSM3." In news that should give hope to the McCain campaign, a lot has changed in the past 24 hours. After a historically unprecedented 90% drop to $1.7 million on Friday, the teen musical had your run-of-the-mill 8.7 multiplier (weekend box office divided by Friday box office) to wind up with an estimated $15 million. Assuming this estimate holds after Sunday actuals are in (far from a sure thing), the film has a running total of $61.8 million after ten days. Given that High School Musical 3 was at $48.4 million after Friday, this is a miraculous reversal of fortune.


With a weekend like this one, it is very hard to gauge how films will perform following Friday night. High School Musical 3 is the perfect example. If it was a normal weekend, I would probably apply a fairly high multiplier to this title considering the target audience and genre - maybe a 3.8. But because of Halloween, theaters had almost no children in them on Friday, which throws that 3.8 multiplier out the window. The multiplier this weekend ended up being 8.7, a number used maybe at Christmas Eve or New Year's Eve, if the dates were to line up correctly over a weekend. Oh, who am I kidding? There's never an 8.7. High School Musical 3 has worked almost like Brother Bear in that it almost could have had no Friday exhibitions. Its revenue all came from Saturday and Sunday.

All of this leaves us with a problem. Sure, High School Musical 3 dropped 64% this weekend, but is this result representative of the rest of the film's run? Probably not. Was High School Musical 3 seriously frontloaded regardless of how Halloween landed? Maybe yes. Does Disney really care? That's a tougher question. Sometimes if a trend is grounded before it really gets started, it can kill said trend. With movies, weekends after opening are all about word-of-mouth. If no one goes to a movie on Friday, will there still be word-of-mouth? Yes, but fewer people will be talking - and hence the trend is affected. Whatever the case, we will keep a close eye on next weekend's result, but until then, High School Musical 3 has earned a serious $61.8 million so far - all against a budget of only $11 million.

Zack and Miri Make a Porno ends up in second this weekend, and this has to be a disappointing result for the troubled Weinstein Group. Zack and Miri got off to an okay start, earning $10.7 million from a quite hefty 2,735 venues. For star Seth Rogen, this is territory our boy hasn't seen since Freaks and Geeks got cancelled, as he has only appeared in only one film that opened to less than $20 million (The Spiderwick Chronicles - $19 million opening). Director Kevin Smith, on the other hand, is going to feel right at home with this result. Smith's biggest, Jay and Silent Bob Strike Back, opened to $11 million in August of 2001, and he has only directed two films since then - Jersey Girl ($8.3 million opening) and Clerks II ($10.1 million opening). Zack and Miri falls right in line with these results.

Of course, Zack and Miri is a much tougher film to open. A movie like this is only going to play to a certain age group, and is more likely to be successful on the coasts than in the interior of the country. It doesn't carry a lot of family values, and might make for an uncomfortable first date with the person you met at church, or a screening of Firestorm. Critically, it was the best reviewed film of the weekend (yes, Kevin Smith's porno film is reviewed better than a Clint Eastwood film). Zack and Miri is at 65% fresh at RottenTomatoes at the time of this writing, with 74 out of 113 critics liking it. If this one doesn't manage to break through over its theatrical run, I'm sure it will be huge on home video.

After Friday, I thought Saw V was going to weekend. As you can see, it doesn't even finish in the top two, a bizarre turn of events for a horror film with a 3.3 internal multiplier. Of course, a 3.3 this weekend is like a 2.2 on most weekends. Saw V made $10.1 million and had a percentage drop compared to last weekend of 66%. Saw V now has a total of $45.8 million against a budget of only $11 million, meaning that both of last weekend's major releases are wildly profitable.

Finishing fourth is Changeling, a film that proved to be excellent counter-programming against such a strange weekend. Changeling earned $9.4 million from a very small venue count of 1,850. It had the best venue average in the top ten, coming in at $5,085. From director Clint Eastwood and current it-girl Angelina Jolie, Changeling had the goods to draw audiences, and with its early-20th Century design, may have drawn the older, more sober crowd on Friday night. Changeling had an internal multiplier of 4.1, which tells us it was not ignored on Friday night (remember High School Musical's internal multiplier was 8.7).

This opening is a huge success for Universal, Eastwood and Jolie. Clint Eastwood's last English language film was Flags of our Fathers, and it opened to $10.2 million in October of 2006. However, it was surrounded by a lot more fanfare, and the opening weekend was considered somewhat of a disappointment. Changeling, on the other hand, has not been embraced by critics. Reviews are currently split down the middle on this one, with a 54% fresh rating at RottenTomatoes. Unlike Flags, Changeling isn't a director's follow-up to an Oscar winner (Million Dollar Baby).

For Angelina Jolie, this is a respectable start, considering she's carrying the film and no one is being blown up. She has already bested the gross of her previous Oscar bait, A Mighty Heart, as the story of Daniel Pearl's widow finished with a domestic total of only $9.6 million. It will be interesting to see how Changeling plays out over the rest of its run, as Universal could choose to expand in the coming weeks, or let it play out on fewer than 2,000 screens. With this result, I wouldn't be surprised to see the studio expand it again next weekend, as movies for adults are in short supply in early November. So far, Changeling has a total of $10.1 million.

That puts the poorly scheduled Haunting of Molly Hartley in fifth, but it's a better score than usual for Freestyle Releasing. Molly Hartley earned $6 million this weekend from a far-too-wide venue count of 2,652. Currently, this one is zero for 19 at RottenTomatoes, with Frank Scheck of The Hollywood Reporter calling it "the cinematic equivalent of having a razor blade hidden in an apple". Enough said? Good.

Sixth spot to tenth spot is a scramble due to Halloween, and positions may change when actuals are released tomorrow. Beverly Hills Chihuahua moves from fourth last weekend to sixth this weekend with a gross of $4.7 million. It was off 31%, and has a gross so far of $84.1 million.

The Secret Life of Bees moves to seventh this weekend with a gross of $4 million. It was off 34% has a gross so far of $25.3 million against a budget of only $11 million. While the overall gross won't be huge, it will still be a good pickup for Fox Searchlight.

Eighth goes to the third weekend of Max Payne. It finished the weekend with $3.7 million, and was off 53%. It now has a domestic total of $35.6 million against a budget of $35 million.

Ninth goes to Eagle Eye, as Shia LaBeouf and Steven Spielberg may have spent their last weekend in the top ten. Eagle Eye earned $3.4 million, was off 33%, and has a total so far of $92.5 million. Eagle Eye cost Paramount and DreamWorks $80 million to make.

Pride and Glory, last weekend's not-so-good opener, rounds out the top ten. It earned $3.3 million in its second frame, was off 48%, and now has $11.6 million in the kitty. Look for it to finish well back of its $30 million budget.

Overall, things are expectedly bad. The totals for the top 12 films could only muster $75.2 million, which puts it well back of last year, when the top 12 earned $121.5 million, thanks to Denzel Washington in American Gangster. Next weekend brings the kids' flick Madagascar: Escape 2 Africa, Role Models, and Soul Men, starring the late Bernie Mac and Isaac Hayes.