Friday Box Office Analysis
By David Mumpower
November 1, 2008
BoxOfficeProphets.com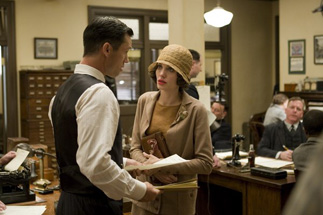 ---
A perfect storm of box office negatives led to a truly nightmarish day at the movies for new releases as well as the most famous of last weekend's titles. The news is grim across the board for Friday numbers, but there is cause to believe this was a one-off disaster rather than a systemic problem with the quality of releases.

Saw V was the best performer on Friday, earning an estimated $3.1 million. As Kim Hollis noted in her weekend forecast, the title should have seen a respectable Friday-to-Friday drop given the historical box office precedent set by The Texas Chainsaw Massacre's 2003 remake. Five years ago, that title was released two weeks before Halloween, earning $28.1 million on opening weekend before falling 48% to $14.5 million in its second weekend. Over Halloween, its third weekend in release, the title fell only 25% to $10.8 million. Its Friday-to-Friday drop was only 48% and its Saturday to Saturday decline was only 21%. Using this as a model, Saw V seemed to be in good shape on Halloween. And yet...

Saw V fell 78% Friday-to-Friday. That is not a typo. The film debuted to $14.3 million last Friday on its way to a $30.0 million debut. Yesterday, it made $3.1 million. Where in the blue hell did everyone go? This is a question being asked by most titles in the top ten, but it is the most head scratching for Saw V. Historically, horror films have held well on the most malevolent day on the superstition calendar. That didn't happen here. The good news I reference above is that films have a tendency to recover on November 1st and 2nd, assuming that past patterns hold here. Cribbing John Hamann's research, Scary Movie had a 4.3 internal multiplier (weekend box office divided by Friday box office) while Texas Chainsaw Massacre was at 4.2. If relatively the same pattern holds for Saw V minus a bit of updating for five years of more frontloaded box office behavior, it should wind up around $11.0 million this weekend. I want to offer the caveat that our friends at ERC are projecting a much lower performance of $9.4 million, so they are thinking it's just that dead in the water.

The scary thought is that Saw V has done better Friday-to-Friday than High School Musical 3. The family-friendly film that became the most successful G-rated opening of all time last weekend collapsed. I mean epically. After starting with $17.0 million last weekend, the title fell to $1.7 million yesterday. That's right. It moved the decimal point one spot over. You don't have to be that great at math to innately recognize that's a 90% drop. Ninety. Percent. I have been out all day and haven't time to research this as of yet (which is why I borrowed Mr. Hamann's work above), but I cannot ever recall a major studio release doing this before. This title was at $30 million after two days yet it won't break $50 million until its eighth day.

If High School Musical does not recover to a Grumpy Old Men/Scream degree today, it's going to throw under Cloverfield's final box office despite opening higher. And just to make sure you realize the above was not the product of your vivid imagination (damn all that chocolate going to your head!) , yes, High School Musical fell 90% from last Friday. As my wife joked earlier today, Zac Efron's career might have reached its pinnacle last weekend and this weekend is what the rest of his career is going to be like.

We broke from the usual format for the Friday Numbers Analysis in order to examine the fascinating trend (or one-off?) that occurred to returning films on Halloween 2008. New films were just as much a victim of the phenomenon. Zack and Miri Make a Porno, a title whose second half couldn't be advertised on network television or in print ads, failed to capitalize on all its negative media attention. Despite tracking very well among young males, the lifeblood of the industry, the Kevin Smith title expected to open in the mid-teens managed only $2.2 million yesterday. Even with a magnificent internal multiplier of 3.6, it's still going to wind up with only $7.9 million, only half of what it had been expected to earn.

The Haunting of Molly Hartley was no more successful than Zack and Miri despite being better themed for the holiday. It earned $1.7 million for Freestyle Releasing, making Chace Crawford's first weekend as successful as Zac Efron's second weekend. I guess singing edges out smoldering in the end. The other "new" opener was my beloved Guy Ritchie's RocknRolla, a platforming title that went from 19 to 837 venues this weekend. The end result was that it jumped from $27,490 to $450,000, which sounds nice until you realize that Ritchie's ex-wife has spent more than that on bullet bra lingerie. This is also not good news for Gerard Butler as he tries but fails once again in his quest to show that 300's box office success was due to his presence. P.S., I Love You earned $53.7 million, Nim's Island earned $48.0 million and RocknRolla appears headed for a sub-$20 million finish. Butler needs a 300 prequel and he needs it fast.

The other big box office story this weekend is Clint Eastwood's latest effort, Changeling. Despite sub-par buzz, the title has a chance to win the weekend. It expanded from 15 to 1,850 venues yesterday. In the process, its box office bumped from $146,044 last Friday to $2.3 million yesterday. Determining the internal multiplier for this is little more than guess work, something I hate to do (or admit). It didn't seem as impacted by Halloween as some of the other titles did, so I hate to give it credit for a massive bump from Friday to Saturday. If we look at historical comparisons, however, platforming titles have done very well over the weekends wherein Halloween came on a Friday. I'm going to hedge my bets here and say that Changeling winds up doing $9.2 million, good enough to finish in second place. If Saw V doesn't hold up as well after the holiday, that number could be good enough to win the weekend, meaning we could be looking at another sub-$10 million winner to start November.