Summer in Review: July
By BOP Staff
October 30, 2008
BoxOfficeProphets.com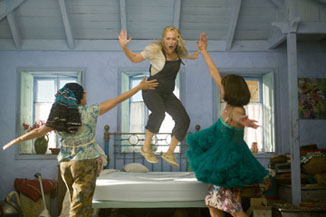 ---
Kim Hollis: Please comment on each of the following July openers. (Note: The Dark Knight will be excluded as we've discussed it to death.)

Hancock: $227.9 million domestic, $623.5 million worldwide, $150 million budget
Meet Dave: $11.8 million domestic, $50.3 million worldwide, $55 million budget
Journey to the Center of the Earth: $101.1 million million domestic, $193.7 million worldwide, $60 million budget
Hellboy II: The Golden Army: $75.8 million domestic, $148.0 million worldwide, $80 million budget,
Space Chimps: $30.1 million domestic, $44.7 million worldwide, $37 million budget
Mamma Mia!: $143.5 million domestic, $553.2 million worldwide, $52 million
Step Brothers: $100.5 million domestic, $121.9 million worldwide, $65 million budget
X-Files: I Want to Believe: $21.0 million domestic, $65.3 million worldwide, $35 million budget

In a few sentences, please offer your final thoughts on each of these box office performances.

Jim Van Nest: Can we make it official now? Can we say that Will Smith is hands down the biggest movie star in all the land? I'm pretty sure someone could film Smith mowing his lawn and he'd take it to $100 million domestic. Will cannot and will not be stopped. Eddie Murphy, on the other hand, seems to be in the same place as Mike Myers right now - desperately needing Shrek 4. And who saw Journey to the Center of the Earth and Mamma Mia! coming? The rest are about as expected, but $140 million for a movie version of the Abba musical? Really??? And Brendan Fraser?? Really, really? What a crazy, weird and fun summer!

Jason Lee:

Hancock - Will Smith (a.k.a. Mr. Reliable) turns in another solid box-office hit. Is there any other actor more bankable than him? I don't think so.

Meet Dave - Eddie Murphy (a.k.a. Mr. Questionable Script Choice) turns in another dreadful comedy. Is there any other actor who needs a new agent as much as Murphy? I don't think so.

Journey to the Center of the Earth - 3-D is here to stay. I think this film solidifies the appeal of "things coming VERY QUICKLY AT YOUR FACE!" films in the minds of movie producers everywhere.

Hellboy II: The Golden Army - Good for del Toro. This was a crazy imaginative film and deserves to have the box-office success that it's earned.

Space Chimps - Why, oh why, did Fox greenlight this picture? Were they drunk off of the success of Alvin and the Chipmunks or something?

Mamma Mia! - If there was an Oscar handed out for "Most Questionable Casting in a Film," this film would have won. That said, I think this film demonstrated the second best legs of the summer season behind The Dark Knight.

Step Brothers - Who are the 12.5 million people that paid good money to see this disaster? Seriously, were they high on Pineapple Express or something?

X-Files - I wanted to believe. I really really really wanted to believe.

Daron Aldridge:

Hancock - This was just another brick in the wall built as a monument to Will Smith's box office power. Hancock was in line with my expectations. He seems to be this decade's answer to 1990s Tom Hanks with eight straight starring roles that crossed $100 million since 2002.

Meet Dave - This type of failure couldn't happen to a more deserving cinematic crime. By shunning Meet Dave, American moviegoers took the first step to redeeming themselves for making Norbit a hit. Eddie Murphy, why do you continue to forsake fans of Coming to America, Beverly Hills Cop and Bowfinger? Unfortunately, the rest of the world needs to get on board with turning its back on this mess.

Journey to the Center of the Earth - Based upon the commercials I saw where the 3-D graphics didn't translate to TV, I am surprised that it was able to demonstrate these kinds of legs. It started with only $21 million and is flirting with $100 million for a multiplier of 4.67. It helped make up for the underperformance of Fraser's other adventure film.

Hellboy II - Hellboy II was a unique beast. Guillermo del Toro was coming off a huge win with Pan's Labyrinth and the explosive success of Hellboy on DVD. Traditional logic dictated that the sequel merited a bigger budget. While it did recover its budget, the studio obviously overestimated the appeal of Hellboy II, even though it had 88% positive reviews.

Space Chimps - The surprise here is that this one turned a $7 million opening into nearly $30 million for a 4.1 multiplier. Is that indicative of the lack of straight up kids' movies this summer or the Armageddon? The world may never know but let's hope 2 Space 2 Chimps never launches.

Mamma Mia! - ABBA flexes its muscle and dominates another facet of the entertainment world. First, it was music and then, it was the theater. To me, the fact that this one wasn't swallowed whole by Batman is the most impressive thing about Mamma Mia! and nearly half a billion dollars later, this was ideal counter-programming to The Dark Knight.

Step Brothers -Step Brothers' success is another indicator that Will Ferrell and John C. Reilly need each other. Semi-Pro was Reilly-less and only made $33.5 million domestically. Dewey Cox had no Ferrell and made $18.3 million domestically.

X-Files - It's time for the pun that no one has said. "The truth is out there" and it is that X-Files is no longer relevant or in demand, especially when the film's quality is lacking, like with this one.

Kim Hollis:

Hancock - Considering that a lot of people were talking about their disappointment with this film's quality, it's a pretty huge win that Will Smith was able to carry it to such massive numbers both domestically and worldwide. I'm pretty sure you could slot a "Will Smith Watches Paint Dry" movie in the July timeframe and have it be a huge hit at this point.

Meet Dave - I was so pleased to see that audiences didn't fall for this one like they have with past Eddie Murphy movies like Norbit. When I saw the trailer in theaters, audiences were laughing and I had real fear that the movie-going public was going to continue to encourage Murphy to star in garbage. This vote against tripe is a win for America, people!

Journey to the Center of the Earth 3-D - This movie proves that 3-D is a draw. It had an impressively long life in theaters, and I'm sure that it's almost purely the result of the 3-D technology as opposed to the movie's quality, which I'm told is okay but not spectacular. It's nice to see Brendan Fraser having a pretty good summer.

Hellboy II: The Golden Army - Hellboy is such a wonderful character. I think it's a shame that the majority of the fans for this went out to see it in the opening weekend, because it's so fun and good-natured that I really expected word-of-mouth to take it to a higher final result. This was a unique take on the comic book movie - putting our hero into the world of myths and fairy tales - and the visuals are stunning. If you haven't seen this, rent it when you can.

Space Chimps - It's, uh, profitable. Yeah, that's an upset.

Mamma Mia! - What an amazing juggernaut this has been. Really, there are no words. It's working toward being the biggest movie ever in the UK ahead of Titanic. For all our discussion of The Dark Knight's success and potential to be the top movie ever, Mamma Mia! is actually a movie that has a chance to topple a Titanic record somewhere. Who would have seen that coming? I think this proves that when you have a fun, light-hearted musical (Hairspray, Mamma Mia!, High School Musical 3), you can really capture an audience that wants nothing more than easy escapism and a blast at the theater.

Step Brothers - I'd really like to see Will Ferrell move on to something...different, but I remain a big fan even if I haven't seen this movie yet and thought Semi-Pro was just about the worst movie of 2008. I think he's kind of Sandler-ish. He's going to draw a certain segment of audience no matter what.

X-Files: I Want to Believe - What can you say about this one? I can totally understand why audiences ignored this in theaters. Commercials and trailers were lackluster, and then reviews proved that it wasn't really worth spending money on. I was one of the few who saw this one, and it wasn't deserving of a theatrical release. I'm fine with its dark tones. It would have been fine as a standalone episode in the series. I was just expecting something more special.

Sean Collier:

Hancock - Fun fact: Will Smith now actually functions as an ATM. Hand him your bank card, and money will just start pouring out. Don't ask from where.

Meet Dave - Poor, misguided Eddie Murphy. After serving as the only watchable part of Dreamgirls, it seemed that he might have figured a thing or two out. After Meet Dave, he seems more lost than ever. We can hope in vain that this will serve as a wake-up call, but talks of another Beverly Hills Cop sequel - with Brett Ratner attached - are still in the works. Let's all just go watch Eddie Murphy Raw and try to forget all of this.

Journey to the Center of the Earth - I wouldn't have given this a scrap of a chance, but it clawed its way to $100 million after a ho-hum opening. I suppose the 3D-in-normal-movie-theaters gimmick is still novel enough to pull in families.

Hellboy II - Guillermo del Toro seems to enjoy making movies that have no target audience whatsoever. The dark subject matter and violence of Hellboy II made it distinctly a film for older audiences, but (like the far superior Pan's Labyrinth,) this one had the soul of a children's film. I suppose making the budget back was all a project this quirky could hope for, so call it a victory.

Space Chimps - *insert flinging poo at the screen and learning that it did not, in fact, stick joke here*

Mamma Mia! - A movie where Pierce Brosnan sings off-key at great length and a young, hairless island boy hits on Christine Baranski has made $430 million worldwide. I'm going to get my The End is Near sign, but I'll probably be humming "Dancing Queen" as I march.

Step Brothers - As it was, a so-so comedy that did well enough and will escape our memory soon. What if they had actually made a movie about ten-year-old boys in a blood feud, and just cast Will Ferrell and John C. Reilly instead of children? Now that would've been big.

X-Files: I Want to Believe - Hey, you know what's better than this movie? Californication.

David Mumpower

8) Meet Dave - Eddie Murphy is less consistent than Rex Grossman. For every hit he has, there are a couple of Meet Daves. The good news here is that the production budget is "only" $55 million, which is better than Holy Man or The Adventures of Pluto Nash could claim. Meet Dave is clearly a disaster, but it's not Murphy's worst performance. Wait, that's not making it any better, is it?

7) X-Files: I Want to Believe - A year ago, I was convinced this project would be huge. The timing appeared perfect for X-Files to make its dramatic return to theaters. By the week of release, I had come to terms with the fact that the studio thought they had a largely unmarketable product. Boy, did they ever call that one correctly. I Want to Believe made less during its domestic run than I expected it to earn on opening weekend. Given the conservative budget, it's still not a massive loser. It's just not a winner, particularly relative to the opportunity cost of revenue lost from not producing a satisfactory film for the diehards.

6) Space Chimps - A harmless release, this is the rare title that does almost exactly what was expected of it. One of the film's creators was kind enough to drop BOP a note indicating how pleased they were that the film had met its modest expectations. Not all titles are intended to be The Dark Knight, after all.

5) Hellboy II: The Golden Army - We have moved up from the failures, #7 and #8, and the achiever, #6, to the (ever so) modest winner. If we only factored in domestic receipts, Hellboy II wouldn't qualify as such but once international revenue is added, it's a clear cut hit. Guillermo del Toro must be frustrated by the fact that he has created two exceptional superhero movies that have done mediocre numbers relative to the rest of the genre, though.

4) Step Brothers - This is one of my least favorite trailers ever. I loathe everything about it from start to finish and had expected most people to agree with me on the point. That's why I am all the more surprised by this title reaching $100 million, a full $16 million ahead of Anchorman: The Legend of Ron Burgundy. People make me sad.

3) Journey to the Center of the Earth 3-D - This is a textbook example of why it is important to go back and re-evaluate titles a couple of months after release. After ten days, this title was only at $43.5 million and already out of the top three. The odds of it breaking the $100 million barrier would have been solid in 1998, but in 2008, it was a massive longshot. Somehow, it hung in there the requisite 86 days in order to accomplish this seemingly impossible feat, making it the best demonstration of old school legs not just this July/summer but in recent box office history. The fact that it is poised to duplicate this feat overseas is that much more impressive. The important aspect of this to remember moving forward is that 3-D is the right sort of cinematic novelty now. My Bloody Valentine 3-D will be the next proof of this.

2) Hancock - How brutal was July? Hancock is the #38 release of all-time in terms of worldwide revenue yet only the second biggest of the month. And it isn't certain to have a lock on second place depending on what the film I consider to be the biggest non-The Dark Knight success of July does next. What is certain about Hancock is that it has continued Will Smith's incendiary hot streak of box office blockbusters. This is his eighth straight $100+ million release, and it has actually surpassed I Am Legend and Men in Black in terms of worldwide revenue to become Smith's second most successful overall release behind Independence Day. Given what a glorious mess of a movie Hancock is, it is clear that Will Smith has bought a significant line of credit with worldwide audiences. The fact that his last two films have accrued worldwide revenue of $1.2 billion hints at the fact that Seven Pounds is poised for greatness as well.

1) Mamma Mia! - Mamma Mia! is about to surpass Titanic. Okay, only in Britain but still. How in the world did we get to a place where a musical featuring the songs of Abba could pump in $553.2 million worth of worldwide box office? This simple little singalong recently surpassed Peter Jackson's King Kong (!) to become the 50th most successful release ever. It is within days of passing Armageddon as well. Anyone who claims that they saw this level of box office coming is lying. And if they're not, I'm buying them a beer the next time we hang out. This is quite possibly the most impossible success story since The Passion of the Christ or maybe even My Big Fat Greek Wedding. No sane person looked at the July schedule and said, "Yup, Meryl Streep's going to have a $550 million movie." Hell, Meryl Streep's last FIVE movies haven't combined for that amount of worldwide revenue and we're including The Devil Wears Prada in that batch. Even if we throw in her previous two films prior to that, it is still basically a wash with what Mamma Mia! has done on its own. Given how rapturous the reception has been for Streep's singing, maybe Sony should go back and re-release Postcards from the Edge.