Friday Box Office Analysis
By Tim Briody
October 25, 2008
BoxOfficeProphets.com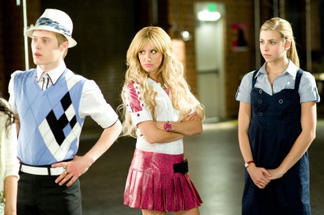 ---
It's yet another "it would be hilarious if they switched the reels" weekend as High School Musical 3 and Saw V are set to have very solid openings.

[tm:4477_]High School Musical 3: Senior Year[/tm]

After setting all sorts of records on The Disney Channel, the third High School Musical entry arrives in theaters and earns $17.1 million on Friday. Now, the big question for the weekend is if this number is a result of a massive Friday night rush factor or a sign of things to come over the remainder of the weekend. The closest thing that qualifies as a comparison here is February's Hannah Montana/Miley Cyrus: Best of Both Worlds Concert Tour, which is another Disney product launched to the big screen. That saw $8.6 million on Friday and a weekend of $31.1 million, for a weekend multiplier of 3.6, which was fueled by a very solid 51% increase on Saturday. Using that information, I'm going to go with a 3.5 multiplier for High School Musical 3, as the target audience now has all damn day to see this, perhaps even twice. That number gives Senior Year a very large $59.8 million opening.

[tm:4313_]Saw V[/tm]

Showing more resilience than anyone ever figured, the fifth entry in the Saw franchise earned $14 million on Friday. While the opening figures are showing very little in the way of diminishing returns, check out the weekend multipliers for each of the films:

Saw: 2.68
Saw II: 2.61
Saw III: 2.32
Saw IV: 2.15

At this pace, I expect Saw VIII to have a 1.0 multiplier, as everyone who wants to see the film will do so on Friday. But for Saw V, it should still eke out another $30 million opening despite an absolutely abysmal weekend multiplier.

Pride and Glory

Lost in the madness is the cop film with a hell of a cast, Pride and Glory. Its $2.3 million on Friday is not even enough to beat [tm:2772_]Max Payne[/tm]. Call it $6.4 million and another one of those movies you'll have completely forgotten about until Netflix recommends it to you.

Notable Holdovers

Everything has pretty much a bad second Friday. Max Payne is off a somewhat predictable 62% from last Friday. [tm:4312_]W[/tm]. takes a 60% dive and even last week's surprise [tm:4208_]The Secret Life of Bees[/tm] is off 50%. There's a whole big jumble of seven films separated by $1.4 million on Friday and they all might stay rather close, with Max Payne and Beverly Hills Chihuahua leading the pack.