Weekend Wrap-Up
Max Payne Knocks Off the Dogs
By John Hamann
October 19, 2008
BoxOfficeProphets.com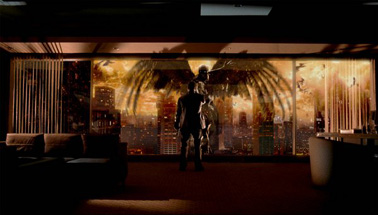 ---
This weekend we had another wheelbarrow full of releases, led by Mark Wahlberg and Fox, who brought Max Payne to movie theaters, trying again to make a successful video game to big screen transition. Other high profile new releases this weekend included Lionsgate's W., the Oliver Stone movie about George W. Bush - would audiences stay away from the current president, or embrace the controversial film? Less talked about new movies included The Secret Life of Bees, a small film from Fox Searchlight with megawatt stars, and the poorly titled Sex Drive from upstart Summit Releasing. With a ton of new product, and not a lot of positive reviews, it was a battle to take down the two-time champ, Beverly Hills Chihuahua from Disney. Hopefully, the weekend wouldn't go to the dogs.

Our number one film of the weekend is Max Payne, the 20th Century Fox film based on the sometimes popular video game. Max got off to a healthy start, despite the expected horrible reviews, as it managed $18 million from a very large venue count of 3,376. Obviously, Fox was trying to cash in on this one in its first weekend, keeping the breadth of release quite wide, and garnering a not-so-great venue average of $5,332.

Max Payne is an interesting release for a couple of reasons. First off, this is not a current title in the video game world. The original Max Payne was released for the PC in 2001, and was very popular, garnering a 89% positive rating at review site Metacritic. Sales were strong, and a sequel was spawned in 2003. Again, critical reception was positive, but this time, sales weren't as strong as expected (I have the original Max Payne on the game shelf, but don't have the sequel). Despite this, 20th Century Fox decided to continue with the film adaptation, but waited more than five years between acquiring the rights and releasing the film.

Video game-to-big screen transitions have had a hard time making money both as a game and as a movie. Uwe Boll is to blame for most of this, as his films like In the Name of the King: A Dungeon Siege Tale ($4.8 million domestic total), Blood Rayne ($2.4 million domestic total), and Alone in the Dark ($5.2 million domestic total) have been nightmarish flops on the big screen, before finding some sort of cult status on DVD (I don't recommend seeking these "films" out). Other directors have had their troubles with this genre as well, and it's not a new problem, as money making troubles go back all the way to Super Mario Bros. ($20.8 million finish), Double Dragon ($2.3 million) and Street Fighter with Jean-Claude Van Damme ($33.4 million - his third biggest). Then, in 2001, Angelina Jolie proved that the video game transition could work, as she opened Tomb Raider to $48 million ($131 million finish). However, the sequel reminded us of the genre troubles, as Tomb Raider: The Cradle of Life opened to less than half of the original at $21.8 million, and finished with $65 million.

I thought this was a very strange choice for Mark Wahlberg. After scoring an Oscar nomination for The Departed, Wahlberg has made some brutal choices in terms of film roles, but has had huge success on HBO, executive producing Entourage and In Treatment. After The Departed, Mark Wahlberg made Shooter ($47 million finish), We Own the Night ($28.5 million finish), and the absolutely brutal summer film, The Happening, which despite its awfulness, opened to $30 million and finished with a domestic total of $64.5 million. None of these films have received any good reviews whatsoever, and Max Payne is no different. Of the 74 critics that ventured out to see this one, only 13 liked it, giving it a quite rotten rating of 18%. Expect Max Payne to fade significantly next weekend.

Second place belongs to Beverly Hills Chihuahua, winner of the last two weekends. After earning $17.5 million last weekend and $29.3 million when it opened, the Disney flick earned $11.2 million in its third frame. Chihuahua was off 36%, which was slightly better than last weekend's drop of 40%. Despite the tumbles, Beverly Hills Chihuahua has to be considered a very strong entry for the folks at Disney, as so far, the talking Chihuahuas have earned $69.1 million. Budget data isn't available, but an educated guess puts it between $30 and $40 million, if not less.

Third goes to our good news story of the weekend, The Secret Life of Bees from Fox Searchlight. Virtually hidden, Bees managed a very solid weekend, earning a surprise $11.1 million from a small venue count of 1,591. It had an excellent venue average of $6,945 - the best in the top ten. Little known to mainstream audiences, Bees did very well with its target audience. Based on a novel by Sue Monk Kidd, Bees had an impressive cast that would have drawn viewers beyond fans of the book. The cast included Queen Latifah, Dakota Fanning, Jennifer Hudson and pop music princess Alicia Keys. Reviews were the best of any film opening this weekend, but were still mixed, with 51 of 87 coming in fresh, for a score of 59%. Produced by Will Smith and his wife Jada Pinkett (amongst others), Bees cost only $11 million to make, so Bees has already earned back its production budget over opening weekend. For Fox Searchlight, The Secret Life of Bees could be the start of a very productive fall/winter season for the art house offshoot of Fox, as next they have Danny Boyle's Slumdog Millionaire, followed by Darren Aronofsky's The Wrestler, two films that have received a ton of praise from recent Film Festivals.

W., the political biography released by Lionsgate, comes up in fourth place. This one was a hard to judge heading into opening weekend. As BOP's Reagen Sulewski said in his weekend forecast column, the left side of the political spectrum hates Bush Jr., and those on the right no longer want to support him, even in a dark movie theatre. In the end, Reagen's estimate of $9 million wasn't far off, as the film came in at $10.6 million from 2,030 venues. Obviously, neither side was too on board for W., as the advertising made it unclear if the current president was being mocked or lauded. Reviews were as confused as audience participation, coming in at 54% fresh. For Oliver Stone, W. is a step back from some of his recent disappointments, like Alexander ($13.7 million opening), Any Given Sunday ($13.5 million opening), and well back of his most recent release, the more successful World Trade Center ($18.7 million opening).

Fifth goes to Eagle Eye, the Shia LaBeouf-acted/Steven Spielberg-produced action flick. Now in its third weekend, Eagle Eye earned $7.3 million and was off 33%, another strong hold for a big picture. Eagle Eye cost Paramount and DreamWorks $80 million to produce and has now earned $81.3 million. I'm looking for it to earn $100 million before it's through.

Body of Lies lands in sixth, as the second weekend for the DiCaprio/Crowe starrer is almost as disappointing as the first. After starting with a soft, third place $12.9 million opening, the espionage thriller couldnít find any momentum, as it earned $6.9 million, off a harsh 47%. This one cost Warner Bros. $70 million to make, and at this point I'm thinking it will finish with a little over $40 million. It has a cume so far of $24.5 million, and proves again, kids, that throwing your phone at someone can cost you mega-millions.

Quarantine finishes seventh, and displays the usual horror film/Screen Gems box office pattern. After opening quite strongly to $14.2 million and outgrossing its $12 million budget, the horror flick dropped a nasty 56% this weekend, earning $6.3 million. Screen Gems, the studio behind Quarantine, can't count how many times this has happened to them. For example, When A Stranger Calls, the 2006 horror flick, opened to $21.6 million and dropped 58% in its second weekend to $9.1 million. It finished with $47.9 million domestically, but cost only $15 million to produce. Quarantine has now earned $24.7 million against that $12 million budget.

Eighth is Nick and Norah's Infinite Playlist, which did better in its third weekend than Sex Drive did in its first. Nick and Norah earned another $3.9 million, off a decent 39%, despite the new competition. The Sony flick has now earned $26.7 million against a budget of only $10 million - not bad work if you can get it.

Ninth does go to new release Sex Drive from upstart Summit. Sex Drive earned $3.6 million from 2,421 venues. It was 45% fresh, which isn't bad for the genre, so it might have a chance on DVD.

Finally in tenth we have Nights in Rodanthe, the absolute, complete opposite of Sex Drive (we're talking 360 degrees). The Gere/Lane/Viagra romance earned $2.7 million and was off 41%. Its total now sits at $36.9 million.

Overall, the box office takes a significant step forward compared to last year. Over the same weekend in 2007, 30 Days of Night got off to a slower than expected start with $15 million, which led the box office to a $78.5 million weekend. This year, with a stronger crop of openers, the top 12 earned an estimated $86.4 million. Next weekend brings an interesting showdown: the kids of High School Musical 3 versus Jigsaw in Saw V. Go Jigsaw!