Friday Box Office Analysis
By Tim Briody
October 18, 2008
BoxOfficeProphets.com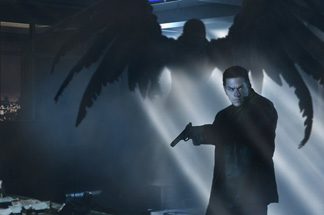 ---
[tm:2772_]Max Payne[/tm]

The video game adapdation saw a solid Friday with $7.1 million, easily outpacing everything else. It's been a while since there was an "everything blows up" movie so this was the choice of many viewers who were getting tired of thrillers. It should also have a fairly decent remainder of the weekend, giving it $20.5 million for the weekend, making it one of the more successful video game adaptations in recent memory

[tm:4312_]W[/tm].

[bp:5592_]Oliver Stone[/bp]'s George W. Bush biopic places second on Friday with $3.7 million. As Reagen pointed out in his forecast and has been mentioned many times before on this site, escapism is what makes movies work. People do not typically want to pay money to be reminded of the last seven years, and especially something political given we're in the middle of an election cycle. $10 million is about where W. is going to end up for the weekend.

[tm:4208_]The Secret Life of Bees[/tm]

I can't pretend to know anything about this movie other than it's another step in [bp:41_]Dakota Fanning[/bp]'s plan to total world domination, so I won't even try. I will say that it did earn $3.5 million on Friday, and considering it was in 1,591 theaters, that's not bad at all. There's a decent chance it sneaks ahead of W. and earns a surprise third place finish with $10.8 million.

[tm:4091_]Sex Drive[/tm]

Sex Drive, the teen, uh, sex comedy earned $1.3 million on Friday. An attempt at finding success like Road Trip and Eurotrip did several years ago, Sex Drive will have to find the bulk of its audience on DVD. Give it $3.5 million for the weekend.

Notable Holdovers

[tm:4017_]Beverly Hills Chihuahua[/tm] finally gives up the top spot after two long, excruciating weeks, but it is off only 34% from a Friday ago. It's fourth for Friday but should find itself back in second place when the weekend estimates come in with $11.3 million.

Elsewhere, [tm:4122_]Quarantine[/tm] behaves like a horror movie should and drops 64%, while [tm:3893_]Body of Lies[/tm] is now officially a big disappointment after dropping 50% from last week. Give Quarantine $6 million while Body of Lies should come in with $7.1 million.