Weekend Forecast for October 17-19, 2008
By Reagen Sulewski
October 17, 2008
BoxOfficeProphets.com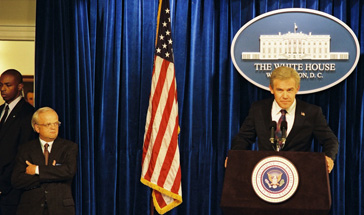 ---
Whoever opened up the floodgates for new releases seems to have forgotten where the shut off switch is. Four more wide releases add to the veritable glut of the fall, though we could have a legitimate blockbuster on our hands.

Max Payne could easily be confused by the uninitiated as a comic book movie, with its nearly monochromatic color palette, gothic imagery and strange mix of science fiction and detective movie tropes. However, it's actually based on a 2001 video game by the same name, an innovative shooter that borrowed heavily from cinema for its inspiration.

Now it gives that inspiration back, with a film starring Mark Wahlberg and Mila Kunis and directed by Behind Enemy Lines and The Omen director John Moore. Wahlberg plays DEA agent Payne, who teams up with assassin Kunis to solve a series of murders in New York City and avenge the deaths of both of their families.

The combination of eye-popping visuals and the action are the big sell here, akin to, well, a couple of comic book movies, Sin City and 300 (though to a much lesser extent on that last one). Wahlberg's star power took a hit this summer with the execrable The Happening, though as something closer to a straight action movie, Max Payne may let him leave that behind. Commercials for this have been running in what seems like a continuous loop, though more emphasis has been placed lately on the cop part, versus the gothic imagery, which seems like a bit of a mistake to me. It still has an easy line on a win of the weekend, debuting at 3,376 venues, and a probable weekend of about $27 million.

W. appears to be a movie without an audience. Oliver Stone's biography of still-President George W. Bush comes out at a time when his popularity has hit its lowest point, making him one of the least popular presidents in history. Those on the left side of the spectrum undoubtedly have little interest in reliving the misadventures of the last seven years, while it's unlikely that those on the right or that still support him have any stomach for a Stone's satirical take on his administration. It's a bit of a conundrum.

This is Stone's third film about a president (following JFK and Nixon – at this exponential rate, I expect his film about the presidency of George Clooney to be out by Memorial Day 2010) but his first to treat it more or less a comedy. James Brolin stars as Bush, in what appears to be a near dead-on imitation, with a strong supporting cast of the other main political figures of the last decade, including an unrecognizable Richard Dreyfuss as Dick Cheney, Scott Glenn as Donald Rumsfeld and Thandie Newton as Condoleeza Rice.

The film also goes through the junior Bush's early, wilder years, and his conflicts with the first President Bush (a somewhat miscast James Cromwell), but seems to mostly focus on the central issue of his administration, the Iraq War. Which pulls us back to the beginning. Like so many other films on this subject, no one really wants to see this stuff right now, as the wounds are still pretty raw. The hook of being so targeted at the current president may help somewhat, but it ultimately fails the escapism test. Opening on just over 2,000 screens, W. looks like it's headed for a lackluster weekend of about $9 million.

Sex Drive seems to hail back to the glory days of '80s teen sex comedies like the kind that Savage Steve Holland (One Crazy Summer) would make. These kind of low budget, quirky movies grabbed onto small but fiercely passionate audiences and have lived on in video and VH1 specials forever. I'm not saying Sex Drive is that good or Josh Zuckerman is the next John Cusack (considering we've already established that's Michael Cera), but if you're slotting Sex Drive into a category, this is it.

Of course, one thing these films all had in common is that they made almost nothing at the box office (though were dirt cheap to make, so still successful in broader terms). That appears to be the fate of Sex Drive, which has its lead character off on a road trip in search of a woman he met over the Internet, to try and lose his virginity. So... Eurotrip without the exchange rates. This one seems a little sketchier (in both senses of the word), and I'm not seeing any great side-splitting gags that will get kids into the theater. They've been promoting the hell out of this, though, so we could see a weekend of about $6 million.

The final new film of the week is The Secret Life of Bees, based on a best-selling novel by Sue Monk Kidd. Dakota Fanning stars as a 14-year-old runaway in South Carolina in 1964 who follows a black fugitive woman (Jennifer Hudson) to an apiary run by three women (Queen Latifah, Sophie Okenedo and Alicia Keys) where she learns, most probably, about how bees are somehow a metaphor for everything. Just a shot in the dark here.

This falls into the general category of Southern Message Movies, like The Color Purple, Beloved and Fried Green Tomatoes, which have had varying degrees of success. This one feels rather low key and under the radar, so I suspect this will start off slow, even if legs from a positive reception could be in store. Opening in about 1,600 theaters, look for around $5 million this weekend.

This means that Beverly Hills Chihuahua's reign of terror is over, after two weeks at the top of the box office. The insipid children's film took two straight weeks at number one and is currently sitting at close to $60 million total. Have kids always been this undiscriminating? Probably, which doesn't make me feel all that much better. Look for it to come in with about $11 million this weekend.

Quarantine snuck in for second place in its debut with $14 million. The verite horror film capitalized on a fantastic premise and well cut trailer to make itself into pretty much an instantly profitable movie. As a surprise hit, it might show some legs, but that would be relative to it being a horror film, so around $8 million.

Body of Lies was a moderate disappointment for Ridley Scott, Leonardo DiCaprio and Russell Crowe. The techno-spy thriller was third with $12 million last weekend, well below what many might expect for an aspiring blockbuster with this kind of cast. America's war/serious spy movie aversion kicks in again. Give it $7 million this weekend.

Eagle Eye remains as the hit of fall so far, with about $70 million in the bank and some decent legs. It'll drop to about $6 million in its fourth weekend, but it's still a pretty viable choice for thrillers at the movies.